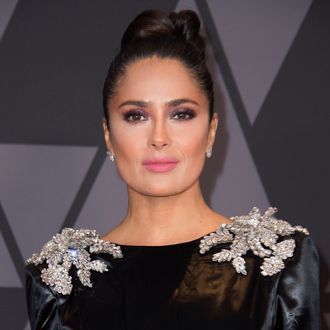 Salma Hayek.
Photo: VALERIE MACON/AFP/Getty Images
Salma Hayek revealed the story behind her New York Times op-ed "Harvey Weinstein Is My Monster Too" during a live taping of Oprah's SuperSoul Conversations on Wednesday. According to The Hollywood Reporter, Hayek appeared as a guest on the show to talk about the #MeToo movement. While there she addressed the allegations she made about Weinstein — who she claims sexually harassed her and threatened her — and why she did not come forward in the Times with her accusations until December, two months after dozens of other women shared their allegations in exposés.
"When the information about Harvey came out, I was ashamed I didn't say anything," Hayek told Oprah. "But I felt like my pain was so small compared to all the other stories."
She also explained that she had trouble writing the essay. The Times approached her to write it, but the experience initially upset her. "I started crying when they asked and I ended up not doing it," the actor said. "And then I felt ashamed that I was a coward. I was supporting women for two decades and then I was a coward."
Hayek's essay alleged that Weinstein repeatedly propositioned her. She says that after she declined his advances, the movie mogul embarked on a campaign to sabotage her movie Frida, which was backed by Weinstein's production company Miramax. He allegedly demanded Hayek do a gratuitous sex scene in the movie and then, once it was made, fought to not release the film.
Hayek's Frida co-star Ashley Judd has been one of Weinstein's most vocal accusers. Weinstein has denied allegations of nonconsensual activity.