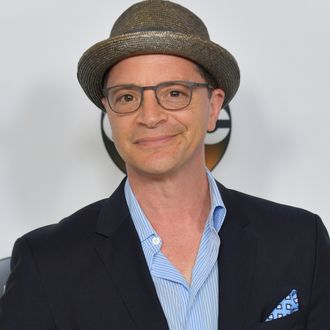 Joshua Malina.
Photo: Matt Winkelmeyer/Getty Images
So, you made a big mistake. You broke up with your girlfriend, and now you want to make an equally big gesture to win her back. Not only will this likely not work, here's another piece of advice: Don't go randomly texting Joshua Malina to ask for his help in this endeavor. Particularly if you do not know television actor Josh Malina. The Scandal actor posted on Twitter a screenshot of a text conversation he had with a stranger who called himself "Aaron." This guy claimed that he "mustered up the chutzpah" and had tracked down Malina's number through mysterious (illegal?) internet means just to ask the West Wing star for his celebrity help. Aaron explained that his girlfriend was Malina's "biggest fan" and that he and his former lady friend had watched every episode of the Aaron Sorkin political drama.
Malina declined, texting back that though he gave Aaron "chutzpah points" he gets these sorts of requests "a lot." Which leads one to wonder: How often are people enlisting Malina's services in their epic romantic-comedy climax-worthy moments? Also, maybe it's time for Malina to change his number.