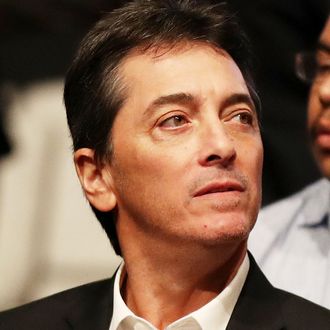 Baio.
Photo: Drew Angerer/Getty Images
Another Charles in Charge co-star has come forward to accuse Scott Baio of sexual assault. At a press conference on Wednesday, Alexander Polinsky claims that Baio abused him when Polinksy was between the ages of 12 and 15, including both sexual harassment and assault. Polinksy was joined at the press conference by fellow Charles in Charge co-star Nicole Eggert, who was the first to accuse Baio of sexually abusing her during her time on the show when she was a minor. In his statement, Polinksy said he witnessed Baio acting "sexual in nature" with Eggert when she was 14 and sitting on his lap. Polinksy, who was 11 at the time, says he also sat on Baio's lap thinking he would be told a story about Baio's time on Happy Days. "Instead of telling us a story, Scott immediately threw me off him and began angrily calling me 'faggot' while Nicole laughed," he said.
He claims that a "pattern of abuse that was unrelenting" followed that incident, which Polinksy now believes was done in retaliation for having witnessed Baio with Eggert. He says that harassment included frequent use of homophobic slurs on set. Polinksy added, "Scott pulled down my pants in front of over 100 people. Another time, he laughed as he cut a hole in the canvas wall of my private dressing room on set and exposed his genitals to me." He remembers Baio once apologized for throwing a "burning hot cup of tea" in his face, but then allegedly persisted with "sexual-themed hazing." Both Polinsky and Eggert claim that multiple adults on set were aware of Baio's behavior but feared losing their jobs if they made a complaint. They say at least ten witnesses have since spoken to police after Eggert reported Baio to the LAPD; Polinksy has also reported Baio to the police and is demanding an apology from Baio for the both of them. Baio previously denied Eggert's claims.
Update, February 15: Baio has issued a statement Wednesday denying both Eggert and Polinsky's allegations, claiming that he's being targeted.
"For reasons I don't understand, I am the target of false claims that threaten everything that is important in my life. I am hurt and I am angry. But mostly, I am stunned that anyone could be so cruel as to attack not just me, but my entire family with lies. I will not let this continue unchallenged, and will use every ounce of strength and faith in God that I have to defeat the people behind this. This story is just beginning to be told."