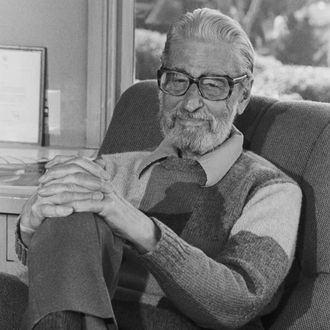 Theodor Geisel.
Photo: Bettmann/Bettmann Archive
Dr. Seuss's life story is being adapted for the big screen. Deadline reports that Wonder director Stephen Chbosky will be helming the biopic about the children's book author, whose real name is Theodore Geisel. The movie will reportedly focus on Geisel's relationship with his first wife, Helen Palmer. The two met in the 1920s as graduate students at University of Oxford, where Palmer encouraged Geisel to pursue a career as an artist. According to Deadline, Palmer also played a part in influencing one of Geisel's most beloved books The Cat in the Hat.
Before writing over 60 children's books, Geisel began his career illustrating advertisements and drawing political cartoons. During World War II he also created propaganda films in the army's animation department — his movie Our Job in Japan was later expanded into 1947's Design for Death, which won the Academy Award for best documentary. He died in 1991.