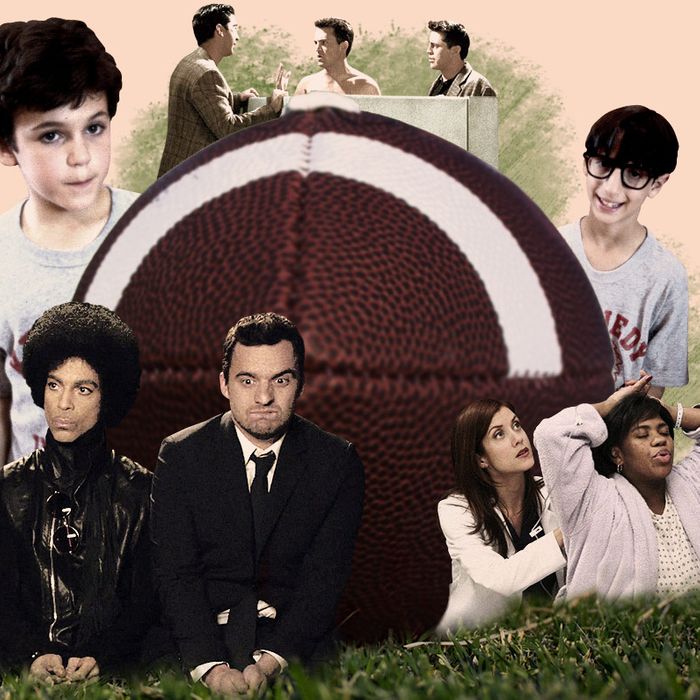 Photo-Illustration: Vulture and Photos by Getty Images
The upcoming post–Super Bowl LII episode of This Is Us — which, based on the timeline established in the most recent episode, "That'll Be the Day," will center around a major house fire that unfolds on the night of Super Bowl XXXII — is already poised to be the buzziest Big Game encore in recent memory. Crock-Pot's freaking out about it. NBC is promoting it almost as much as the game itself, because honestly, who outside of New England wants to watch the damn Patriots win again? And while it's weird to get hyped to watch a beloved character (that would be Jack, played by Milo Ventimiglia) potentially perish, This Is Us fans are at least eager to finally see how this pivotal moment in the Pearsons' past actually unfolded.
By pure coincidence, that This Is Us episode happens to be landing at a timely moment in Super Bowl history, one that marks the 40th anniversary of the Super Bowl being broadcast in prime time, and the 35th anniversary of the year (1983) when the Super Bowl lead-out episode cemented its potential to network programmers via a broadcast of The A-Team.
Since then, the king of all sporting events has served as a launching pad for great pilots (The Wonder Years), terrible pilots (Who remembers MacGruder and Loud? No one? Figured), and episodes of TV shows that are on the rise. Because This Is Us places so much importance on understanding family history, we at Vulture thought this would be a good time to focus on the history of the Super Bowl lead-out episode via a chronological list of the ten most significant ones of all time. Please note: The word "significant" speaks to the quality of these episodes, in most cases, but also to how influential or important they were to the niche category known as TV Shows Whose Ratings Were Boosted Because of America's Obsession With the NFL.
*Read all the way to the end for a prediction about who will win this year's Super Bowl using the most significant post–Super Bowl episodes as a guide.
Super Bowl XII, 1978
Lead-out show: All in the Family
It's hard to believe that, prior to 1978, the Super Bowl was broadcast during the afternoon hours. But it's true. That all changed when the game aired for the first time in prime time, at 6 p.m. on CBS, then segued after the post-game show into a Super Bowl–themed episode of All in the Family that revolved around a holdup at Archie's bar after a Super Bowl viewing party. In other words, This Is Us isn't the first TV show to run a post–Super Bowl episode in which something bad happens following a Super Bowl broadcast. This All in the Family episode also set a precedent for incorporating the game itself into the TV that followed, an approach that would later be adopted by shows ranging from The Simpsons to Criminal Minds.
Super Bowl XVII, 1983
Lead-out show: The A-Team
By 1983, the networks were beginning to wrap their minds around the Super Bowl's ability to pump up their own programming. And in the 1980s, few programs were more pumped up — with testosterone, cartoonish violence, and Mr. T's muscles — than The A-Team. After airing the two-hour pilot a week earlier, NBC unveiled the first official look at the band of mercenaries, an episode called "Children of Jamestown," on Super Bowl Sunday. While critics were not necessarily wowed, about 22 million Americans tuned in, and The A-Team quickly became one of NBC's biggest hits. It lasted for five seasons on the network and, years later, spawned a movie remake as well as semi-recent talk of a TV reboot that has yet to come to fruition. More importantly, it was the first post–Super Bowl episode to launch a successful series, which meant (of course) that everyone would try to replicate the model.
Super Bowl XXII, 1988
Lead-out show: The Wonder Years
For three straight years in the mid-1980s, the networks that aired the Super Bowl slotted a hot new pilot after the game, only to see those shows turn into total busts. But in 1988, in an effort that almost compensated for trying to turn MacGruder and Loud into a thing in 1985, ABC programmed the pilot for The Wonder Years to run right after the Washington Redskins beat the Denver Broncos. Unlike the pilots that networks had unveiled on Super Bowl Sundays before, this one was sentimental, smart, and awash in critical acclaim before it arrived on the air.
"It's a refreshingly gutsy half-hour," said an L.A. Times review that ran on Super Bowl Eve, "a look back at how things were — and weren't." This episode is still one of the best post–Super Bowl installments ever, arguably the best pilot to ever run after the game, and evidence that something a tad more highbrow — certainly highbrow compared to Airwolf, the 1982 Super Bowl lead-out — has a place on the biggest night of the year for network television.
Super Bowl XXVI, 1992
Lead-out show: The Bill and Hillary Clinton interview on 60 Minutes
This was not the first time 60 Minutes followed a Super Bowl, and it was not the last time that a non-scripted program served in the lead-out position. (Two years ago, CBS set up The Late Show With Stephen Colbert to benefit from the Bowl bump.) But it may be the most newsy post–Super Bowl moment in the game's history. This 20-minute edition of the CBS news juggernaut was scheduled fairly last minute to give then–Arkansas governor Bill Clinton, who was running for the Democratic presidential nomination, and his wife Hillary Clinton a platform to address rumors that Clinton had engaged in a lengthy affair with Gennifer Flowers. The future president denied the characterization of the affair, the future First Lady and secretary of State made a statement that would be repeated ad nauseam — "I'm not sittin' here, some little woman standing by my man like Tammy Wynette" — and Clinton went on to become president, despite the fact that many thought he was done after this interview. "One thing seems painfully clear: Clinton's candidacy looks kaput," critic Tom Shales wrote in the Washington Post. He also wrote: "Hillary Clinton, on the other hand, appeared impressively impervious, suggesting perhaps that the wrong Clinton is running for office." He was incorrect about that first thing, arguably less so about the second.
Super Bowl XXVII, 1993
Lead-out show: Homicide: Life on the Street
While The Wonder Years first proved that a Super Bowl lead-out pilot could be smart and Emmy-worthy, Homicide: Life on the Street definitively confirmed it. This is the rare example of a serious and sophisticated drama — and one with a diverse cast of nuanced characters — making its debut in that coveted post-game slot. Homicide used that launch pad to go on to have a healthy, seven-season life on its network, NBC. The Baltimore-based crime series also launched journalist David Simon's career in television. So you could say that if Homicide: Life on the Street hadn't premiered after Super Bowl XXVII, we might not have gotten The Wire. If you did say that, you wouldn't be entirely wrong.
Super Bowl XXX, 1996
Lead-out show: Friends
While Super Bowl lead-outs were not reserved exclusively for series debuts, that was generally the way the networks used the programming slot during the 1980s and early '90s. Then Friends came along with this second season two-parter called "The One After the Super Bowl" and changed that. By adding to the sitcom's preexisting pop-cultural cachet and stacking the episode with a ton of guest stars — Julia Roberts, Brooke Shields, Chris Isaak, Jean Claude Van Damme, Fred Willard, and Dan Castellaneta — Friends lured nearly 53 million people to stay tuned to NBC, making this, still, the most-watched Super Bowl lead-out of all time. It also switched the post–Super Bowl model from one that launched new series to one that amplified shows with a wide, or at least a cult, following.
Super Bowl XXXV, 2001
Lead-out show: Survivor: Australian Outback
The first Super Bowl lead-out reality show, this definitely took a page out of the Friends playbook by devoting the high-profile time slot to a show that had already become a phenomenon. The Australian season was the follow-up to the first, Richard Hatch–boosting volume that dominated TV conversation the summer before. The tactic worked; 45 million Americans showed up to witness more immunity challenges, and reality and/or competition shows have been reliable post–Super Bowl performers ever since. Over the past decade-plus, Survivor: All-Stars and Undercover Boss on CBS and The Voice on NBC have all scored higher ratings than any of the respective networks' scripted post–Super Bowl episodes.
Super Bowl XXXVII, 2003
Lead-out show: Alias
Season two's "Phase Out" was one of the highest-rated episodes of Alias, but the lowest-rated post–Super Bowl episode in more than 15 years, in part because post–Super Bowl festivities ran long that night. (For some reason, someone thought it would be a good idea for Bon Jovi to perform during the post-game ceremony, which meant Alias didn't start until after 11 p.m. East Coast time.) But this NFL lead-out isn't significant simply because it underperformed. Creator J.J. Abrams and ABC used their Super Bowl Sunday moment to retool the series, eliminating SD-6, the evil organization that employed many of the main characters, who believed they were actually working for the CIA. "That premise made it not only impenetrable to many viewers but also frustrating to write," Abrams told Variety at the time. "We had to figure out a way to change it." So, while Alias continued to be a spy thriller that enabled Jennifer Garner to dress up in sexy outfits, it upended and simplified its central story line, a move most shows don't try to make on the night when more Americans than ever are likely to be watching. Alias deserves credit for trying something semi-bold with its Super Bowl slot, even if fewer people than usual were there to see it happen live.
Super Bowl XL, 2006
Lead-out program: Grey's Anatomy
This Grey's Anatomy installment, "It's the End of the World," may be the best example of a Super Bowl lead-out gimmick episode. What's a gimmick episode? It's where you take an established series — Grey's was doing well in the ratings in its second season, and continuing to build buzz — and give its Super Bowl episode a premise so hyperdramatic that even people who don't regularly watch will likely get sucked into it. In "It's the End of the World," the hyperdrama revolves around a patient at Seattle Grace (played by Christina Ricci) who must keep her hand stuck inside a man's chest to prevent an explosive device inside him from detonating. Eventually, Meredith has to take the woman's place and put her hand inside the guy, while a bomb squad, led by Kyle Chandler, tries to figure out what to do. This was great nail-biter television, and part one of a two-parter that concluded the following Sunday, enticing the super Bowl audience to want to see how it all resolved the following week. This also strikes me as the best corollary to what This Is Us plans to do with its Super Bowl episode, which also lands in the middle of its second season. But instead of a bomb scare, it's a fire we'll be witnessing. Connecting these two episodes also seems like a good omen for This Is Us; the year this Grey's Anatomy aired after the Super Bowl, the Pittsburgh Steelers won the game.
Super Bowl XLVIII, 2014
Lead-out program: New Girl
There were some decent Super Bowl lead-out episodes over the past decade, but the New Girl episode that followed the Seahawks-Broncos face-off stands out because of one word: Prince. His Purple Badness completely owned the Super Bowl halftime show seven years earlier, then left his mark on Super Bowl lead-out history by making a prominent and extremely unexpected cameo on this Fox comedy, one that he apparently enjoyed watching in his free time. Prince was a fan of New Girl? Even the creator of the show, Liz Meriwether, could hardly believe it. Nevertheless, there he was in the episode called (duh) "Prince," helping Jess and Nick say their "I love yous" and playing table tennis with Cece. With all due respect to the Friends Super Bowl episode, the casting of Prince makes him, easily, the best Super Bowl lead-out guest star of all time. In light of the fact that he died just two years later, this episode now feels like something even more special, a half hour that let us feel like we all got to go to a party at Prince's house.
* So who's going to win Super Bowl LII?
Common sense and the realization that the world is repetitive in its cruelty tells you it's probably going to be the New England Patriots. But just for fun, we ran the numbers on these ten significant Super Bowl episodes to figure out whether the NFC or AFC has been dominant during years when the lead-out program has been particularly outstanding. Here are the stats.
1978, All in the Family: Dallas Cowboys win (NFC)
1983, The A-Team:  Washington Redskins win (NFC)
1988, The Wonder Years: Washington Redskins win (NFC)
1992, 60 Minutes: Washington Redskins win (NFC)
1993, Homicide: Life on the Street: Dallas Cowboys win (NFC)
1996, Friends: Dallas Cowboys win (NFC)
2001: Survivor: Australian Outback: Baltimore Ravens win (AFC)
2003: Alias: Tampa Bay Buccaneers win (NFC)
2006: Grey's Anatomy: Pittsburgh Steelers win (AFC)
2014: New Girl: Seattle Seahawks win (NFC)
Total wins for NFC teams: 8
Total wins for AFC teams: 2
If the This Is Us post–Super Bowl episode proves to be significant — and all signs point in that direction — then an NFC team will win. Which means the Philadelphia Eagles actually could upset the Patriots. If that's what happens, make sure you tell everyone at your Super Bowl party that Vulture figured it out ahead of time, using hard and fast TV-related science.