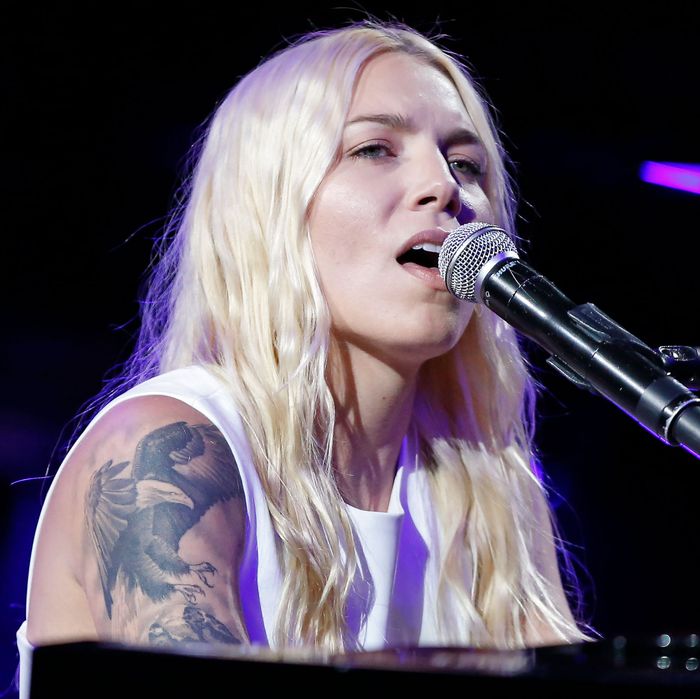 Skylar Grey.
Photo: Brian Sevald/NBAE/Getty Images
For most artists, scoring a placement in a Super Bowl commercial would incur downright giddiness, but not the Wisconsin-born songwriter Holly Brook, who has for eight years now been working under the name Skylar Grey. "[My label] Interscope has a good relationship with Budweiser," she says of the beer giant, which she lent a version of her Diddy collaboration "Coming Home" for a military-themed ad in 2014. "[This year] they came to us and were like, 'We want to do a cover of "Stand by Me,"' so I recorded a demo and they decided to pull the trigger. I'll probably end up watching it from home." The commercial serves as a nod to the company's commitment to disaster relief and is only the latest coup for Grey. Her recent résumé boasts a performance of "Walk on Water" with Eminem on Saturday Night Live, and assisting Macklemore on the rapper's most recent chart-topper "Glorious," an anthem she co-wrote that subsequently became NBC's de facto promo theme for their broadcast of the Olympics.
"My career is a constant evolution," she says. "As far as my success goes, it's weird because it's always been a reflection of how I'm doing personally. I've gotten to this place where I'm not giving a fuck what people think about me anymore. I used to be really self-conscious and go into sessions and think that I sucked or that I couldn't deliver another hit and that it was a fluke that I had a hit," she says. "I would just put so much pressure on myself. I'd walk out [of sessions] crying. When I turned 30 I started seeing the end. I was like, 'Wow, life just flew by.' It's so short. Realizing that, really realizing it, made me want to enjoy the moment more because I might not wake up tomorrow. It made me want to focus on being more present and enjoying my life because you might only get one. Making the most of it every day is where I came to mentally."
Grey's career kicked off in 2005, when she was 18 years old. At the time, she was recording and writing under her real name, Holly Brook. A strong demo got her signed to Machine Shop Recordings, a vanity label run by Linkin Park guitarist Brad Delson and a breakthrough quickly followed in the form of a writing credit and contributing vocals for the Fort Minor hit "Where'd You Go." "I thought when I signed a record deal I'd suddenly be successful and all I'd have to do is write and sing songs," she says. "But when you sign a record deal that's when you start to work harder. I didn't realize that."
After a series of what she says were "stupid financial decisions," and the failure of her 2006 debut solo record, Like Blood Like Honey, Grey left Los Angeles for a cabin in the Oregon woods and made money working at her mother's friend's art gallery, where customers had no idea about her past as a hitmaker. "I traded work for rent, because I didn't have any money." The anonymity had a bright side. "I was finally free of everybody's opinions. Being in L.A. and hearing what everybody thought about what I should do and my career was getting draining and nobody was right," she says. As Grey spent more time working in obscurity, she gained a new perspective on her career. "In Los Angeles I was more obsessed with trying to be successful, which totally made me fail," Grey says. Feeling liberated, she landed on a new name that she continues to use, Skylar Grey, which is a nod to Oregon's dreary weather, and wrote what would become the Eminem and Rihanna smash "Love the Way You Lie," after her publisher put her in touch with the song's producer Alex da Kid. The track sat atop Billboard's Hot 100 for seven weeks. "That was my first push into music again, and its success was a pure validation of that journey I had gone on in the woods," she says. "People used to make me feel guilty about leaving [L.A.], but then I wrote a No. 1 song in the woods and it was like, 'Don't tell me what to do.'"
Last year, Grey divorced her husband and manager. It turned out to be a pivotal moment in her career, and would inspire a song she'd later call her proudest work to date. "One day I thought of this concept for 'Walk on Water,'" she says of he track which would later be performed by Eminem, produced by Rick Rubin, and feature vocals by Beyoncé. "If I'm being completely open and honest about it … My husband … I think I just felt like — I haven't talked about this at all, I'm sorry … I basically always knew I was going to leave him at some point and I felt really guilty about that because I don't think he saw it coming. I don't know. I felt like in a way he worshipped me, but meanwhile in the back of my mind it was like, 'I'm leaving you.'" With emotional upheaval engulfing her personal life, the rocky situation with her husband began to manifest itself in her lyrics. As the relationship was ending, Grey pecked the words "I walk on water but I ain't no Jesus/ I walk on water but only when it freezes,'" into the Notes application on her iPhone and forgot about them until she heard from Eminem's manager Paul Rosenberg that the rapper was looking for songs for what would become his ninth studio album, Revival.
"Paul played some music for me, so I went home and was scrolling through the notes on my phone and thought, 'Holy shit, this would be perfect for him,'" says Grey. "He's, like, on top of the world as this icon, this god to so many people. It must be so hard and there must be so much pressure that comes with that, to always deliver and give your fans what they want." So Grey cut a proper demo. "It was such a precious little gem of a song for me," she says. "In the final hour, I got a text [from Rosenberg] that Beyoncé cut the chorus. She has never cut any of my songs, and I don't know how it happened but I was stoked."
With the Super Bowl coup, both "Glorious" and "Walk on Water" on the charts, and an upcoming solo album that Grey says is inspired by Fleetwood Mac, she finally feels content both creatively and personally, even in the face of continuing fallout from her divorce. In December, it was reported Grey took out a restraining order on Mandel after she accused him of tracking and recording her. What's helped get her through, though, is a blossoming relationship with Elliott Taylor, the founder and owner of a Napa Valley–based craft beer company whom she regularly shouts-out on her Instagram, including in a recent photo where Grey is laying on a bare-chested Taylor complete with the caption, "Baby where are you and why aren't you in my arms?" "Some of the deeper, more thought-provoking songs are easier to write when looking back in the past," Grey says. "I've been writing more based on how I feel that day, and lately it's been pretty much about being in love."