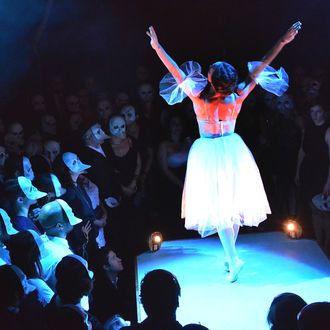 A 2013 performance of
Sleep No More
.
Photo: Brian Killian/Getty Images
Current and former performers in Sleep No More, the popular immersive staging of Macbeth, described being subjected to and feeling at risk of sexual assault from audience members in a report from BuzzFeed News. Some of the 30 people interviewed claimed that the nonunion Off Broadway production, run by the production company Emursive at the McKittrick Hotel, implicitly encourages patrons, who put on masks throughout the (simulated) sex-and-death-filled performance, to act inappropriately, and doesn't sufficiently provide protections for performers. BuzzFeed News reported 17 incidents of groping or sexual misconduct during the show, seven of which Sleep No More acknowledged while contesting the rest.
While some employees told BuzzFeed News they felt safe in the the show, others described being groped, grabbed, and harassed by audience members, and not having their concerns and suggestions for safer policies heard by management. Several said they did not report individual instances of misconduct because because they did not know the proper procedure, or simply because it was so pervasive. "Once you gave people a mask, it was carte blanche to let them do whatever they wanted," a former steward told BuzzFeed News.
The McKittrick, however, has contested these claims, and insists that the production has a healthy system of reporting complaints against audience members. "After seven years of successfully hosting two million guests and producing a critically acclaimed theater production where our colleagues overwhelmingly feel supported and inspired, it is wrong to make generalizations from a handful of incidents where patrons may have behaved inappropriately," the McKittrick Hotel said in a statement to BuzzFeed News. "We carefully train staff regarding workplace safety, provide resources for immediately reporting any concerns and, in the rare instance beyond our control where patrons may have violated our policies, take immediate action to remove them."