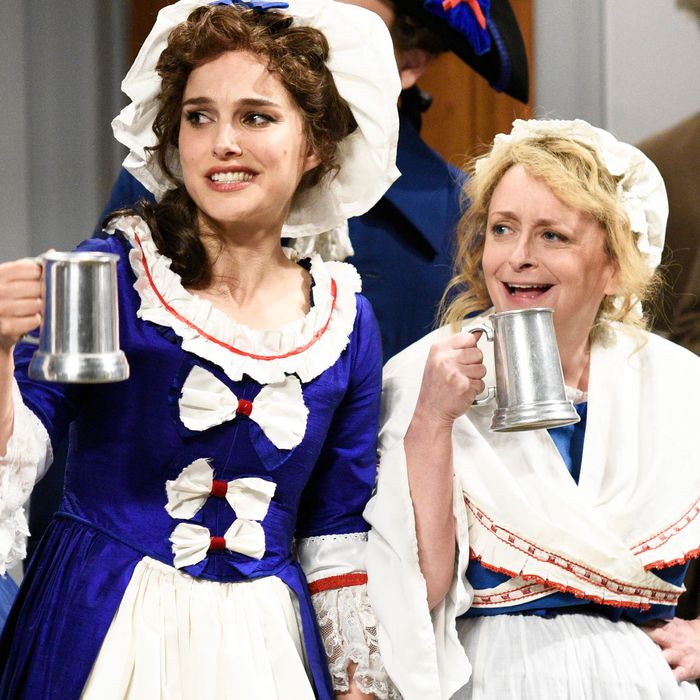 Photo: NBC/NBCU Photo Bank via Getty Images
Natalie Portman mentioned in her monologue that she hasn't hosted since 2006, and the entire cast from that season came by to honor the occasion. Rachel Dratch, Tina Fey, Andy Samberg, and the Brain that Wouldn't Die—Alec Baldwin. Perhaps it was a big deal because this was apparently the only SNL episode of February. Seriously, Olympics? Don't pit my two live television loves, SNL and curling, against each other. It's fucking rude.
There was a lot to take in for this sole February outing of SNL. Portman brought back two of her most beloved recurring characters: Aggressive Rap Natalie and Jackie Kennedy. Pete Davidson did a voice for a character, which I enjoyed. A whole sketch was devoted to someone talking out of their ass. But enough about Alec Baldwin's Trump impression. I kid, I kid! Let's break it down.
Cold Open
I completely jinxed myself thinking how nice it's been without Alec intruding on every cold open. Trump calls into Fox & Friends while watching Fox & Friends in bed at the White House. The Baldwin of it all obscured the most interesting part of this sketch: Louis Farrakhan on Fox News because neither party trusts the FBI. That should have gotten more laughs. Do the children not know about Minister Farrakhan? Furthermore, do you think Baldwin understood the house elf joke? Has Alec Baldwin read or seen Harry Potter? It is literally all I can think about now.  
Monologue
Lenny Pickett in the mix! I always like when attention is paid to the Saturday Night Live Band. Pickett has never been as much of a presence as G.E. Smith, who I feel like I know as well as some of my uncles.
The premise of this monologue was that Kenan Thompson and Kate McKinnon were providing running commentary on Portman's monologue as it happened. As an SNL commentator, I felt personally attacked. But as someone who appreciates when something is broken down into its smallest analyzable chunks, I loved it.  
Revolutionary War
Something didn't quite work in this star-studded sketch, and I'm not sure what it was. Was it Portman's middling Boston accent? The awkward Dunkin #spon? Maybe the issue is that a sketch about how annoying a certain subsect of people can be is …annoying. I loved what Pete Davidson did in this sketch, though – both his earnest attempt at an olde timey voice and his breaking in the background about halfway through the sketch.
Stranger Things 3
Eleven finds some new buds, each with a special power and physical detriment that qualifies that power. What a fun group scene at an improv show! Okay, first of all, hats off to the SNL design crew for including the Invisibles reference graffiti in their set. Second, am I the only person in the world who thought that weird trip to Chicago was actually pretty baller? It killed momentum in the main story, sure, but who doesn't want superpowered punks taking revenge on The Man? And thirdly, haha, Mike is crushing hard on Eleven. Fine. They beat that joke into the ground. As Sarah Michelle Gellar said in the iconic Southland Tales, teen horniness is not a crime.
Natalie's Rap 2
Expected but Fun! I love a good pegging joke. I love an Ardy that rocks the party. I appreciate how aggressively Portman says "I'm a mother now. It's really changed my perspective." The song took too many breaks in the beat, but that's SoundCloud rap for you. Rewatching the first "Natalie Raps" sketch, what struck me was how much more money was sunk into this operation. The interview set is fancier, the res is higher. They took Andy Samberg to the roof of the Caviar building next to the Arclight and filmed a guest hook. SNL sinks its money into the taped segments and lets the live stuff be more buckwild now, a complete reversal from Portman's last show in 2006.  
Weekend Update
Update was chock-a-block with problematic faves. Brigitte Bardot and Catherine Deneuve stopped by to clarify their position on the #MeToo movement. Cecily Strong and Kate McKinnon as alienated French weirdos has always worked. And McKinnon got to wear her favorite fake neck, so that's nice.
Pete Davidson also came through to talk about how the #MeToo movement has affected him personally. Thank God! I was wondering, and now I know. He also explained the bandages on his hand. "I punched a door, It's a really good story. I have mental problems," said Davidson. Then a pause. "That's the story." The transparency that Davidson brings to his mental health struggles is both funny and good.
Oh, and Kenan did Willie again. This time Willie fucked a dead body.
Alien Lover
Lotta fart jokes in this episode, huh? Beck Bennett plays an alien whose face is his butt, and his butt is his face. This is what I mean when I say the live sketches have more room to be weird now that the pre-taped segments are the breadwinners. How was this not the 10-to-1 sketch? It is very strange, and the makeup probably took a long time. We should always commend when someone makes it clap for that long. It was very good butt acting. Not since Joey Tribbiani when he butt doubled for Al Pacino have we seen such nuanced clenches.
Kids Choice Awards
Portman and Mikey Day play hosts of the Nickelodeon Kids Choice Awards Orange Carpet, where screaming is a way of life. That is, until you lose your voice. Portman tries all sorts of things to get her voice back, including steroid shots and a vocalizer ala Ned from South Park. This was a good moment for kid acting. Watch the kid in plaid when they all scream at the scary vocalizer voice. He's going places. Also, nice American Vandal shoutout Dylan Maxwell.
First Ladies
Was this the cold open before Alec called and said he wanted to stop by? Melania gets a pep talk from Jackie Kennedy, Hillary Clinton, Martha Washington, and Michelle Obama. This was the second Kate McKinnon impression that got an applause break like it was a cameo from the real person. First Ellen DeGeneres in the Kids Choice sketch, then Hillary. I feel for Cecily Strong's Melania, far more than I feel for the real Melania. The self-doubt looks good on her, but McKinnon's Hillary is right. She chose to marry Trump, why should we pity her? I'm glad we aren't making up slutshaming rumors about her like she was Marie Antoinette, but giving her depth that isn't there doesn't seem useful.
Bunny
Are we ladies losing some good D by being too picky? The last sketch of the night forces straight women to ask if we're ignoring some fun sexy times by not responding to cheesy booty call texts, or by not catfishing dudes. "I'll get a guy to drive from a few states away to meet a Japanese bikini model named Kiko," says Aidy Bryant's sexual coureur de bois Bunny. "But then when they get here, I tell them Kiko split, he can crash at my place. Next thing you know, Bunny's munchin' on carrot." Bunny is the most recent in a long line of lovable pervs in the SNL canon. True equality is someone who looks like Aidy Bryant being just as gross and fucky as the two wild and crazy guys of yore.
Photo by Will Heath/NBC.