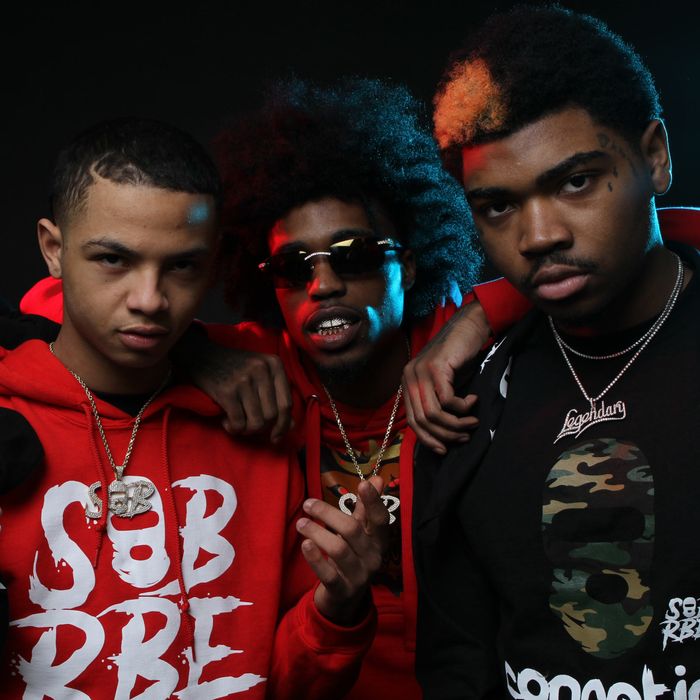 Vallejo, California, has got a rich musical history and some nagging demons. The funk and soul legends Sly Stone and Johnny Otis grew up in the North Bay port city, which is just an hour's car or ferry ride north of San Francisco. Bay Area hip-hop veterans from E-40 and B-Legit to Chicano rap pioneers N2Deep and the Funky Aztecs and thizz generals Mac Dre and Mac Mall have called the city home. In the '90s, 2pac spent a considerable amount of time on the scene cultivating and collaborating with local talent. There's a messy energy to the rap music the city produces; Vallejo is smaller than San Francisco and Oakland, but is determined to be every bit as loud and impactful.
Great rap has a habit of springing forth from bad circumstances, and Vallejo's had its fair share: In the last decade alone, a housing market implosion brought on by George W. Bush's recession critically wounded the local budget, ultimately forcing the city council into a rare filing for municipal bankruptcy protection in 2008. Financial woes shrank the local police force by a third, and just a few years later, Vallejo started ranking formidably on lists of the most dangerous cities in California. SOB x RBE is a sharp young hip-hop group forged in the triumphs and adversities of life in Vallejo.The quartet formed about two years ago when childhood friends Lul G and Slimmy B's Strictly Only Brothers unit teamed up with Yhung T.O. and DaBoii's Real Boi Entertainment. Early tracks like "Cautious" and "Anti" bubbled, mixing tight hooks, rowdy verses, and smooth throwback West Coast thump.
Over the past year, SOB x RBE's music has grown brilliantly crass and noisy, prone to dizzying shifts between fun-loving lines about brotherhood and threats of violence in the space of a single verse. Their words come out faster than the meter ought to allow — see the Black Panther soundtrack highlight "Paramedic!," on which SOB x RBE's sky-high energy makes the methodical Kendrick Lamar look mannered by contrast. The flow is a function of inexperience but also impatience. It's as if they're racing to get ideas down on tape because time is not a renewable commodity. Cuts like last winter's "Lane Changing," a battery of brutal threats sailing out across a sped-up sample of Chaka Khan's "Ain't Nobody," are catchy and uncompromisingly bleak by turns and also by design. In a Fader interview last spring, Yhung T.O. casually mused that "America is fascinated by the poverty, the lifestyle, by the hood" before rattling off a list of artists who have enjoyed financial success telling stories about the unrest back home.
This week's raucous new album GANGIN suggests T.O.'s thought was less of an aside than a mission statement. GANGIN, the follow-up to last winter's SOB x RBE, is a throwback to the days when rap was a game of who's youngest, loudest, and snottiest. The group sounds at once frighteningly young and old beyond its years on cuts like "God," where DaBoii prays he'll live long enough to watch his toddler grow up and "On Me," which finds Slimmy B numb and fearful after a family member's murder. The soaring "Anti Social" is an R&B anthem where Yhung T.O. pitches a fit upon learning how many rappers lie about their wealth and background in the streets. It's a sobering sentiment but a naïve one. T.O. is still too new to the business of hip-hop to grasp how much of it hinges on pure artifice, but he's seen enough growing up to know that gang violence is nothing to toy with lightly. Hearing street wisdom pouring out of voices that don't sound like they've fully matured yet is chilling, but the passion is unfiltered and undeniable.
The group does more than gloomy gang-life dispatches. "Anti Social" also flashes SOB x RBE's talent for giving harsh concepts a light touch. It's coarse but hilarious. T.O. jumps straight from trying to keep the peace to shooting the place up in two bars ("It be shit I wanna say, but I can't type it / Let these shells hit his chest till his heart's silent"), while DaBoii snubs handshakes. ("What your hand out for? I ain't shaking that / I could sit on my ass and still make a rack.") The production, a chipmunk rendering of the mid-'80s Cameo single "Attack Me With Your Love," adds another dimension of humor. Fearless beat selection sets SOB x RBE apart from the next nearest teen rap sensations. They're not afraid to take an offbeat chance, as album opener "Carpoolin'" proves. It's modern-day swag rap served over Bronx Puerto Rican singer Noel's late-'80s dance hit "Silent Morning," the kind of jarring intergenerational meld that used to be reserved for Dipset records. (For more of this, check "Paid in Full," as well as the album closer "Once Upon a Time," which repurposes a lick from Bananarama's "Cruel Summer.")
GANGIN balances classic g-funk with sparse Bay Area ratchet music, airy R&B vibes, and quirky bits of '80s electro and freestyle music. The blend doesn't alway jell, but it's a refreshing break from the suffocating "Metro Boomin–type beats" that have assumed control of the popular rap music of the last year. The group is smart enough to keep these tracks from getting past the two- to three-minute range, so they never feel exhausting, unlike the Migos' Culture II, which went to White Album levels of effort to show off each member's individual talents. GANGIN is serviceable gangsta rap and infectious party music. You can hulk out to the beats or sink in deeper and get caught up in T.O., Slimmy, DaBoii, and Lul G's dreams of prosperity. The guys still have some growing to do as rappers — the timing needs improvement, and the mix gets a little chintzy as the album rolls along — but the strength and polish of "Anti Social," "Always," and "Lifestyle" are proof they're determined to build on the gains of a breakout year.