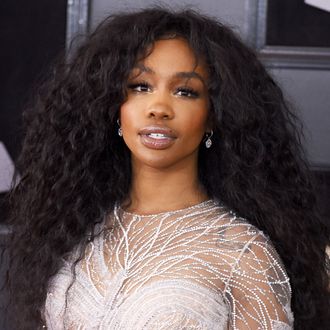 SZA.
Photo: Presley Ann/Patrick McMullan via Getty Image
Though SZA entered this year's Grammys as the most-nominated woman of the night (with five noms!), she ultimately went home empty-handed. The most controversial of those losses came in the Best New Artist category when Alessia Cara won for a three-year-old album. Fans expressed their outrage, complaining that SZA lost on a technicality, which prompted Cara to defend her win in an emotional Instagram post. SZA has now broken her silence, telling GQ that she was "mad as hell for a little while," but has since made peace with the loss. "We're changing little girls' lives across the world, and we didn't even know what we were doing when we started. This is something much bigger than me and a fucking trophy. I'm appreciative of the opportunity. But shit happens," she says. SZA also said she shut out the fan response online so that it wouldn't inflate her ego, but that she saw what Cara said and has her back:
"If anything, I feel compelled to express that I really, really fuck with Alessia Cara. She's beautiful as fuck, her voice is like water, it's like milk, I think it's gorgeous. It has so much dimension, and she deserves every accolade that she gets. And people can't be mad. I don't give a fuck when her album came out! She sounds great right now! So, like, it's over. You have to just move over and be grateful for the shit that did happen in your favor.
Although she's already moved on, SZA does still wonder if she jinxed herself by not coming prepared to win: "I have a weird theory that had I written a speech, things would have went differently."