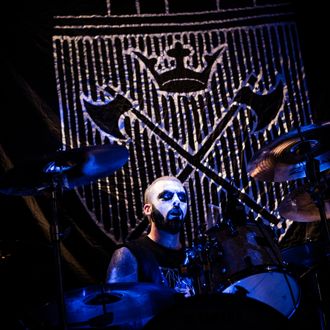 The Norwegian black metal band Taake performs in Denmark in 2014.
Photo: Gonzales Photo/Christian Hjorth/UIG via Getty Images
Controversial Norwegian metal band Taake has officially canceled ten shows in their upcoming 19-date North American tour, reports Billboard. The news comes as the band faces resurfaced former anti-Semitic and anti-Muslim accusations, which led venues like (Le) Poisson Rouge in New York City and Portland's Hawthorne Theatre to cancel the spring 2018 concerts.
The allegations reportedly stem back to 2007, when the lead singer Hoest (real name Ørjan Stedjeberg) appeared on stage in Germany with a swastika painted on his chest. The band has denied Nazi connections. The group's manager Bjørnar Erevik Nilsen told Newsweek, "It was a provocation. Not any kind of call for right-wing ideology … The band has also played concerts in Israel, which would be completely ludicrous if it were a Nazi band."
Taake landed in hot water again in 2012 when they were nominated for a Spellemann award, the Norwegian version of a Grammy. Their nomination was controversial due to their lyrics, which disparaged Muslims with words like "To hell with Muhammad and the Muhammadans!" At that time Stedjeberg told The Guardian that the lyrics "do not encourage either violence or racism." He added, "Our view … is that it is shameful to adhere to Christianity or Islam."
According to the band's Facebook page, Taake plans on posting an official statement about the tour on social media soon.