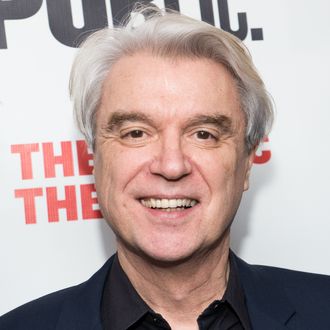 David Byrne.
Photo: Noam Galai/WireImage
A Talking Heads reunion? Not in this lifetime, if someone gets his way. David Byrne has been very vocal in recent years about how he wants to take a road to nowhere when it comes to reuniting his former band, reiterating time and again that this must (not) be the place for him. (Specifically, the last time the quartet played together in full was at their Rock and Roll Hall of Fame induction ceremony in 2002.) The main reason, he's now arguing in an interview with Rolling Stone, is less burning down his memories and more for the sake of creative evolution.
"I see what happens with other people when they do their reunions — and then it turns into a second reunion and a third reunion," Byrne explained. "With someone like the Pixies, it's different — they're getting the audience now that they deserved ages ago. But with a lot of them, it just seems like you don't have anything new to say, and you go, 'Okay, this is just some kind of nostalgia exercise.' And I'm not interested in that." (Nostalgia! Exercise!) Somewhere on the internet, Axl Rose is reading this interview and sulking.