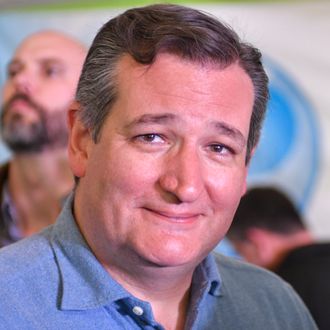 The Conservative Political Action Conference, otherwise known as CPAC, is currently underway in Maryland, and Ted Cruz is out there Ted Cruzing all over the place. During a speaking engagement at the event this afternoon, the Senator from Texas was prompted to discuss gun control in the context of a Simpsons episode where the family gets into a disagreement over guns in the house. Homer argues, "I have to have a gun! It's in the Constitution!" while Lisa replies, "Dad, the Second Amendment is just a remnant from Revolutionary days. It has no meaning today!" In response to that scenario, Cruz — an alleged fan of the show — told the moderator that the GOP is the proud party of all the Simpsons besides liberal upstart Lisa.
The oopsie hidden within Cruz's analogy is that Lisa has actually won the presidency in the Simpsons universe.
And in fact, commander-in-chief Lisa specifically succeeds … Donald Trump as president, and is forced to get the economy back on track after he blew up the budget.
Then there's the matter of Homer being a pretty terrible role model.
And look, even if you want to write off the Twitter takes, Simpsons showrunner Al Jean also thinks Ted Cruz is full of hot air.
Homer himself additionally told Vulture, "I thought the republicans wanted us to be more like the Waltons. Make up your minds!" Good try, Senator.