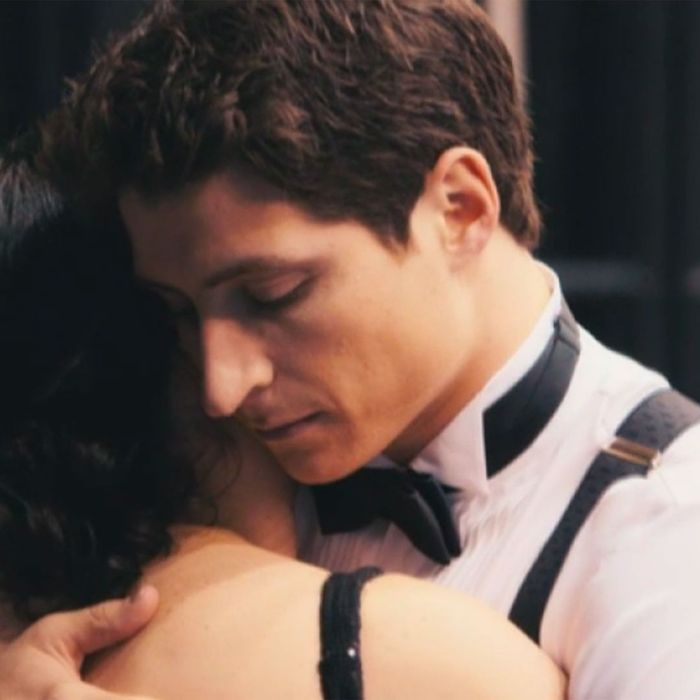 Inside our hearts are breaking and our makeup may be flaking, but our smile still stays on: Although Olympic ice-dancing gold medalists Tessa Virtue and Scott Moir's figure-skating careers are likely over after the Pyeongchang Games, the show must go on, and so must the feverish obsession with their non-relationship. Luckily for fans out there who aren't ready to say good-bye, these sexy Canadians who melted the ice with a risqué Moulin Rouge! routine once filmed a reality show to preserve their puppy-dog eyes, giggles, and flirting for all eternity. Long live Tessa & Scott.
The reality show aired in 2014 on Canada's W Network for one seven-episode season, chronicling what was then thought to be Virtue and Moir's final competitive season heading into the Sochi Olympics, where they failed to defend their gold from the Vancouver Games. (Hence, them coming out of a yearlong "retirement" to reclaim gold in Pyeongchang.) Below, we present everything we learned from Tessa & Scott, which you can stream on Amazon. Consider it the foreplay to "Roxanne."
They have a "very complex" relationship
After 20 years competing together, Tessa and Scott have gotten very good at using a whole lot of words to say a whole lotta nothing about the status of their relationship. "People search their whole lives for someone that special and we have that and we're very fortunate," Tessa tells us in the show's opening scene, which is set during a totally platonic, not-so-cute date at a carnival. "Tessa says she doesn't remember her life without me. It's really tricky to find someone who understands the relationship that Tessa and I have because it's unique," Scott adds, while gazing at her like you would at the person who makes your heart sing. "Are we dating? It's hard to explain."
In more cutaway interviews, they give two sides of the same story.
Tessa: "Scott and I share a very interesting relationship and everyone always wants to put a label on it. Is it like marriage, is it like a brother-and-sister dynamic? What is it? And I've yet to find the perfect answer for that."
Scott: "Tessa and I have a very …" — pause for a long, stressed look into the camera — "… complex relationship."
Tessa, again: "Sometimes we're best friends and sometimes we're just business partners. There's an ebb and flow to our relationship that's ongoing."
They spend every waking moment on their "chemistry"
The whole first episode of Tessa & Scott is dedicated to their attempt to get their spark back because, as Tessa puts it, "After 17 years of skating together, sometimes things like getting close and holding hands lose their emotion." Their mentor Jean-Marc Généreux's advice? "Look at this guy like he's …" "David Beckham?" Tessa asks. "Or a piece of meat, like a good filet mignon and you really would like to have a bite."
Tessa gets it, but Scott still feels lost. "Physical touch and reacting to each other off the ice, I find it's something we almost need a refresher course in," he says.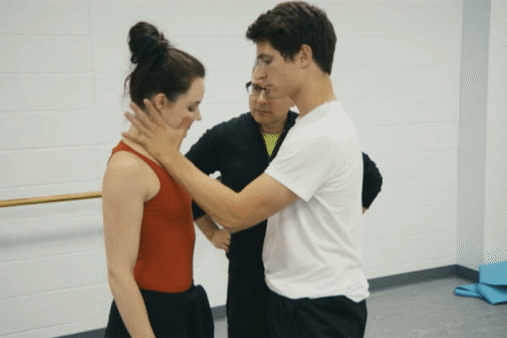 So they're not a couple, even if they act like one. That's why it's so stunning when a bomb is dropped by the pilot's end: Scott has a girlfriend named Cassandra! ("We're pretty hot and heavy," he says.) Cassandra is a brunette Tessa look-alike whom Scott has conveniently never got around to introducing to Tessa herself. Meanwhile, Tessa says she's single because she says she's too focused on her skating to date and allegedly lacks the ability to flirt. "Scott always tells me that I'm oblivious about men being interested in me," she says.
Tessa is also single, though, because Scott cock-blocks her at every opportunity. He's that guy in the corner reminding another dude he has a girlfriend when he catches said dude spitting game at Tessa. He's the one glaring at another figure skater from across the room when Tessa gives him her number. He's there pretending to be bros with fellow Canadian skater Patrick Chan, except when Patrick forgets to get his permission to have a night out with Tessa. Can she live?! And yet, the one time Scott's meddling would've actually been welcomed — when Tessa gets approached by Jian Ghomeshi at a TIFF event — he stayed home to sleep.
The romantic trolling never stops
"I know it's a little bit cocky, but I'm bringing two condoms," Scott tells a reporter about what he's packing for Sochi. He's kidding, or maybe he's not? We later get to follow Tessa and Scott to a costume fitting where he tells her, "You look so much more beautiful than me." Tessa considers the compliment for a split second, then spends a few more seconds checking Scott out, and tells him with her eyes that he's wrong. He looks away to tell her he knows.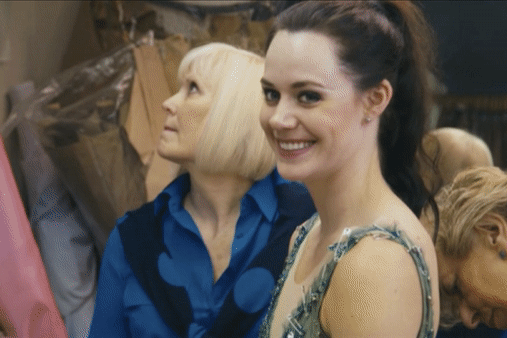 Cassandra, come get your man. He's out here asking in the middle of the ice if Tessa wants to be kissed but never specifies where!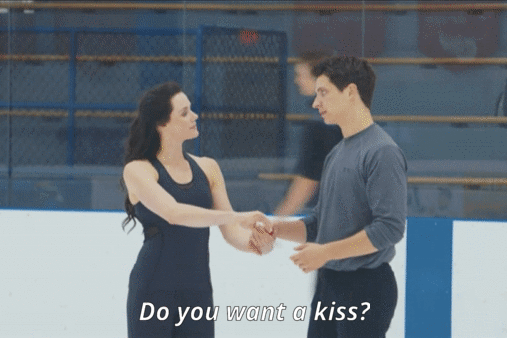 But what happened to Scott's girlfriend?
Like all couples pretending they definitely aren't in a relationship, Tessa and Scott don't seem to know what they're doing and if it'll go anywhere. As the season goes on, Tessa is especially concerned that Scott's gonna go back to shooting guns in the countryside with his boys and forget all about her once they're done skating. She also doubts if they'll have a connection once skating is out of the equation — or if they ever even had one without it. Scott wonders similarly, which is bad news for Cassandra. Oh, speaking of her: Scott brings Cassandra to Paris to watch them skate at a Grand Prix final, tells her he's sorry she has to spend most of the trip in the hotel room because he doesn't have much free time, but then goes on a romantic boat tour and sees the Eiffel Tower with Tessa anyway. (Cassandra and Tessa don't get to meet in the city of love, obviously.) It's only trifling if you ever believed the woman he was in love with for this entire show wasn't named Tessa Virtue.