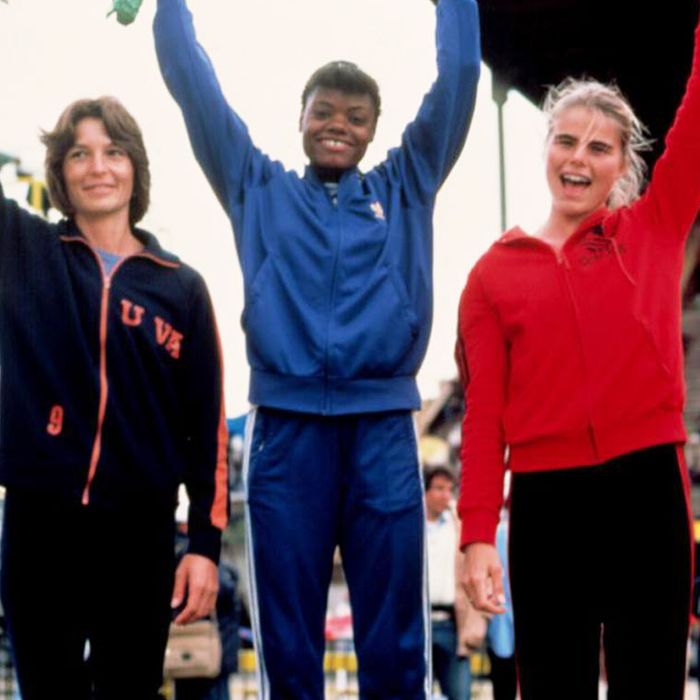 As the Olympics are to ordinary sporting events, so too is the Olympics sports movie to the run-of-the-mill sports drama. Sure, they're both basically the same thing — a celebration of pageantry, a feast of human drama — but when you're talking about the Olympics, the stakes are always elevated. For one thing, they only take place once every four years. For another, unlike our so-called World Series, they actually bring together the entire planet in a global competition to determine who's really the best in every sport. Even in our fractured, distracted modern times, the Olympics remain something that brings everybody together. So it's no wonder that the movies about the Games are equally epic.
With the 2018 Winter Olympics in full swing, we decided to rank the 15 best Olympics movies ever made. And in the spirit of figure-skating judges, we're warning you ahead of time that this listing will be highly subjective. For one thing, we combined narrative films with nonfiction, including three documentaries that are among the highlights of Criterion's crazily comprehensive 100 Years of Olympics Films box set, which came out at the end of last year. And we ultimately decided not to rank this list based on how Olympics-heavy each film was: Munich got as much consideration as One Day in September.
So in between enjoying curling, the luge, the biathlon, and hockey, take a gander at our rundown. Because if there's anything more likely to unite a divided nation than the Winter Games, it's angry commenters taking issue with an online ranking of films.
15. Blades of Glory (2007)
This Will Ferrell comedy actually wrings most of its laughs out of the rival figure-skating combo to Ferrell and Jon Heder, the then-real-life couple of Will Arnett and Amy Poehler. The movie has its moments, and this was when Ferrell was more into the surrealistic aspect of his comedy than the family-friendly version you see today. It still seems a little too "look at the heterosexual men ice dancing" than you'd like, and it's not quite as anarchic as an Anchorman or Step Brothers. Fun fact: This is one of several movies unable to secure the rights to the Olympic name itself; the goal here is "the World Wintersport Games."
14. Without Limits (1996)
If you're keeping score, this was the movie about long-distance runner Steve Prefontaine that didn't have Jared Leto. This one — the better one, written and directed by Robert Towne — features Billy Crudup as Prefontaine and deftly leaps over most of the sports-movie clichés that the Leto film is unable to hurdle. It also features a fantastic performance from Donald Sutherland as Bill Bowerman, the loyal trainer and coach, as hackneyed a sports-movie staple as the Big Game itself. Unfortunately, Leto's movie came out first, and once it flopped, there was nowhere for this movie to go. If audiences didn't want to watch one movie about Steve Prefontaine, they certainly didn't want to watch two.
13. The Cutting Edge (1992)
This by-the-numbers sports romantic comedy has a semi-clever premise that represents what's likely the only way you could make a romantic comedy on ice: Former hockey player (D.B. Sweeney) gets a head injury and can't play hockey anymore, and is thus coupled with a spoiled figure skater (Moira Kelly) in the Olympic pairs competition. That the movie strains credulity — there is literally no one else other than this hockey player who knows how to skate? — but the two leads have enough chemistry to make it work. Silly, but unquestionably cheerful and ultimately winning. Also: It was written by Michael Clayton's Tony Gilroy, his first produced script.
12. Cool Runnings (1993)
Probably the first Winter Olympics movie that comes to mind, and that's worth something right there. Sort of a Rudy for bobsledding, this is a sports movie in which the goal isn't to win, but merely to stay in the game. The Jamaican bobsled team make up the perfectly charming underdogs, your proverbial frozen fish out of ocean water, but this movie's secret weapon is John Candy, showing a certain gravitas later in his career as the grizzled coach with a dark past and a chance at redemption. (Though Candy ever being a bobsledder strains credibility.) It pointed to a future for Candy that we never got to see come to fruition; it was the last of his movies released before he died.
11. Personal Best (1982)
Robert Towne is back on this list again — he must just really be into running? — with this story of team of women (led by Mariel Hemingway) training for the 1980 Olympics. If you just thought, "Hey, I thought we boycotted the 1980 Olympics," well, that's the movie: The women, realizing their Olympics dreams have been dashed, thus have to settle for their "personal best" scores as the pinnacle of their achievement. Towne handles this with warmth and empathy, and it's also worth noting that this was a mainstream studio movie made in 1982 that features its protagonist in a bisexual love triangle in a sensitive, mature way. (The movie was, perhaps inevitably, a box-office failure.)
10. I, Tonya (2017)
Arguments about the movie's tendency to play fast and loose with the facts of Tonya Harding's life and culpability in the Nancy Kerrigan crime aside, I, Tonya is a fun, waggy watch that isn't quite as smart or as deep as it wants to be; it never really decides whether we're all supposed to take this seriously or not, and thus the audience remains as confused as the movie is. There's still some greatness here, starting with Margot Robbie's committed performance, along with of course Allison Janney's withholding, cruel mother. Plus, the actual scenes of ice skating are sort of terrific. The movie isn't particularly well-shot otherwise, but it, like Tonya herself, is at its most comfortable on the ice, and in motion.
9. Visions of Eight (1973)
Film and television producer David L. Wolper had an idea: What if you hired a bunch of international directors to make their own mini-documentaries at the same sporting event? In the case of Visions of Eight, it was the 1972 Munich Olympics, and the collection of filmmakers included Milos Forman, Arthur Penn, and John Schlesinger. Like a lot of omnibus films, some sections of Visions of Eight are simply better than others. (A Man and a Woman director Claude Lelouch decided to focus on athletes who lose, offering a rare glimpse into outright failure in a sports film.) But the novelty of the approach has its quirky appeal, arguing that different people can be watching the same spectacle and come away with completely different takeaways. However, if you're looking for a movie that captures the terror of the Munich Olympics' darkest moment — the kidnap and murder of 11 Israeli athletes and coaches — Visions of Eight largely sidesteps the issue. (Don't worry: Two movies higher on this list tackle it more intensely.)
8. Miracle (2004)
Feel-good underdog sports flicks are a dime a dozen. But every once in a while, a movie comes along that just clicks, generating real suspense and real emotion, knocking all clichés and reservations aside. Director Gavin O'Connor's euphoric portrait of the U.S. men's hockey team, which despite long odds defeated its heavily favored rivals to win gold at the 1980 Winter Olympics, is a wonderful illustration of how to do one of these films right. Starring Kurt Russell as the cantankerous coach Herb Brooks, Miracle copies the winning formula of the team it chronicles, relying on unknown actors to portray this scrappy bunch of no-name athletes who put egos aside for the good of the club. Most viewers knew how Miracle played out — the title refers to the Americans' upset of the mighty Russian squad in the semifinal game, which was nicknamed the "Miracle on Ice" — but few sports flicks capture a sense of community and the unique personalities within it as well as O'Connor did. And, hey, the ending is absolutely dynamite.
7. Tokyo Olympiad (1965)
Almost ten years before Japanese filmmaker Kon Ichikawa was invited to take part in Visions of Eight, he made his own, better documentary about the atmosphere and pageantry of the Games. Tokyo Olympiad isn't the definitive portrait of the Summer Games — that's still coming up on our list — but it's a widescreen beauty that tries its best to cram weeks of athletic competition and spectacle into a three-hour running time. The 1964 Olympics were the first to be held in Asia, and part of the excitement of Tokyo Olympiad is watching Japan embrace the Games as their own. (In turn, Ichikawa suggests the bittersweet reality of his country becoming part of the modern world, letting go of the past while embracing the future.) And for marathon fans, the movie takes us deep into the sport, showing the resilience and exhaustion of those long-distance runners.
6. Chariots of Fire (1981)
Okay, so we can all agree that any number of movies — Raiders of the Lost Ark, Reds, Body Heat, heck, even On Golden Pond — should have won Best Picture over this, yes? Now that that's clear, this is still a formidable, occasionally stirring sports flick about two British runners pushing each other to be the best they can be while still fighting anti-Semitism and prejudice. The movie itself isn't terribly memorable, but it continues to stand the test of time, almost solely because of Vangelis's Oscar-winning score, which will run through your brain every single time you finish a long race, probably forever.
5. Munich (2005)
On September 5, 1972, at the Munich Olympics, 11 Israeli athletes and coaches were taken hostage by the Palestinian terrorist group Black September — a day later, all 11 were dead. Steven Spielberg's Oscar-nominated drama uses that tragedy as the leaping-off point for a mournful look at the limits of vengeance. A Mossad agent (played by Eric Bana) is selected to lead a task force to hit back at Palestine, and what's most shocking about Munich is how electrifying this thriller is. But the beautifully executed suspense sequences come with a sting in their tail, for Spielberg is seducing us with the same feverish desire for revenge that infects Bana's patriot — only slowly does he realize that he's on a quest for blood that can never be sated, and can never be resolved. A longtime champion of Israel — "I made this movie out of love for both of my countries, USA and Israel," he said at the time — Spielberg is nonetheless critical of an-eye-for-eye foreign policy, a tendency that has harmed both of his beloved nations. As a result, Munich remains one of his most divisive films, and one of his most morally nuanced.
4. Downhill Racer (1969)
How is it, exactly, that a movie starring Robert Redford as a skiing champion, with Gene Hackman as his coach, has been so forgotten? Michael Ritchie's 1969 character study about a prickly, conceited, overwhelmingly talented skier (Redford) who is unable to experience joy anywhere other than on the slopes is a welcome antidote to sports-movie clichés. As Roger Ebert put it, this is a movie about the way athletes actually are rather than the way we want them to be: They're full of themselves and arrogant and uncompromising … which is exactly what makes them champions. It's worth revisiting — it knows more about what makes athletes tick than almost any other sports film.
3. Olympia (1938)
As a piece of history and as an influential turning point in documentary cinema, Olympia remains indispensable 80 years after its release. Its backstory is almost as famous as the film itself: German director Leni Riefenstahl, after wowing Adolf Hitler with her expert piece of Nazi propaganda Triumph of the Will, got the go-ahead to make a movie about the 1936 Summer Olympics in Berlin, which was meant to celebrate her homeland's athletic superiority. But unlike Triumph of the Will, Olympia is no hagiography — we see African-American sprinter Jesse Owens dominate the Games, along with medal-winners from other countries. Along the way, Riefenstahl helped popularize several elements of the sports documentary — slow-motion suspense, crowd shots, the emphasis on the individuals involved in these incredible athletic feats — that are still incorporated decades later. Beyond everything else, Riefenstahl (who went to her grave at age 101 swearing she wasn't a Nazi) created the template of how we think of the Olympics: as a massive event that celebrates the blood, sweat, tears, muscle, and will of athletes pushing themselves to the limit.
2. One Day in September (1999)
Chronicling the same tragedy alluded to in Munich, Kevin Macdonald's Oscar-winning documentary could be seen as a precursor to ESPN's "30 for 30" nonfiction formula, combining archival news footage and contemporary interviews to re-create a pivotal sports moment while offering a modern perspective on those events. But that would be to shortchange the grim, gripping tension of One Day in September, which seeks to explain why the death of 11 Israeli athletes and coaches during the 1972 Olympics was such a human and moral catastrophe — and precisely how it unfolded. Hitting theaters just a year before 9/11, One Day in September has a fresh resonance for all those who endured those U.S. attacks; Macdonald's movie captures the loss of innocence engineered by the Palestinian terrorists, who stripped from the Olympics the idea of peaceful competition and global goodwill. Knowing how that terrorist standoff ended up does nothing to prepare the viewer for this documentary's sobering resolution — and the painful realization that another attack could happen at any moment.
1. Foxcatcher (2014)
One of the reasons Americans watch the Olympics is to root for our athletes. It's a simple but powerful human impulse: We want our guys and gals to beat the people from those other countries so that we can have some bragging rights and maybe even feel a little superior. That competitive impulse is woven into the very fabric of the United States, so to pretend otherwise would simply be foolish. And yet, our pick for the best Olympic film ever made spits in the eye of that rationale. Foxcatcher is a dark, somewhat opaque retelling of the saga of Mark Schultz (Channing Tatum) and Dave Schultz (Mark Ruffalo), medal-winning wrestling brothers who fell under the sway of John du Pont (Steve Carell), a rich, eccentric man who wanted to bring glory to the U.S. at the 1988 Olympics by recruiting the brothers for his wrestling team. What follows is a study of ambition, class, brotherly rivalry, and competition that's far removed from the typical sports-movie tropes like winning the big game and growing as a person. Under the watchful eye of Moneyball director Bennett Miller, these characters are grappling with something far heavier and more mysterious: that ineffable American dream that insists we're all just one training montage or comeback victory away from greatness. Foxcatcher is a mournful, odd little movie, but its three leads play their unhappy characters with such conviction and urgency that it's hard not to get swept up in their interpersonal grudge match. During the actual Olympics, NBC will be focusing on feel-good narratives that celebrate the triumph of the human spirit. But Foxcatcher stands as a dark reminder of everything simmering underneath that sales job. There's nothing to cheer in this movie, but it's just as absorbing and riveting.
Grierson & Leitch write about the movies regularly and host a podcast on film. Follow them on Twitter or visit their site.