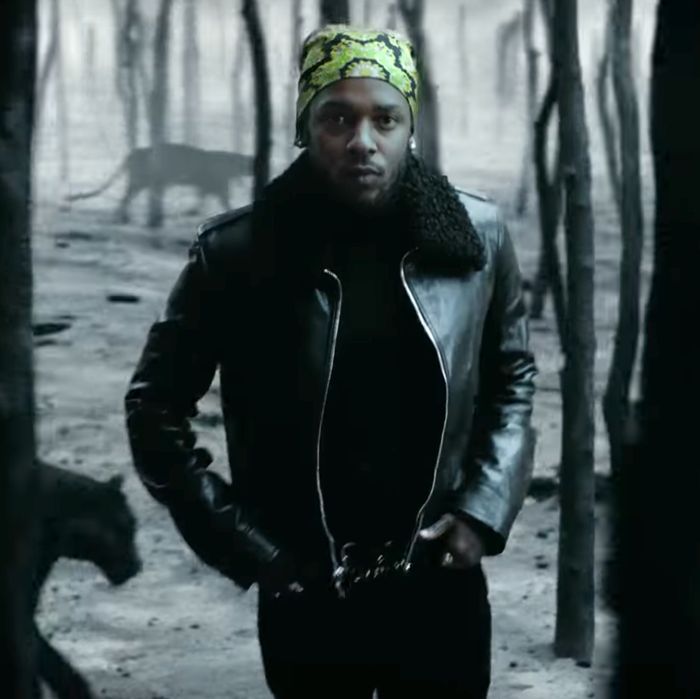 Black Panther is a peculiar pop-culture moment. It's not the first black superhero film; Robert Townsend made The Meteor Man, Damon Wayans was Blankman, and Wesley Snipes did a whole Blade trilogy. What's rare is the mutual trust between Hollywood, black viewers, and Panther's black director, writers, and actors to deliver something both luxurious and excellent. The synergy between these parties hasn't been this strong since the '90s, when directors like Spike Lee, Mario Van Peebles, and John Singleton made knotty, tragic, and reliably successful films about the black experience. Recent successes like Girls Trip, Denzel Washington's Fences adaptation, and Black Panther director Ryan Coogler's chilling Oscar Grant biopic Fruitvale Station, alongside social-media pressure from the #OscarsSoWhite movement, delivered proof to executives that audiences are hungry for new black dramas and action films. Excitement for Panther has resulted in record ticket-presale turnout, and the early reviews are the best for a superhero film since Christopher Nolan's The Dark Knight. Just five years ago, black Oscar winners like Halle Berry and Mo'Nique couldn't find good roles, and less-than-enthusiastic turnout for Anthony Hemingway's Tuskegee Airmen film Red Tails was treated like a Hindenburg disaster for black cinema. Today feels like a new era.
In keeping with the spirit of black self-sufficiency exemplified by Black Panther's native Wakanda, a fictitious East African country sitting on a meteorite's worth of a precious ore that makes it a powerful world player in weapons and tech, Coogler called a rapper for the Black Panther soundtrack. He reached out to Kendrick Lamar to contribute a few songs and, after showing the artist a considerable chunk of the film, got back a full 50-minute album from the rapper and his Top Dawg Entertainment collective. (Lamar's only billed on five songs, but his voice is heard on nearly all of them, pitching in uncredited hooks and riffing off of other rappers and singers.) It's a throwback to '90s black cinema, where a popular film arrived with a soundtrack with hits of its own. Friday launched the Dr. Dre smash "Keep Their Heads Ringin'." Waiting to Exhale delivered Whitney Houston's Grammy-nominated chart topper "Exhale (Shoop)." Black Panther: The Album's calling card is "All the Stars," a plush collaboration between Kendrick Lamar and breakout R&B singer SZA that interpolates Salt-N-Pepa's "Let's Talk About Sex." It's great off-peak Kendrick, a light serving of the rapper's trademark austerity and dexterity that's missing in the suffocating, apocalyptic urgency of his concept-heavy studio albums.
Black Panther: The Album is more than just a tasteful tie-in album that gives the TDE kids a few more songs to perform on their upcoming tour. It's a musical summit between different corners of the black diaspora. K. Dot and TDE feature alongside fellow West Coast rappers Vince Staples, Mozzy, and SOB X RBE. 2 Chainz, Travis Scott, and Swae Lee rep the American South. From South Africa, there's Babes Wodumo, Yugen Blakrok, Sjava, and Saudi. The Weeknd reps Toronto and Ethiopia. Singer Jorja Smith hails from London. The visionary stretches of Black Panther: The Album succeed at playing everything to everyone. "Opps" sees Kendrick, Staples, and Blakrok jousting over a hellish production not far removed from the stark hip-house of Vince's Big Fish album. Lamar goes nuclear over tribal drums on the opener "Black Panther," channeling Wakandan warrior-king T'Challa's tortured tug-of-war between ambition and ancestral obligation as he ponders his own hip-hop regency. "Redemption" pairs South African gqom star Babes with "LOVE." singer Zacari. It's hard not to pine for more cross-cultural moments like these, but realistically speaking, Black Panther: The Album is ⅔ full of airtight American rap and R&B performances because there's units to push here.
The best hip-hop cuts on the soundtrack shine thanks to unusual pairings. Kendrick and the Bay Area brawlers in SOB X RBE have a rowdy club anthem on their hands with "Paramedic!," where the West Coast technician trades bars with a group of teens so hyped that they race ahead of the beat sometimes. Future upstages Jay Rock and Kendrick on "King's Dead" with a high-pitched guest spot that sounds like a toddler singing raunchy old Three 6 Mafia tunes. (The best Kendrick collaborations are the ones with someone wild and weird enough loosen him up. See: "Cartoon and Cereal" with Gunplay, "Jealous" with the late Fredo Santana, "New Freezer" with Rich the Kid, etc.) Schoolboy Q and 2 Chainz match the immense chemistry showcased on Q's Oxymoron track "What They Want" on Panther's stellar "X," where Kendrick keeps yelling "Are we on ten yet?" and the guest rappers keep ramping the energy up to match.
Not quite everything here works. The Travis Scott cut "Big Shot" reunites most of the team responsible for Scott and Kendrick's Birds in the Trap Sing Brian McKnight collaboration "goosebumps." The energy's high, but the new song never delivers a note as catchy as the prior song's chorus or a line that's crazier than Kendrick's falsetto'd "Put the pussy on a pedestal" rant. (The "Big Shot" chorus is lifted from a line in "New Freezer." It sounded better there.) Kendrick and the Weeknd fail to deliver on the album closer "Pray for Me," a lesser doppelgänger of the Canadian singer's "Starboy" that wastes not one but two great voices on lifeless superhero-movie-soundtrack boilerplate. The roteness of the closer illuminates how great of a job Black Panther: The Album does elsewhere of sounding like a real, cohesive studio album instead of a piecemeal collection of "songs from and inspired by" a popcorn movie where the good guys spend two-and-a-half hours beating the bad guys about the head and neck.
Two summers ago, Suicide Squad's soundtrack carried the film's more-celebrities-equals-more-viewers ethos to its logical conclusion, tapping Lil Wayne, Wiz Khalifa, Imagine Dragons, X Ambassadors, and other shockingly incongruous stars for a body of songs that flowed as naturally as a game of Mad Libs. This past fall, Bright got the not-so-bright idea that the landmark rap-rock Judgment Night soundtrack needed a modern update and did weird shit like plop A$AP Rocky and Tom Morello and Neil Young and D.R.A.M. on tracks together. Black Panther: The Album recognizes that the key to a good soundtrack is good chemistry, not just noteworthy names, but for good measure, it delivers on both. We still have a week left to see how these songs mesh with the film that houses them, but for now, it looks like we showed up for a Marvel movie and got a pretty good Kendrick album for our troubles? Thanks, T'Challa.
This story has been edited because a previous version misidentified Jorja Smith as the singer on the Drake song "Passionfruit."