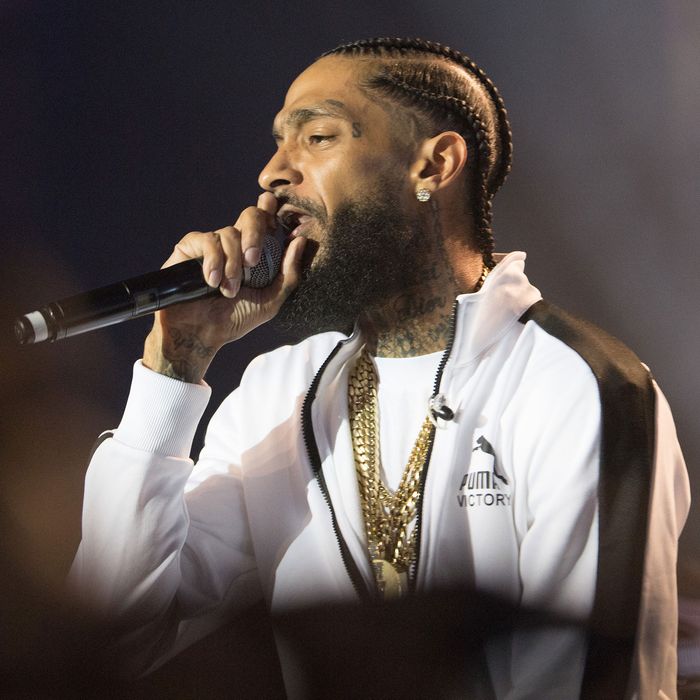 Nipsey Hussle.
Photo: Earl Gibson III/Getty Images
Thanks to the continued success of Kendrick Lamar and TDE, alongside reliable talents like YG and Tyler, the Creator and strong up-and-comers like Mozzy and Kamaiyah, the West Coast, rap's once and future superpower, is experiencing a boom. Kendrick's ineffable string of weighty concept albums that also kill on the charts seems to be creating faith on the part of labels that rap records full of knotty, intelligent bars and adult themes can sell. More and more signed and unsigned properties are getting a push. This month alone, Kendrick's Black Panther soundtrack topped the Billboard chart — outpacing The Greatest Showman album, the year's other soundtrack success story — and Los Angeles rappers Tyga, Nipsey Hussle, and Cozz have new studio albums out as well. Each rapper's new record presents a different approach to the business of crafting a mainstream hip-hop studio album, to varying degrees of success. Cozz focuses on deep storytelling, while Tyga exclusively pitches hooks, and Nipsey tries a bit of both.
Cozz is a 24-year-old rapper from South Central Los Angeles who's signed to J. Cole's Dreamville Records. He's a formalist beyond his years, the kind of guy who shouts out Tupac and Big L as influences in early interviews and drops nods to classic Jay-Z and Biggie songs on his debut studio album. Cozz raps with a sense of purpose and place, as the successor to a line of intelligent spitters that stretches back decades. When he's on, he's on. "Dreams" and "Knock Tha Hustle" crushed, but not enough of the rest of 2014's Cozz & Effect matched those heights. Cozz sounded a little too much like TDE's Ab-Soul at the time, and succumbed too often to that rapper's taste for shaky woke-guy one-liners and great ideas fumbled on quirky phrasings. This week's Effected offers the rapper space to show how much he's grown since Cozz & Effect and 2016's Nothin Personal. You can tell he's proud of the new stuff: He was on Twitter the night of the album's release instructing fans to digest the music patiently and send back lyrics they thought were striking.
Effected does find Cozz more in tune with his voice over smart, pensive tracks like "Demons N Distractions" ("See, in this life we got choices / And I decided I'ma shine the brightest, like the colors on a koi fish"), although some songs still carry lines and anecdotes that could've used a little more finesse. The J. Cole collaboration "Zendaya" rides hard until Cozz's verse-three air ball about buying a car to "coupe with the pain." The title track relays a lengthy story about a friend stealing a holographic Pokémon card and lying about it to drive home the point that people can't be trusted, but it doesn't notice that the silliness of the story is distracting, the same way the tale of excited sexual inexperience at the center of Cole's "Wet Dreamz" got a little embarrassing on its path toward enlightenment. Cozz is a lot like his label boss was a few albums back: He's a good rapper with a great ear for jazz-rap beats who simply needs a few more tries to get his formula to congeal. As hip-hop labels founded by rappers go, Dreamville seems like a great place to stage a steady build like this. It's giving priceless industry shine to smart up-and-coming acts like J.I.D and EarthGang while allowing each one take his time to get his sound right.
If any rapper knows the value of time and practice, it's Nipsey Hussle. It's strange to hear this month's Victory Lap referred to as Nipsey's debut studio album, since he's been working the mixtape circuit for over a decade. Hussle made a track with Drake years before tracks with Drake were the industry's hottest ticket. He scored the obligatory Jay-Z cosign four years ago. Victory Lap is a first in name only, an overdue formality like a belated housewarming party. It's a chance for people to hear the rapper spit without the weight of offbeat media comings and goings like the time he slapped a thousand-dollar price point on a mixtape or the times he insulted black women and gay men on social media. Nipsey Hussle is a formidable rhymer and a bit of a strange character at times, and Victory Lap makes the best of both.
A quality Victory Lap shares with your textbook mainstream hip-hop debut studio album is a dense guest list. There's an extra rapper or singer (or two) on 10 of 16 tracks here, and the list includes everyone from vets like Diddy and CeeLo Green to peers like Kendrick, Dom Kennedy, and YG. For a young, unknown artist, this kind of star power often helps draw eyes and sell records at the cost of a measure of individuality. Turning over the steering wheel too many times makes it feel like the marquee artist is not in control. Nipsey, however, is a seasoned writer with years of experience bouncing verses off others, so his record never gets derailed, even when Kendrick shows out on "Dedication." Hussle is crazy enough to jump on a screwed rendering of "Hard Knock Life" — a song whose immaculate lyrical timing once earned Jay-Z props from Michael Jackson — and still kill it. He always sounds at ease, whether he's kicking heady story raps like "Victory Lap" or going off over West Coast gangster shit like "Rap Niggas" and "Last Time That I Checc'd." If you've been a fan since mixtapes like The Marathon, you'll find sharp sequels to favorites like "Keyz to the City" and "Blue Laces." If you're new to the artist, welcome to one of the better major-label rap records of the young year. Victory Lap pairs tasteful nods to Cali rap's past with the stars and sounds of its vibrant present in hopes of cornering the market on its future. If he can quell the bad press, he's got a reasonable shot at the big leagues.
Tyga's been active in the rap game about as long as Nipsey Hussle has. His first exposure came through work with his cousin Travie McCoy of Gym Class Heroes and Fall Out Boy songwriter Pete Wentz's Decaydance Records in 2008. He enjoyed his greatest success as a part of Lil Wayne's Young Money clique, where he featured on tracks with Drake and Nicki Minaj and, through the success of the DJ Mustard collaboration "Rack City," tripped and discovered a new direction for Los Angeles pop rap. Eventually he got it into his head that he deserved a higher spot in the Young Money pecking order and spoke harshly of his label mates, severing ties with his cash cow in the process. He crash-landed in Kanye West's jurisdiction, where he crafted the sort-of-disastrous Gold Album, which could be the worst project West's name has ever been attached to as executive producer. Tyga returns this week after a string of shaky indie projects with Kyoto, an album abruptly announced three weeks out from launch via the unveiling of the baffling cover, which depicts a nude tiger-woman drawn in the Japanese Kemono style bending over erotically in front of the nation's flag. The sketchy taste at work on the cover speaks to the music; Kyoto's a questionable R&B album from a guy whose strength is keeping time over a killer beat.
Tyga is a performer whose access outstrips his talent and who is constantly catching breaks that don't seem plausible. He hasn't had a hit since the Chris Brown stimulus package Fan of a Fan, but Kyoto's beats sound plush and very expensive, good enough in spots to make the marquee artist feel a little small. The lyrics here rarely rise above loud '90s and aughts R&B references — there are nods to Ashanti, Ja Rule, Aaliyah, Maxwell, Kelis, Jodeci, and more — and horny puns. Smart-dumb Facebook status-update lines prevail: "I've been lying like the king of the jungle." "I lost my watch, but I still find time." The decision to sing rather than rap plays out like a righty boxing southpaw: the aim is spotty, since he's not playing to his strengths, but in the handful of times where he actually connects, he hits hard. Kyoto finally starts to cook in the back half, where Tyga disappears into lighter hooks and moods. "Leather in the Rain" is a surprisingly sturdy Drake knockoff, the best-case scenario for an album where a rapper suddenly takes up singing over trap and dancehall compositions as his full-time occupation. And if you can stand hearing Tyga toy with the legacy of Jodeci's "Come and Talk to Me," "Come and Ball with Me" kinda rides. Ultimately, too much time is spent waiting for the rapper to serve a killer melody when that's never been his specialty.
Kyoto's a miss overall, but what's a miss to an artist who always lands on his feet when he fails? Tyga knows his audience, much in the same way that workmanlike MCs like Cozz and Nipsey are mindful of the people who enjoy the kind of music they make. Releases like the trio of L.A. rap albums out now seem pitched squarely at the base, where artists at this level once used albums like these to expand their reach. A decade ago, when the Game broke through out of Los Angeles, he did it alongside the Shady/Aftermath/G-Unit guys, a pan-regional rap clique with representatives from the East Coast, the West Coast, the Midwest, and the South. Game's debut album, The Documentary, tapped artists and producers from each area, cross-pollinating sounds to maximize impact. The success of Kendrick Lamar's thoughtful, insular body of work seems to have also guided other rappers to trust that being true to themselves will pull the necessary audience, that contorting into whatever styles they think listeners will be sweet on is, in fact, a dead enterprise. It feels like the days of the kitchen-sink hip-hop studio album are done. Good riddance?