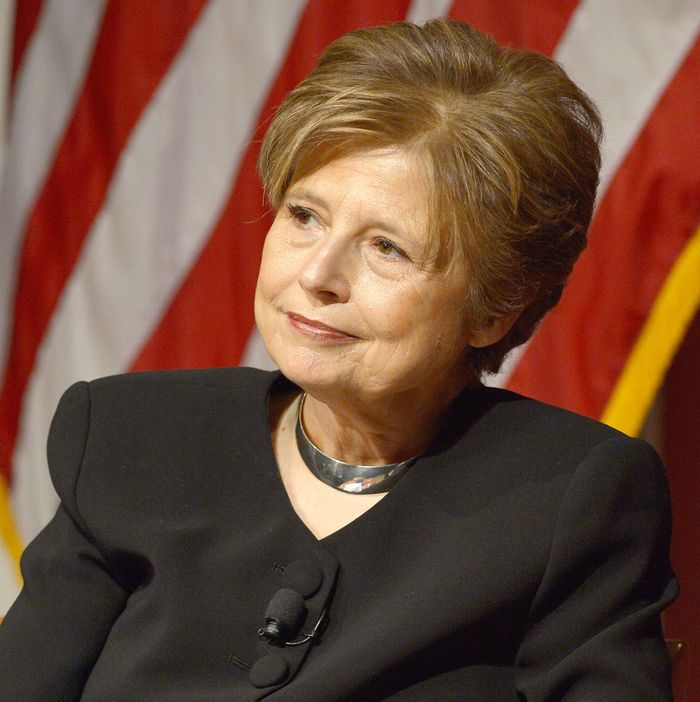 Deborah Borda, the New York Philharmonic's former and next president.
Photo: Paul Marotta/Getty Images
Maybe it was inevitable that the one leader in classical music who could upstage Deborah Borda was Deborah Borda. Ever since the New York Philharmonic appointed her president and CEO last spring, wooing her from the Los Angeles Philharmonic, the orchestra world has been hoping she would bring some of that West Coast magic back East. At any other time, the first full season she and music director Jaap van Zweden programmed together would have seemed bold, beginning as it does with a newly commissioned work by Ashley Fure and ending with a David Lang opera. But a week before the rollout, Borda's old band beat her new one to the punch: The L.A. Philharmonic announced a yearlong centennial extravaganza that she also had a major role in programming. That L.A. season includes 50 commissions, nearly half by women and more than half by composers of color, and it makes virtually every other orchestra in the world look timid or decrepit or both. "No orchestra has been this ambitious, ever," trumpeted a Los Angeles Times headline.
East Coast Borda has taken up West Coast Borda's challenge. "Historically, the [New York] Philharmonic has flourished when it's taken risks," she tells me. When Borda took over, the framework for 2018–19 was already in place, but she and van Zweden dismantled the season and hammered it back together with a more cogent purpose in mind. "We felt the New York Philharmonic should be of our city, about our city, and in our time." Like every other arts organization, the orchestra is chasing the young (or youngish), and Borda insists the key is not to peddle outdated prestige or blandish with watered-down entertainment but to present art that is socially engaged. "Millennials are hungry for experience, but they need a different context, one that's political and social," she says.
The result is a season in which new music, especially the made-in–New York kind, has a major presence — not just as a condiment to be used sparingly between thick slabs of Beethoven but in the form of large-scale dramas. David Lang took a leave from teaching at Yale to fill Borda's rush order for his prisoner of the state, an updated retelling of Beethoven's political opera Fidelio. Lang's fellow Bang on a Can co-founder (and fellow Pulitzer Prize winner) Julia Wolfe will revisit the 1911 Triangle Shirtwaist Factory fire in a multimedia work called Fire in My Mouth. And a Philharmonic tribute to the Dutch composer Louis Andriessen, an inescapable influence on the New York scene, will center on the world premiere of his Agamemnon. When a fresh score does share a program with a blockbuster classic, the pairing serves as a challenge: Ashley Fure will have to hold her own with Stravinsky's Rite of Spring and Conrad Tao with Bruckner's Eighth Symphony.
Like most large orchestras, the Philharmonic is a sluggish institution. Borda is nudging it forward, but it's unfair to expect an immediate Errol Flynn leap into the future. Five world premieres, two by women, is not an astounding statistic, though more new music, and perhaps more of it by women and composers of color, will populate smaller events outside of Geffen Hall. Van Zweden's predecessor Alan Gilbert founded Contact! a tiny, roving series devoted to new chamber music that sometimes seemed only distantly related to the events taking place on the mothership. That program is going away, to be replaced by two separate series — nine concerts in all — hosted by the violist, podcast host, and new-music activist Nadia Sirota. A varied but all-male parade of composer-curators — Conrad Tao, Louis Andriessen, Gabriel Kahane, Matthias Pintscher, John Adams, and John Corigliano — will program Nightcap, a set of late-night new-music concerts in the Kaplan Penthouse.
In Los Angeles, Borda's commitment to programming music by women has been obvious and impressive. Returning to New York, she's found an orchestra that is gradually coming to recognize that women are writing some of the most colorfully urgent music of our time, works that need no quotas or special pleading, only a chance to be heard played well and more than once.
A recent Contact! concert at National Sawdust was at once exciting and discouraging. The program showcased five major talents, all women (Fure and Anna Thorvaldsdóttir, plus Sarah Kirkland Snider, Fernanda Aoki Navarro, and Du Yun). Grouping them all into a small-scale single-sex event smacked a bit of tokenism, but the Philharmonic is also showing signs of a broader commitment. At the Contact! concert, Fure's six-year-old chamber work Therefore I Was evoked the misfiring neurons and muscular spasms of her grandmother's Parkinson's disease in music that bedazzled the ear. On opening night in September, when van Zweden officially begins his tenure as music director, the first notes he conducts will be hers. Thorvaldsdóttir, whose restlessly atmospheric Ró ensorceled the audience at National Sawdust, is currently the orchestra's resident emerging composer, and her Metacosmos will have its world premiere at Geffen Hall in April.
Women are also, ever so gradually, stepping up to the Philharmonic podium. Susanna Mälkki returned last month with an incandescent performance of Debussy's La Mer (a performance that made clear why Borda nabbed her as principal guest conductor for the L.A. Philharmonic). Next season, Mirga Gražinytė-Tyla and the baroque specialist Emmanuelle Haïm both make their Philharmonic debuts, forming a kind of scouting party for the phalanx of talented women advancing on the world's major podiums.
All this must seem slightly stunning to Borda, who ran the same orchestra in the 1990s, when Kurt Masur was the music director, until his relentless sexism and a hostile board effectively drove her away. "It's a completely different orchestra now," she says. Only a quarter of the current players remain from her last stint. In the intervening years, the staff and board have come to "realize that the tectonic plates of society are shifting," and that cultural organizations have to adapt or die. "I couldn't have put together this season in my first year in L.A., but I can here."
During her tenure, the Los Angeles Philharmonic became the overcompensating younger brother in the bicoastal competition, raising and spending more money, hiring a flashier music director in Gustavo Dudamel, stirring up more excitement, playing in a newer and better hall, and steadily transforming the definition of a 21st-century symphony orchestra. But, she points out, all that took 17 years. "When I first got out there, the orchestra was deeply in debt, not raising money, nobody was sure the hall was going to be built, and people weren't coming to concerts. Things didn't reverse right away. It's evolutionary."
Borda has the long view of a radical incrementalist, but time is limited. At 67, she may not have another 17-year tenure in which to put her ideas into practice, especially since the economics of running an orchestra get more dire every year. In the past, donations followed prestige, and ensembles could attract generous patrons simply by playing good music well. That's not enough for the tech generation, whose most affluent members often see philanthropy as a pragmatic tool. "They want ROI" — return on investment. "Museums can flourish because they can tip off donors to a great artist whose work they can buy. There's a quid pro quo. But what is the value of sitting and listening to a great symphony or a new piece of music? We will either answer that question or we won't."