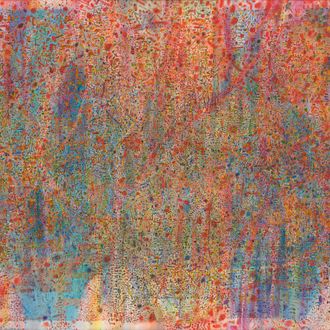 Tomm El-Saieh,
Walking Razor
, 2017–2018.
Photo: Courtesy the artist and CENTRAL FINE, Miami Beach.
There are 26 artists and artist collectives between the ages of 26 and 36 in the New Museum triennial "Songs for Sabotage." As is the case with most biennials these days, all are said to be making art that addresses "profound social and political upheaval." Thus "Songs" is a pro forma biennial, name-checking the heady litany of issues shows like this always address: systemic oppression, Western hegemony, economic injustice, migration, homophobia, racism, sexism, colonialism, and postcolonialism. The bugaboo most maligned by the co-curators — the New Museum's Gary Carrion-Murayari and Alex Gartenfeld, deputy director and chief curator of the Institute for Contemporary Art in Miami — is something called "late liberalism," which is ID'd as the "illusion of the seamless flow of capital through global networks via mechanisms of surveillance and control."
This is all really just curator code for "I'm more woke than you." A better definition of "late liberalism" in the art world may be tenured and professional curators and academics ignoring the emergencies and needs of artists in their backyards (95 percent of whom could use a break) and instead traveling the world to troubled hot spots like concerned anchormen and anchorwomen to bring back "interventions" and art that supposedly "sabotages" things. At some point, of course, this kind of engagement would be exciting to discover in the insular, well-off bubble of the art world. But by now this international style is an expected, depressing, safe, self-congratulatory tautology that keeps people employed in the "the flow of capital through global networks" while patting participants on the back for being engaged with "corrective methodologies." I call it being strung out on privileged bullshit. What out there is actually being corrected by this work?
The catalogue has words in it that I didn't know. The show is about the "precariat" and "geontopower." I looked them up. The first word is about a generation born during a period of the greatest accumulation of wealth in the history of the world but who nevertheless live in unstable economies. It's worth pointing out that 99 percent of all artists have always lived like this. Needless to say most of the artists included here are relatively well-off —either schooled, degreed, living in more than one city (that's a nice racket), recipients of important grants and residencies where they do "interventions with the local communities." This is not to say, of course, that no beneficiary of art-world largesse should feel qualified to make work involving social critique. Quite the opposite. But I want to see them walking the walk, not just posing the pose.
To define the second word, "geontopower," the catalogue offers a dodge: "a set of discourses." You can't win with these people! Words like "undercommons," "hypercapitalism," "networked mediascapes," and "anarcho-syndicalists" are tossed off. There's lots of usual art-speak about art that "interrogates," leading us to conclude that in the last 15 years the art world has gone from being undertakers proclaiming mediums dead to becoming lawyers taking depositions. In an old neo-Marxist tip of the hat, the approved word for artists is now "cultural producer." No artist can rise to these levels of activism. Especially not very very young ones. (And these are the same people who end up writing the histories, curating the shows, teaching the courses, editing out "impurities" from bibliographies, reviewing one another's shows, hiring colleagues for jobs.) Meanwhile, a claque of critics lauds every show and demonizes all those who don't. It's airtight.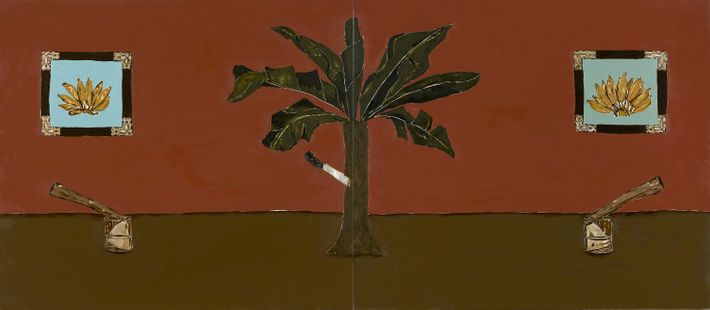 But we must not blame artists for this curatorial belaboring. Or even the New Museum — one of the best institutions of its kind anywhere. It's a nonproductive self-replicating curatorial/academic pathogen in the system that I think needs to die. Still, the pleasant surprise of "Songs" is that the stated prohibition against "formal and technical progress" bears enough fruit that we may generously say that "Songs" is a glass one-quarter full rather than three-quarters empty and annoying.
Everything in the show is done in recognizable styles, idioms, and genres — be they traditionally figurative and expressionist painting, assembled constructions, digital art, neo-conceptual sculpture, and of course, gathered, found, and altered objects. But painting is the standout medium. "Songs" demonstrates that there is new life being breathed into old isms by artists from all over the world and that movements aren't simply "over" when white male European and North American artists and art historians no longer engage them. Gresham Tapiwa Nyaude's canvasses depict freakish Francis Bacon–ish scenes with screaming figures (who are said to represent President Robert Mugabe). His wild colors suggest that Zimbabwe may be a hothouse for new pictorial ideas about painting. The subtle symbolist paintings of Brazil's Dalton Paula's recall Mexican retablos and images are meant to be devotional and healing. Claudia Martinez Garay, of Peru, channels way too much of Walid Raad but manages to present propaganda symbols separated out from their more modernist frames that at least makes this formula an engaging good beginning.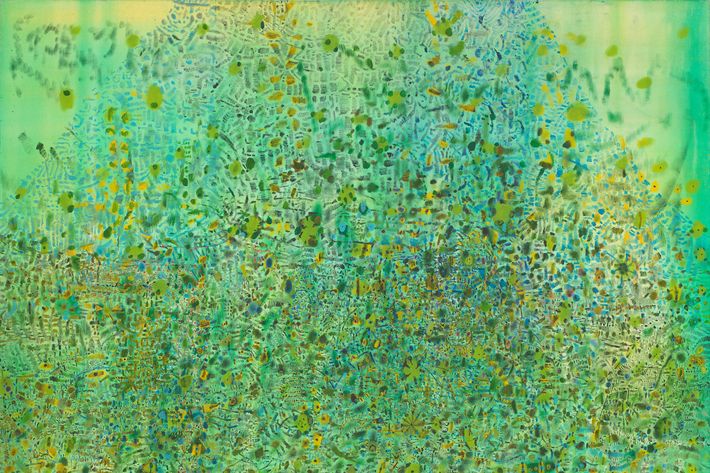 The best artist in Songs is Haiti's Tomm El-Saieh who makes dreamy, subtly colored dot-and-dash-scapes, mapping abstract Chinese-like landscapes that evoke iridescent magnetic fields, incessant waves of water, and remind us of a more abstract Chris Ofili. Keep your eye on him; there's real vision here. Cian Dayrit, of the Philippines, makes captivating but overthought maps of his country on what look like painted carpets and charts dotted with references to colonialism, U.S. military operations, former plantations, and current open-pit mining. His best is a Boshian apocalyptic world with demons, hellfire, flying dragons, packed towns, and swooping eagles. Russia's Zhenya Machneva might rightfully be called a tapestry artist but her careful renditions of banal factories and mechanical equipment suggests she's tapping into mid-20th-century Precisionism and the great under-known German painter Konrad Klapheck. On a personal level my heart broke a little with Manuel Solano's outsider-ish paintings of figures strapped in beds, crying, standing alone in landscapes and against city walls. This artist went legally blind in 2014, at the age of 27, is transgender and HIV-positive and also produces elaborate music and performance pieces.
On the sculptural side of the tracks, the mysterious, sexual, threatening sculptural objects of Julia Phillips made me feel like I was seeing the beginning of a very good artist. Similar feelings struck me around the work of Violet Dennison, Matthew Angelo Harrison, the collective known as KERNAL, and Daniela Ortiz — who fashions playful ceramic oddities meant to replace monuments to various conquistadores.
On the other hand, there are works that purport to be about things — or rather, that demonstrate the precariat and geontopower merging in the undercommons to interrogate the ways that cultural workers intervene in hypercapitalism. Or something. Haroon Gunn-Salie's gallery-filling sculptural installation of 17 headless, crouching figures is said to reference protesting South African miners who were mercilessly gunned down by police in 2012. It's a poignant story. There's a soundtrack of guns. But this display would work better as a public work within the right context, and here has already become little more than a photo op. This artist has been better in the past. Ditto Diamond Stingily's ionized aluminum swing set with a ladder, hanging barbell weight, and a swing with a brick attached on the overhead crossbeam. One of the curators told me he thought it represented the "contested space of violence perpetuated against black American children in public space." Really it's just a surreal swing set brought indoors. Explications of this work are forced. Curators and academics need to stop telling us that all this art "disrupts" or "sabotages" anything. It doesn't.
I believe that artists all over the world and in our own backyards are violating any resistance to "formal and technical progress." LaToya Ruby Frazier's straight documentary photography has reignited this sleeping form and made it into a raging beast; Louis Fratino's personal, painterly depictions of everyday gay life raise the bar of figurative-visionary painting, as do the stitched, painted, and sewn works of Tschabalala Self; ditto Katherine Bernhardt. Cynthia Talmadge is actually advancing appropriation in works that are infinitely odd, as is Al Freeman — a woman who sometimes only compares photographs, and on my Instagram has gotten 5,000 people upset. Meanwhile, 1990s pathetic-aesthetic progenitor Cary Leibowitz (a.k.a. Candy Ass) is still working at top form; Cameron Rowland revives what should be the dead conceptualism of art that is only in the labels by having a feel for objects that is almost as formalist and striking as Donald Judd's. When biennials don't have to be politics all on the exact same tribal page, shows like this and art in general will again be allowed the complexity, autonomy, and strangeness of all of its possible structures.