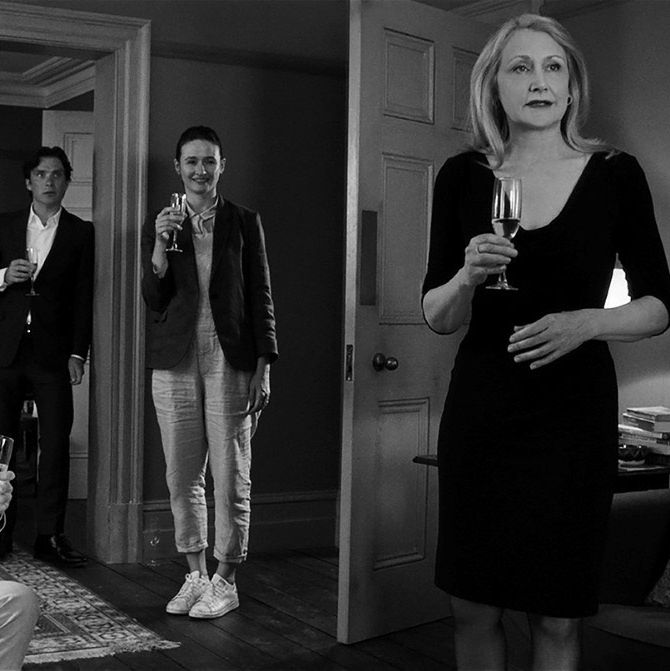 The ­Party
.
Photo: Adventure Pictures
Ever unpredictable, the writer-director Sally Potter returns with a brief (barely over an hour, sans credits) and darkly amusing specimen of the dinner-party-from-hell subgenre, aptly named The Party. Politics is at the heart of the dinner's disintegration, but there are no easy targets here — no smug reactionaries, bigots, or rapacious capitalists. Potter's seven characters are largely progressive and forward-thinking. Even the cynics have their hearts in the right place. It's easier to respect a filmmaker's sense of hopelessness when it's mixed with this much affection.
Sad to say, the party is meant as a victory celebration, because Janet (Kristin Scott Thomas) has just been appointed the U.K. minister of health. But her old comrade April (Patricia Clarkson) has lost her faith in parliamentary procedure. While in the living room, Janet's husband, Bill (Timothy Spall), gets increasingly stewed on red wine, barely registering the New Age platitudes of April's soon-to-be-ex-boyfriend, Gottfried (Bruno Ganz), the women in the kitchen argue over the possibility of accomplishing anything meaningful in such a defensively centrist climate. It should be said that April is a pill but that Janet isn't exactly a font of idealism. She looks distracted — perhaps because her illicit lover keeps texting her.
We've barely met these people — or the lesbian couple Martha (Cherry Jones) and Jinny (Emily Mortimer) or Tom (Cillian Murphy), the banker husband of a dear but hitherto absent friend — before there's a tide of ghastly revelations (infidelity, terminal illness) and their attendant homicidal rage. The dialogue is rather broad, but Brits are good at playing high-speed craziness absolutely straight, and the Yank Cherry Jones has the theatrical chops to keep up — while also bringing a touch of warmth. Clarkson is the odd duck, slipping into camp à la the late Elaine Stritch, but what a deep, purring voice for slinging insults.
Potter and her cinematographer, Alexey Rodionov, have taken pains to prove that though a given space might be finite, it is infinitely subdividable. The Party is breathlessly well shot — and, even better, in lustrous black and white. The look conveys an unspoken message: Even playing fools, these actors are pure class.
*This article appears in the February 19, 2018, issue of New York Magazine.