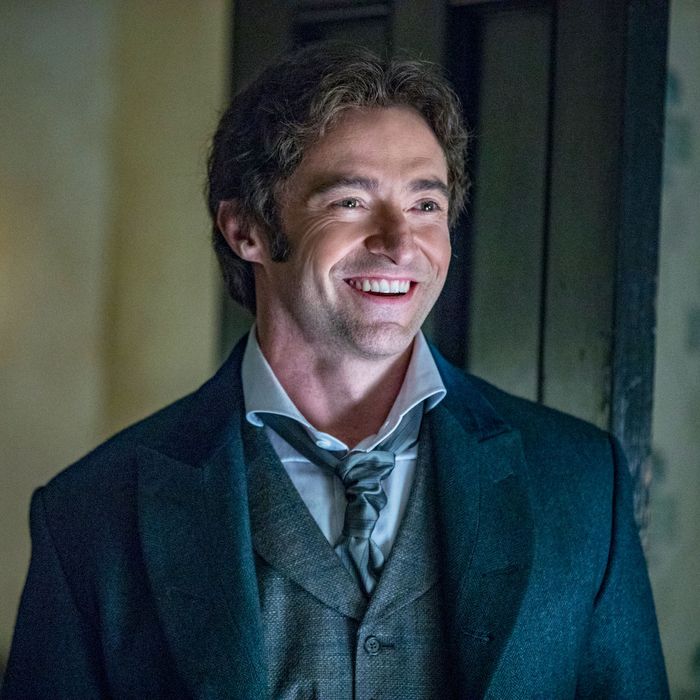 Hugh Jackman in
The Greatest Showman.
Photo: Nico Tavernise/Twentieth Century Fox
When The Greatest Showman arrived in theaters on Christmas Day, the biopic-musical's initial showing wasn't particularly, well, great. Starring Hugh Jackman as P.T. Barnum, and inauthentically plotted around the 19th-century circus huckster/carny capitalist/freak show impresario's rise to prominence, the PG-rated movie emerged into one of last year's most competitive release corridors: up against Star Wars: The Last Jedi (which had come out ten days earlier but still dominated ticket sales) and Jumanji: Welcome to the Jungle, as well as awards bait such as Phantom Thread, the Aaron Sorkin–directed Molly's Game, and All the Money in the World.
Worse still, critics weren't generally kind to the film — "Suckers May Be Bored Every Minute of the Exhausting 'The Greatest Showman,'" reads the headline on the Village Voice's review — leading to a calamitous 55 percent "fresh" rating on Rotten Tomatoes. And for all the Fox-distributed film's dubstep drops, outré dance numbers, pop-video-inflected cinematography, and songs composed by Grammy-/Tony-/Oscar-winning La La Land lyricists Benj Pasek and Justin Paul, Showman just couldn't find an audience over its Yuletide bow. Playing in just over 3,000 theaters, the film's debut three-day total was a mere $8.8 million. "To be perfectly frank, after that opening weekend, we thought we were dead," Chris Aronson, president of domestic distribution for 20th Century Fox, tells Vulture. "Eight point eight is not a robust opening by any stretch. The opening was disappointing."
But audience exits polls told another story: People loved The Greatest Showman. And independent of any Fox efforts to continue promoting the film, fans began spreading their love through social media and good old-fashioned word of mouth. What's more, its soundtrack — featuring vocal performances by Jackman and co-stars Zendaya, Zac Efron, and Michelle Williams (among others) — began to climb up the pop charts after first landing on the Billboard album chart at No. 66.
Over its second weekend in theaters, Showman took in a comparatively robust $15.5 million; in its third, $13.7 million. And at a stage where most movies see attendance drop off a cliff, Showman showed surprising staying power, demonstrating only incremental audience declines week by week into its second month in theaters. The soundtrack, meanwhile, shot to the top of the pop charts in the U.S., the U.K., and Australia, hitting No. 1 at iTunes in 75 countries, and picking up a gold RIAA certification along the way. Its breakout anthem "This Is Me" (sung by Keala Settle) also won a Golden Globe and is currently in the running for a Best Original Song Oscar.
Now in its tenth week in theaters, the $84 million movie has grossed an impressive $146 million domestically ($314 million worldwide) to become one of the rare slow-burn cinematic successes in recent memory. "It's just keeps going and going," says Paul Dergarabedian, senior media analyst for comScore. "The weekend drops were like 11 percent, nine percent, 15 percent, 10 percent. That is almost unheard of for any movie. The sustained interest that audiences have had in this movie kept it afloat and kept it going and made it one of the unsung heroes of the holiday box-office season."
As Erik Davis, managing editor at Fandango, points out, the movie was something of an outlier: a live-action, family-friendly film with a life-affirming message that wasn't specifically aimed at a faith-based audience and that was (for concerned parents) refreshingly free of the kind of bathroom humor or sexual innuendo that typically accompanies PG-13-rated fare. "After its first week at the box office, the user reviews on Fandango were ecstatic, with mostly five-star ratings," says Davis. "The great word of mouth spread quickly and The Greatest Showman ended up as one of our top ticket sellers through the holidays."
So what can other movies (or at the very least, their studio distributors and marketers) learn from Showman's underdog path to the kingdom of sleeper hits? In a crowded multiplex marketplace, how can other films duplicate the movie's success? In a word (perhaps Hollywood's least favorite word): patience. Positioned as counter-programming to the winter movie season's barrage of popcorn and prestige fare, Showman arrived in theaters as the cinematic version of neither fish nor fowl; what studio executives described internally as a "special movie." But even after the bad reviews and lackluster opening, they continued to push the film, organizing "Sing-along" screenings — videoke-style events where lyrics to the songs were flashed onscreen and audience members joined in the performance. And that helped perpetuate word-of-mouth buzz.
More crucially, though, exit polls convinced execs not to give up on Showman even while moviegoers flocked to The Last Jedi and Jumanji. "You have to know your content. You have to be confident in having something that audiences will embrace," Aronson says. "I liken it to a fine bottle of wine. You gotta let it breathe. If you do, the better it gets. But if you pour it all out, 'Eh, it's okay.' Then it's gone. Let it breathe; then you savor it."