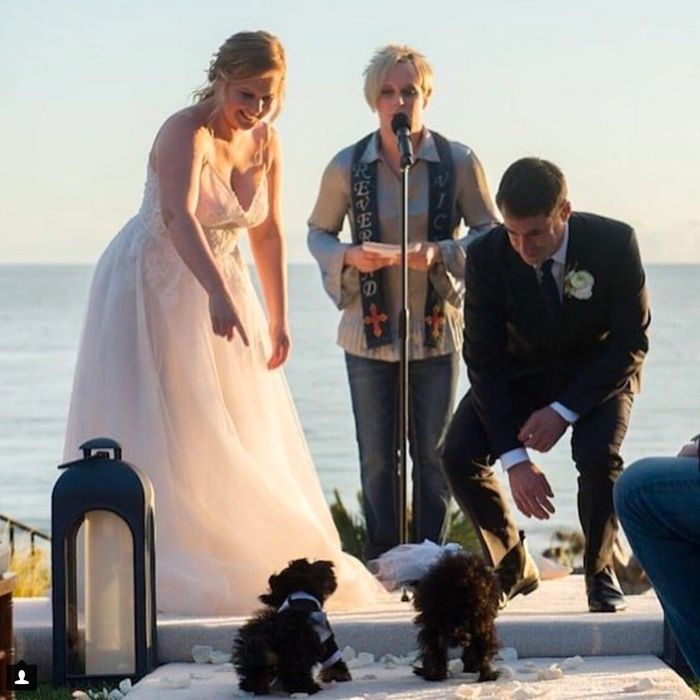 Photo: @bejohnce/Instagram
On Thursday, comedian and Search Party star John Early posted a photo of himself on Instagram officiating Amy Schumer's wedding with Chris Fischer by the sea. We took a closer look: Could that be the one and only Vicky? Chain-smoking, denim-aficionado Vicky from The Characters? The boozy southern mama who just crushes it onstage? We called up friend of the program, John Early, who confirmed, yes, honey, Vicky married Amy Schumer.
"I got a text from Amy Schumer about three nights before the wedding that said, 'Will you officiate my wedding as Vicky? Adele backed out,'" comedian John Early says to me, laughing on the phone. "I was paralyzed for probably 20 minutes and I considered saying no, because it just seemed too overwhelming, and then I realized that I would never forgive myself if I said no. It just made for such a good story, I just had to do it." He said yes!
Early says he knew Schumer from Twitter years prior, and later met her in person at the premiere of her Broadway debut in Steve Martin's Meteor Shower. Both she and her husband were big fans of Vicky, a character he did during an episode of the Netflix show The Characters. "She's really evangelical about The Characters, which is so sweet," Early says of Schumer. "She has good taste and her main goal was to keep it fun and funny. So what better person to hire than Vicky?"
Early got ordained online, and got out his Vicky costume and wig. The day of the wedding, he drove over to Malibu with another wedding guest, Trainwreck cast member Claudia O'Doherty, who also did Early's makeup for him about 45 minutes beforehand. "My Vicky costume has been balled up in a suitcase since I last used it. I just told Claudia to bring a bunch of makeup and we just drove to Malibu for two hours before the wedding and just threw it on," says Early. For the ceremony, he found his denim — a clergy stole that read "Reverend Vicky" in rhinestones made by his friend Tina Stormberg — and went barefoot with his toenails painted red.
Early's opening line? "Dearly beloved — and Seth Meyers — we are gathered here today for what I've just been told is a Jewish wedding." He took a look at the guest list the night before and picked the late-night host because he felt comfortable teasing him. The other celebrities in attendance that day included Jake Gyllenhaal, Larry David, Lauren Hutton, Aidy Bryant, Vanessa Bayer, Judd Apatow, Bridget Everett, and others. "I was like, 'This is hell,'" says Early when he first heard who was coming.
But officiating the ceremony in character as Vicky made things easier, perhaps, than doing it as himself. "If I were up there doing it myself, I would be in a prison of my personality. It would be terrifying," Early says. "Not to be too artsy about it, but I was in very good hands with Vicky. She's in control. She's not afraid to be sincere. Vicky is a softie, and she's religious! She's a God-fearing woman. I think she understands the sanctity of the moment."
Will Vicky be available to officiate other weddings in the future? "Absolutely, but it would have to be for someone very special. I don't think she's for hire."