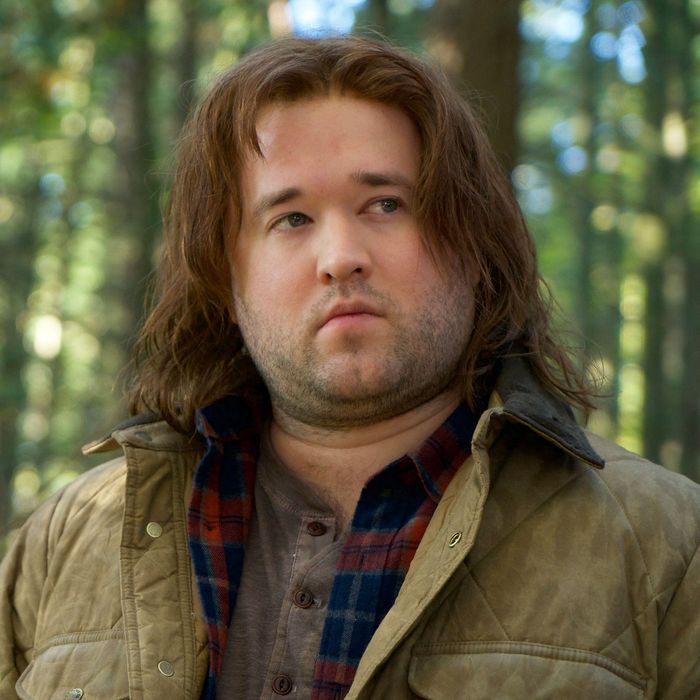 It's a Skinner episode! We've seen the distrust between Scully, Mulder, and Skinner grow this season, and "Kitten" is a solid hour in terms of bringing them back to the same cause: discovering the truth. It also offers some nice insight into the background of Walter Skinner, including how he became both a reliable keeper of government secrets and someone looking to expose them.
It all started in Vietnam. That's where "Kitten" opens, introducing us to a young Skinner and a fellow soldier named John, played well by Haley Joel Osment. John, Skinner, and another man have been assigned to protect a crate labeled "MK Naomi" with their lives. As they're taking gunfire in a Vietnamese hut, the crate is punctured, allowing a green-yellow gas to emerge. John takes the brunt of the chemical impact, and instantly sees a figure in a terrifying skull mask. He starts stabbing. People are massacred.
Post-credits, we jump to years later and get an appearance by a familiar face, FBI Director Alvin Kersh (James Pickens Jr.), whom we haven't seen since the original series finale. He tells Mulder and Scully that Skinner is missing, also noting that their buddy has basically stalled his career by protecting the X-Files. Kersh is still kind of an asshole, but he does tell them to bring Skinner back while he still has a shred of his career left.
Mulder and Scully head to Skinner's apartment and find no personal items, mementoes, or family photos. They do discover the clue needed for this week's adventure — don't you love how conveniently that always happens? — in an envelope addressed to Skinner that reveals he was a Marine. What's in the envelope? An ear! Ewww. They also find a piece of paper that says, "The Monsters Are Here," and they track the package to a little town called Mud Lick, Kentucky.
Their first stop is the Mud Lick police station, where they encounter a homeless vet out front rambling about "kitten." They learn that there's been some weird happenings around town, including hunting traps and missing teeth. People are even saying they've seen a monster in the woods. Cut to a hunter falling in a trap and Skinner appearing at its edge. Is he setting the traps?
After Scully and Mulder do a little detective work involving a conveniently placed motion-sensing deer cam, they figure out that "Kitten" refers to a person. It's the Vietnam vet's nickname — and Skinner's nickname is Eagle! Awesome.
Cut to Eagle walking around a house in the woods. He sees a picture of John on the wall with the faces of his family cut out. We get a really disturbing flashback to what the gas did to John. He brags about cutting off his enemy's ears, and wearing them around his neck like trophies. Then we see Skinner save John's life when an enemy approaches with grenades strapped to his body. Skinner's investigation is interrupted by John's son, Davey, who looks exactly like his dad (and is also played by Osment because The X-Files loves actors in dual roles).
Davey isn't happy. He rails at how Skinner betrayed his father, testifying against him after the war and never revealing that the gas changed a scared, peaceful kid into a killing machine. Skinner wanted to make amends, but the government "vanished" John. Davey insists his father wasn't crazy, just forever altered by the gas, and that the experiments continued at a local veterans' facility after the war. Skinner was forced to stay quiet and keep a dangerous man off the street, but at what cost?
Meanwhile, Scully and Mulder have a conversation about whether or not they can trust Skinner. Truthfully, it sounds a lot like Chris Carter jumping in for a quick rewrite: "A man ruled by his moral compass" is very Carter, as is Mulder using the word "unequivocally." The point is that Scully and Mulder can't decide how much to trust someone they're now trying to save.
Davey leads Skinner to his dad's body, strung up from a tree, and Skinner falls in Davey's trap, where he gets speared by a wood spike. As Mulder and Scully drive up, Davey pulls a tarp over the trap. He plays nice and the agents come inside while Skinner tries to get cell service in his death trap. Meanwhile, Davey offers a bit more detail about his father, including references to mind control and MK Ultra, a real government program recently detailed in Errol Morris's excellent Wormwood. It turns out MK Naomi was the successor to MK Ultra. As Davey is rambling, Mulder sees a picture of Skinner in the photo book and tells Scully it's time to go. While she goes to get cell service, Mulder will rescue Skinner.
Back in the house, Mulder finds the skull mask in the closet, but doesn't notice Davey is actually wearing it. He hears Skinner in the trap and bends over to get him out, just in time to get pushed in himself. Don't bend over when you don't know where your attacker is, Mulder! Davey pours gasoline on Mulder and Skinner. He's just about to light them up when Scully comes to the rescue, shooting him once. Davey disappears while they're getting Mulder out, but he's ultimately the victim of one of his own traps as a brutal wall of wooden spikes plummets into him.
The episode wraps up with a nice scene of Skinner saying that he wouldn't be here at all — much less upwardly mobile — if not for Mulder and Scully. He couldn't protect John, a kid who was drafted and turned into a monster. That failure planted seeds of mistrust that made him a natural third musketeer for Mulder and Scully. He's also searching for the truth and wants to bring down a government that betrayed so many people. He owes that kid who really died in Vietnam.
After the nice beat of "Skinner, we're with you," things end a little goofily. Skinner is losing a tooth like the other Mud Lick residents, and the episode leans into a chemtrail conspiracy theory, as planes gas crops against Davey's voice-over about a government that only wants to control its people. You can't win 'em all, I guess.
Other Notes
• The song that Davey plays is thematically perfect: "Fear is a Man's Best Friend" by John Cale.
• In case you missed it, the credits tag this week says, "A War is Never Over."
• The Vietnam plot not only recalls government programs like MK Ultra and MK Naomi, but the controversy surrounding Agent Orange and its impact on our soldiers.
• In an episode that was seriously light on humor, I did enjoy Mulder's reference to his "juices."
• The Skinner background is very well done in the way it provides depth to both sides of this complex character. On the one hand, he kept the government's secrets, refusing to testify about the gas that changed his buddy. On the other, keeping that secret made him more likely to support the X-Files. It's nice to have these three closer together than they've been all season. It's not the same show without Skinner.