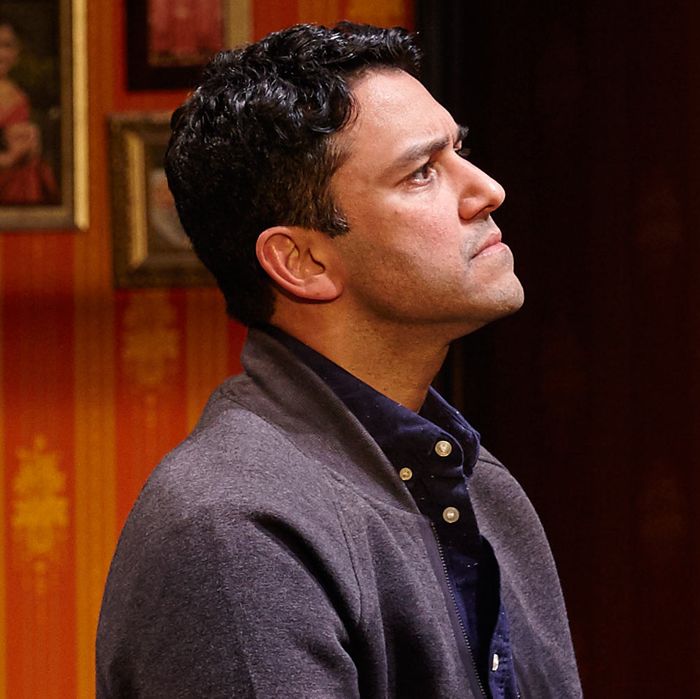 From
An Ordinary Muslim,
at NYTW.
Photo: Suzi Sadler
"I don't want to be tolerated. I want to be respected."
So says Azeem Bhatti, the angry, suffering man at the center of Hammaad Chaudry's potent An Ordinary Muslim, under the assured direction of Jo Bonney at New York Theatre Workshop. Azeem — in a fierce performance by Sanjit De Silva — is a recently married, 30-something bank employee in West London. He's also a first-generation British Pakistani Muslim, the son of a couple who immigrated to England in the long wake of Partition, the bloody postwar division of India and Pakistan that displaced 15 million people and killed over a million, as Hindus and Muslims alike were forced to resettle their families along newly drawn — and hostile —religious and political boundaries. Azeem's father, Akeel Bhatti (the affecting Ranjit Chowdhry), often reminds his son of the hardships he endured so that Azeem and his sister, Javeria, could grow up with more opportunities, earning their livings not "on buses or stalls" but in offices. "I raised this family," insists Akeel in a moment of torment, "I worked, penny by penny, I built this home, I sacrificed, I, I did right, I did, I'm a good man …"
The Bhatti patriarch's stammering protest is an awful thing to hear, coming as it does after he has knocked his wife to the ground. It's not the first time. Akeel has a history of domestic violence, which he's managed to control in recent years but which has flared up again. Chaudry's play begins with the Bhatti siblings' attempt to manage their parents: Akeel and his wife, Malika, have argued; he's hit her, which has aggravated her heart condition and sent the house into a panic. Now Javeria has arrived from Manchester, where she lives with her husband and kids, to take her father away for a few weeks — an intervention disguised as a vacation. But the Bhattis can't make it 24 hours without another outburst. Before Javeria can pack her father off to the train, old resentments have bubbled up, accusations have been thrown, tears have been shed, and once again Malika ends up on the floor, with Akeel shaking and guilty and the adult siblings frozen like terrified children, powerless to end the cycle of domestic strife.
An Ordinary Muslim is its playwright's professional debut, and it's an impressive one. Chaudry, a graduate of Columbia's playwriting MFA where the play was his thesis project, worked under the mentorship of Tony Kushner to bring the story of the Bhattis to life, and the development process shows. The play feels solid, nurtured, strong-boned. It participates in a long Western tradition of Unhappy Family dramas, from Long Day's Journey Into Night to August: Osage County, but its power comes from its playwright's — and its central character's — struggle with this very tradition, with the Western-ness they've been brought up in and encouraged to embrace (the Bhattis live in London; Chaudry grew up in Edinburgh). "A good Muslim is an invisible Muslim," snaps Azeem when his wife Saima (the excellent, understated Purva Bedi) mentions her desire to start wearing her hijab to work, "You go in wearing your headscarf … they'll never accept you."
Chaudry has created a meticulous, empathetic ensemble drama — all eight of his characters feel nuanced, human — but the heart of his pain is located in the father and son, Akeel and Azeem. He's looking at the way in which displacement and prejudice has shaken the core dignity of generations of Muslim men, ground down their self-worth so effectively that violence has begun to fill the gap. Azeem is disgusted by his father's treatment of his mother, yet he derides and condescends to his own wife. He's overcome with justified frustration at a superior at his work, whose behavior he interprets as ignorant and bigoted, but his fury leaks over into every relationship in his life — whether with his friend and co-worker David, or with Saima, or his parents, or especially the Jameels, cousins of the Bhatti family who are leaders in the Tablighi Jamaat, a devout Muslim revivalist movement focused on helping practicing Muslims gain a deeper understanding of Islam.
"Too Muslim for some, not Muslim enough for others," Azeem laments bitterly, "Story of my life." His defenses are so sharpened that they've become a form of attack, whether on those within his religious community or outside it. Every interaction is a fight. No one can escape his vitriol because Azeem can't escape himself. On the outside, he's a smart, sarcastic jokester with a mean streak — inside, he's eaten up by anger. At the start of Grief Lessons, her translations of four plays by Euripides, Anne Carson writes, "Why does tragedy exist? Because you are full of rage. Why are you full of rage? Because you are full of grief." Azeem, like his father, is constantly grieving — wrestling with the loss of a homeland he never even knew, an identity and a dignity that never had a chance to become fully formed before they came under siege.
"I don't have a history, I don't have a heritage," Azeem fumes as he sits at the pub with David, having fallen off the wagon (again). "And I hate you so much for that." David (Andrew Hovelson in a sturdy performance as the bluff, liberal white guy who's still, slowly, learning) is shocked by his friend's fury, and so, to an extent, are we. You can hear the intake of breath in the audience when Azeem continues, speaking of the attacks carried out in Britain by "British Muslims, with their British passports": "Truth is," he whispers, to David's horror, "when I see a Muslim go after you fuckers, however big or small it may be … I get it. It's hard not to."
It's a hard line to hear, and one of the most important to listen to. Though Chaudry's play is concerned with much more "ordinary" matters than bombings and battles, the playwright is delving intently into root causes: What is it that turns people, human beings with hearts and histories, into terrorists — an unforgivable, inhuman word in our modern parlance, a word that might as well be "monster"? As An Ordinary Muslim follows the saga of the Bhatti family — focusing on Azeem's growing desperation and the deterioration of his marriage— we can sense the swelling torment that comes from feeling rootless and worthless for too long. Azeem may feel like he has no history, but his anger does. The potential tragedy is that he might not find a way out: His rage might become his future as well as his past.
But Chaudry isn't writing a tragedy. At least, not one that feels fatalistic and final in the Greek sense. The play's heartbreaks are the heartbreaks of life — real and lasting, but survivable — and there's humor and even hope to be found in the Bhattis' story. Bonney does precise, powerful work with the entire cast, and it's particularly wrenching — in that half-funny, half-excruciating, wholly recognizable way — when the generations lock horns. Rita Wolf gives a fine, often chilling performance as Malika, the complicated Bhatti matriarch who has suffered abuse but also inflicted it (she beat her daughter even as her husband beat her, and to Javeria's lasting vexation she openly prefers her son and grandson to her daughter and granddaughter). And the play's climactic scene between Akeel and Azeem — both guarded, both ashamed, both afraid they have failed as husbands and as men — is both terrible and tender. "You sound like me," mourns Akeel, listening to his son's roiling discontent, "But, but for you, it, it should've been different …" Chaudry is a young playwright, but his play has a sad wisdom to it, an aching sense of the cruel cycles of history and of families, and a deeply felt question at its heart: What's to become of all this anger? Without a real home, where can one go to feel whole?