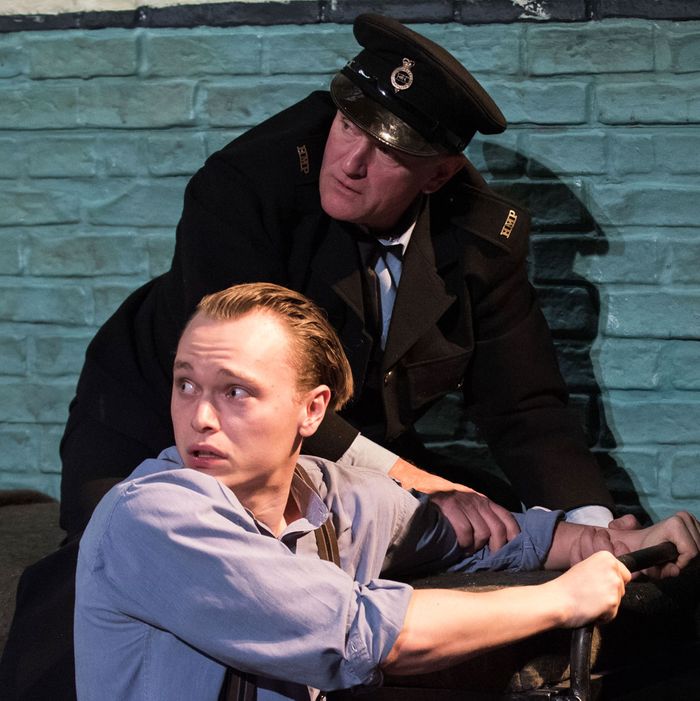 From
Hangmen,
at the Atlantic Theater Company.
Photo: Ahron R. Foster
Martin McDonagh's newest play was a long time in coming. In 2015, when Hangmen premiered at the Royal Court in London, McDonagh told the Guardian that he'd been mulling over the central premise since 2001. "I guess I got sidetracked by other projects," he confessed, "But this was also a trickier play to write than the others … This is about a big subject — capital punishment and miscarriages of justice — and I really didn't want it to be a message play. As always, I had to find the story and then let the issues just bubble up underneath."
Now, more than a decade later — and corresponding cannily with the Oscar nominations for his latest film, Three Billboards Outside Ebbing, Missouri — Hangmen is making its American debut at the Atlantic Theater Company. Once again under the assured direction of Matthew Dunster, the play is right on brand for its author: sly, plot-driven, and morbidly funny, with a masterly ear for regional voices and an array of plum parts for actors. While more deliberate and less full-on explosive than some of McDonagh's earlier work, Hangmen still taps into the undeniable satisfactions of clever plotting and strong character work. Does it feel like a profound examination of those "big subjects" its author wanted to tackle? More like an impish evocation of them — but McDonagh has always been more raconteur than moralist. Even though he's known for splattery shock-and-awe, the playwright's real joys are structure and language. Ultraviolence aside, he knows how to spin a yarn. It could be argued that in the spinning of this one he borrows a bit from himself (especially from his giddy gore-fest The Lieutenant of Inishmore), but the results are a nastily good time all the same. If you love this scene from Snatch, chances are you'll have fun with Hangmen.
Like Guy Ritchie, McDonagh is skilled at constructing dangerous situations in which posturing, self-satisfied blokes find themselves out of their depth, with both vicious and comic results. In Hangmen, the windbag trying to stay afloat by means of his own hot air is Harry Wade, played with an expert blend of portly complacency and flaring brutishness by Mark Addy (American audiences will most likely know him as the portly, brutish Robert Baratheon from Game of Thrones). Harry runs a pub with his wife Alice (a sympathetic performance by Sally Rogers in a not-always-sympathetic role) in Oldham, outside Manchester — but first and foremost he's a proud "servant of the crown" in the role of hangman. Or rather, he was until recently.
McDonagh's play opens in 1963, when death by hanging was still legal in England. We witness the execution of a young man named James Hennessy, who hysterically claims his innocence in the face of Harry's stolid indifference and the nebbishy attempts at consolation by the chief hangman's bespectacled assistant, Syd ("If you'd've just tried to relax you could've been dead by now"). Soon enough, though, Hennessy drops to his death — in one of the more disturbing manifestations of a hanging I've seen on stage, all the more chilling for its bluntness — and Harry goes off to breakfast. What follows is a massive set change and a two-year jump forward in time. This is where a rock-and-roll title sequence would occur in the movie version, but given theater's limitations, sound designer Ian Dickinson and scenic designer Anna Fleischle do an impressive job at holding our interest while they engineer the shift from prison to pub, and from 1963 to 1965, the year that hanging was abolished in the U.K. (Dickinson and Fleischle, who also designed the costumes, do top-notch work throughout at evoking northern England in the '60s, with strains of Beatles-esque pop livening up the transitions and a variety of spot-on sartorial gestures. Those tight jackets, those heeled boots, all that burnt orange.)
With hanging gone the way of the woolly mammoth, Harry is left with only his sense of self-importance, which is formidable, and the flattery of the three local flunkies who spend every afternoon getting soused in his pub (Billy Carter and Richard Hollis make a consistently amusing pair as Charlie and Bill, but John Horton deserves his own extended round of applause for his daffy, guileless performance as Arthur, the group's semi-deaf unintentional truth-speaker). Despite delivering a lot of high-flown malarkey about "keeping his own counsel," Harry soon grants a gossipy interview to the local newspaperman, Clegg (the sharp, appealing Owen Campbell), most of which he spends lording it over a fellow hangman, the famous Albert Pierrepoint. Pierrepoint has haunted Harry for years: the terrified Hennessy even lamented not being executed by the superior hangman.
McDonagh is gleefully setting up bowling pins here. Harry's truculent ego, the shadow of his lifelong rival, the memory of the possibly innocent Hennessy, the sudden return of his former assistant Syd (a first-rate spluttering, cringing comic turn by Reece Shearsmith), and the hangman's home life with his wife and 15-year-old daughter Shirley, who's constantly berated by her parents for being mopey, moody, and shy — all are carefully arranged, ready to have a big, violent ball rolled straight at them. It comes in the shape of Peter Mooney, a handsome out-of-towner with a London accent, a Fab Four fashion sense, and a self-described "vaguely menacing" air. Johnny Flynn is doing crackerjack work (and clearly having a great time) as this slippery, sociopathic stranger who shows up ostensibly trying to rent the room above Harry and Alice's pub. He's all unblinking vulpine half-grins, sinister self-amused monologues, and calculated imitations of normal human interaction. "Poor Phyllis," he says to Shirley, trying to win the teenager's favor by offering sympathy about her school friend who's just been confined to a mental hospital. You can see the mechanisms ticking inside his head, trying to get his face into the right shape: I suspect this is what sympathy looks like.
He's also got a dynamite scene partner in Gaby French as the sweet, angsty, browbeaten-but-still-stubborn Shirley. French, who's only been out of drama school for a year, all but walks away with Hangmen. With her hunched shoulders and round face, her plaintive teenage lilt and her weird, irresistible earnestness — "I'd say some nuns are shyer than me. It depends on the nun, don't it!" — she'd be the best thing on the stage if Dunster didn't have a steady enough hand and a strong enough company to keep the play feeling like a solid ensemble piece.
We love Shirley, and we need to: the mounting action of Hangmen depends on our fears for her fate. She's the moral center in a room full of layabouts, alcoholics, and murderers — of the state-sanctioned variety and possibly the other kind as well. When Mooney — his slick exterior suddenly erupting into savagery after Alice phones the references he's provided as a possible tenant — screams at her, "Your husband killed 200 fucking people! Where's his fucking references?!", we get a sense of the anger beneath McDonagh's cleverness. What, if anything, makes some killings and some killers righteous? Who decides what justice is and who delivers it? One of Harry's regular patrons is a police inspector who spends more time at the pub than "down cop shop": if these grandiloquent, lager-swilling good old boys are the arbiters of right and wrong, of life and death, then perhaps that's ultimately more menacing than all the Mooneys of the world.
Hangmen is at the Atlantic Theater Company through March 7.