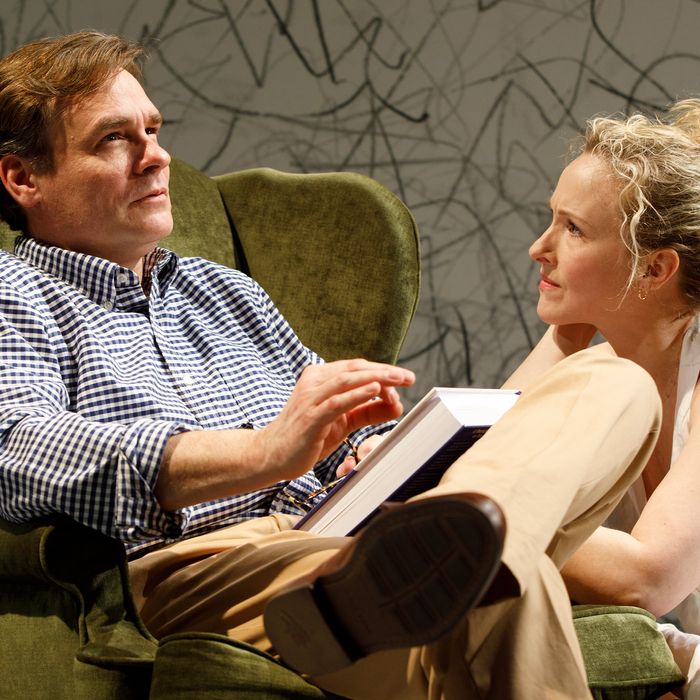 At Home at the Zoo,
at Signature Theatre.
Photo: Joan Marcus
There's a small play playing on Signature Theatre's largest stage.
Well, in some ways it's small. In reputation, it's big. Edward Albee's at Home at the Zoo (that's the legally mandated title, like Disney's Frozen) is a two-act play made up of a pair of related one-acts by Edward Albee, who died in 2016, after a career that helped to remake his chosen form. His biting psychological realism-with-a-twist unearthed the bitterness, desperation, and perversity beneath the taut, icy social surfaces, of more than 30 plays: Who's Afraid of Virginia Woolf?, A Delicate Balance, Three Tall Women, and many more.
But before Albee was a theatrical giant, he was a struggling poet in Greenwich Village. In 1959 the young writer, feeling he'd failed at poetry and fiction, decided to try playwriting. In just under three weeks, a month before he turned 30, he wrote his first play, a two-hander destined to become the most famous American one-act, well, maybe ever: The Zoo Story.
The Zoo Story makes up Act Two of At Home at the Zoo. Act One is a play called Homelife, which Albee wrote in the early 2000s in order to flesh out the character of Peter, one of the two in his earlier play. By 2009, Albee had established the new title and issued a mandate that professional theaters no longer be allowed to produce The Zoo Story on its own, only At Home at the Zoo in its entirety. (The playwright and his estate are strict, exerting cantankerous, sometimes controversial control over his works.)
Now Signature Theatre, where Albee was playwright-in-residence in the 1993–94 season, is honoring him with its new production of At Home at the Zoo, directed by the ubiquitous Lila Neugebauer. And my only question is … why? Why is Signature filling the 294-seat Irene Diamond with a play that, for all its historical significance, is a bit like the theatrical equivalent of Shirley Jackson's The Lottery or O. Henry's The Gift of the Magi: undeniably Good in certain senses — well-structured, surprising (well … the first time), and important from a cultural-literacy standpoint — but now so established, so known that its teeth can't help feeling a bit dulled.
But wait: Mightn't one say the same about any revival of a classic? What about the hundreds of productions of Shakespeare that fill American stages every year? I'd argue that there's something different in the continued examination of canonical works in the public domain — where there's the potential, with each new production, for an entirely reenvisioned theatrical world — than in the relatively unadventurous remounting of plays by writers who, living or dead, hold such sway over their work that different productions, despite their individual merits or shortcomings, feel much the same. The former manage to stay alive — indeed, even thousands of mediocre productions can't kill them — constantly reinvented as they are by the artists tackling them in the present moment. The latter start to feel like museum pieces, brought out and dusted off for display rather than reanimated. Of course it's true that a great performance can redefine a well-known play, and star power is often the justification for revivals. But it will only get you so far: You're going for a shiny piece of the thing, rather than the whole. The experience often becomes a matter of interest, almost scientific ("What will so-and-so's Willy Loman be like?"), rather than a full-bodied shock to the conscience. For that to occur, directors need as much leeway as actors: David Cromer's 2009 production of Our Town comes to mind, in which the director cracked open the old chestnut with a third-act gesture that defied the play's historical staging conventions but stayed true to its heart.
Neugebauer doesn't take, and probably doesn't have the option of taking, such liberties in At Home at the Zoo. Her production is fine, well-drawn within the lines. She's a dependable director — unfussy and actor-focused. She's got three stars of varying brightness to work with here: Robert Sean Leonard is typecast as the pleasant-if-bland, seemingly id-less textbook publisher Peter. Katie Finneran — a Tony-winner for Noises Off and Promises, Promises — is his loving, frustrated, id-curious wife Ann (her loaded statement "We should talk" begins Homelife). And the compelling Paul Sparks (of Boardwalk Empire and House of Cards fame) is Jerry, the mercurial, menacing stranger whose encounter with Peter on a park bench leads to psychological and physical mayhem.
Sparks, with his deadpan drawl and sloping, vulpine walk, owns the show, but that's unavoidable. The Zoo Story is the kind of play that 17-year-old boys who want to be actors zealously memorize, and it's not because they want to play Peter. Though we have fewer facts about Jerry, he's a much fuller character — voluble, reckless, awake to the world's existential terrors. He's the explosion of young Albee's rage and torment, and his black humor. Even with a simply passable actor playing him, he's the pulsing, dangerous heart of the piece.
And he still is, even in this expanded version. Albee acknowledged Peter's relative flatness, eventually writing Homelife in an effort to expand the character. But Homelife is emotionally dominated by Ann in the same manner — if not to quite the same extent — that The Zoo Story is by Jerry. She drives the piece with her desire to talk, revealing her hunger for something more than the "smooth voyage on a safe ship" that is her marriage to Peter. Peter, though he'd be happy simply to sit and read, responds, engages even, and we do learn a few more things about him (notably, "I think my circumcision is … going away … My penis seems to be … retreating" — okay, we get it, he's got manhood issues), but he never breaks. He can play at being an animal — as he and Ann do when they fantasize half-heartedly about a bloody food chain in their own home: cats eating parakeets, daughters eating cats, etc. — but he can't actually access whatever animal nature is buried deep beneath his button-down. Even the climax of The Zoo Story, an act of violence that could potentially shatter him — awaking him to the animal within — may or may not ultimately have that effect. The play ends with Peter muttering "Oh my god, oh my god, oh my god," and we're left to wonder what will win out in the end: the traumatic lesson he's endured, or years of comfortable, repressive conditioning. My bet is on the latter. At Home at the Zoo thus becomes an examination not of two fully wrought men but of how some men, no matter what, remain empty.
Leonard and Finneran both acquit themselves well in the play's less fireworks-y roles. And Andrew Lieberman's clean, spare set — its white walls and floor covered in Cy Twombly–esque monotone scribbles — does a neat job of filling a sizable stage with a play that's often staged in black boxes, since it requires no more than a chair in Act One and a park bench in Act Two (these exist too, and Peter occupies each in exactly the same position at the top of each act: unchanged, untroubled, unaware). There's nothing bad happening up on the stage, but there's nothing particularly spectacular either. Paradoxically, Albee's revelations of the-murk-under-the-surface-of-things somehow feel not more but less pointed in this age of excruciating ultraawareness of the toxic subterranean river that seems to run beneath all our social systems. I often felt like Ann, who's chafing inside her comfortable marriage to Peter, who wants more even as she acknowledges that she daily, knowingly settles for less: "And isn't it frightening." It should be. But these days The Zoo Story will put butts (maybe even 294 per night) in seats, and with only three actors and a relatively simple set of technical requirements, that seems like a safe investment. Like Ann and Peter's marriage, it is exactly that: very safe.