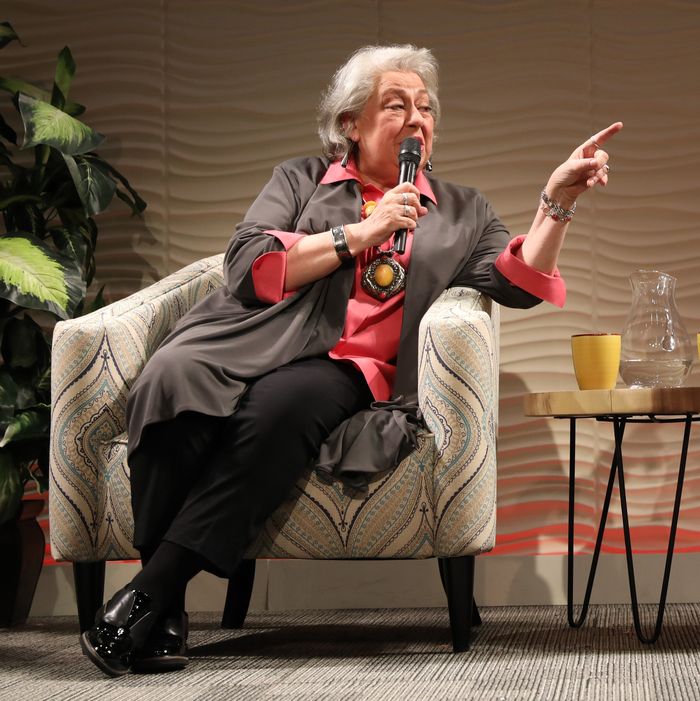 Jane Houdyshell and Pascale Armand in
Relevance.
Photo: Joan Marcus
I wrote recently of the blight of mediocre, self-congratulatory, hungry-for-relevance plays on the current theatrical landscape, so it was with some apprehension that I approached JC Lee's new play at MCC Theater, a piece literally called Relevance. But this sharp, disturbing examination of the shifting tectonic plates of contemporary culture stands out from the glut of insistent progressive issue plays. It earns its title by focusing not on a what — a Thing That We Should All Be Aware Of (And Don't You Feel Good That You Already Feel a Certain Way About It) — but on how we talk to one another today. It's interested in our frantic efforts to communicate, the many and problematic platforms we suddenly find ourselves equipped with to do so, and the ways in which we consistently, even cruelly, fail to listen even to those with whom we fundamentally agree.
At the center of Relevance are two writers, one established, one up-and-coming, both being honored at a prestigious literary conference (Clint Ramos's slick, efficient scenic design immediately calls to mind the setting for a TED Talk). The Tony-winning powerhouse Jayne Houdyshell plays the formidable Theresa Hanneck, an impassioned, verbose, unapologetic second-wave feminist whose books have inspired — indeed, helped to make possible — a whole new generation of defiant, erudite woman writers. Out of that new generation steps Msemaji Ukweli — played with both edge and feeling by Pascale Armand — a smart, savvy young author whose memoir Grace and Virtue, about her hard upbringing and the aftermath of a college rape, has blown the roof off the literary world. ("The woman won a Graywolf when she was an undergrad for Christ's sake," groans Theresa.) Though Theresa is receiving a lifetime-achievement award, it's Msemaji who comes to the conference trailing electricity and accolades. She's a young black woman with hundreds of thousands of Twitter followers. When we first meet her, she's wearing a T-shirt that says "WOKE AF." She is the future — no, more. She is the present. And she terrifies Theresa.
In the opening scene of Lee's play — directed with briskness and wry humor by Liesl Tommy — Theresa and Msemaji share the stage for a panel moderated by Kelly Taylor, a sweet, determined performance by Molly Camp as "the youngest vice-committee-chair in the history of this conference." What begins as an on-air clash of ideas (the conference is being filmed and, as Kelly repeatedly reminds us, livetweeted using the hashtag "#LitLadies") soon spirals into an ugly vendetta on Theresa's part. She feels slighted by Msemaji, brushed aside and belittled after decades of commitment to "the struggle." She fears she's yesterday's news, and the tragedy of Relevance is that despite Theresa's prodigious intelligence, in her desperate, increasingly ego-driven attempts to ensure her own significance, she ends up signing her own ideological death certificate. Worse still, she launches her blind, bullheaded campaign to undermine Msemaji in the name of Truth. She becomes her own worst enemy, a runaway train of fearful, smart but thoughtless zeal, headed for its own destruction.
Houdyshell is fantastic in the role, which Lee has fashioned as a kind of contemporary tragic hero, simultaneously sympathetic and indefensible. And Armand more than holds her own as a canny, complex young woman who has suffered, but who also realizes that crafting the narrative of her own suffering will be a key to her victory. "I'm not a fraud for knowing what it took to get here," she tells Theresa, eyes blazing, "to win, to be the woman people look to for what comes next. [This opportunity] does not happen without indulging the white predisposition for black pain. It's the toll you demand for our success … I am not a fraud for presenting a version of that pain for consumption while protecting what is sacred in me."
Along with Camp's effective, tightly wound turn as the nerd turned literary power player, Kelly ("People say certain things about a woman and her cats … Well, I've got cats and a man and a job, so fuck off, world!" she snaps at one point as she downs a glass of white wine), Richard Masur rounds out the cast in an excellent performance as Theresa's literary agent and onetime lover, David. At first David seems like merely the likable, rational foil for Theresa's witty, withering, increasingly wild tirades, but Masur soon reveals a man whose calm, bearish exterior masks a shrewd business sense. He too has his finger on the pulse of what's now and what's next, and he's just as aware as Theresa is that her time may be up.
Relevance exposes the accelerated, egoistic, gleefully nasty ways in which we attack each other — even people with whom we share 99 percent of our politics — in this terrible age of Twitter. We speak endlessly, sonorously, of conversation, dialogue, discourse — they're some of our favorite words. But in the new town square, we become competitors rather than communicators, snipers looking for hits. It's this recognition, along with its quartet of powerful performances, that makes Lee's play feel not only timely but frightening.
Relevance is at the MCC Theater at the Lucille Lortel through March 11.