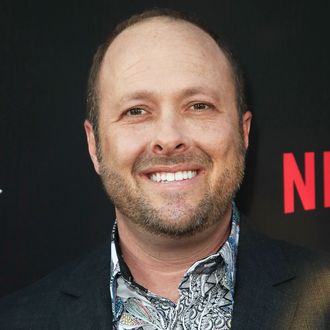 Asher.
Photo: David Livingston/Getty Images
Thirteen Reasons Why author Jay Asher has been removed from a literary organization following accusations of sexual harassment. The Society of Children's Book Writers and Illustrators announced on Monday that it had banned Asher last year after an internal investigation found he violated the society's harassment code, though it did not give specifics. In a statement to BuzzFeed, Asher said he was not removed but instead left voluntarily and now feels "thrown under the bus." "I love the organization, but they didn't decide to push me out. It was my decision, even though [executive director Lin Oliver] said the email contained nothing that their organization should have anything to do with," he said.
Asher claims that the people who reported him in an anonymous email have been harassing him and that he decided to leave after reading it. "The truth is that I had been harassed by these people for close to 10 years," he told BuzzFeed. "And I just could not deal with it anymore." Thirteen Reasons Why, told from the perspective of a teenage suicide victim who was sexually harassed and assaulted, was adapted into a popular Netflix series last year; Netflix tells EW that Asher is not involved in the show's second season.