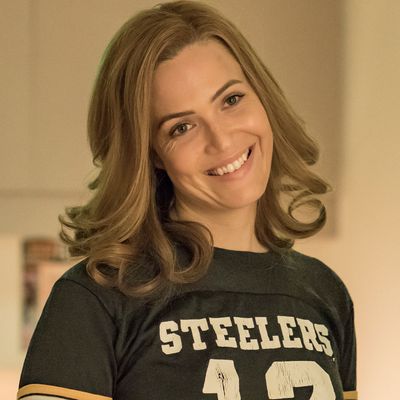 Mandy Moore in
This Is Us
.
Photo: Ron Batzdorff/NBC
If you thought Sunday night's special episode of This Is Us was sad, get ready for the intense grief coming tonight as the Pearsons deal with the loss of their beloved patriarch Jack (Milo Ventimiglia).
Executive producers John Requa and Glenn Ficarra, who co-directed "Super Bowl Sunday," told Vulture to get ready "because it's just very sad to see a lot of people mourn," but also teased there will be some fun moments involving Jack's car. Yes, Jack will appear in the episode and in the rest of the series, Requa said, adding, "The plan is we'll be seeing even more of Jack. We're not putting a period on anything."
But first, the Pearson family has to say good-bye to Jack in the 1998 timeline — and that means meeting his tree for the first time. "Any time you see the tree in trailers from now on, be prepared. The tree means sadness," Requa warned.
In the end, Ficarra predicted that fans' spirits will be lifted. "Life can be pretty brutal and hard on all of us, but we can find uplift in the darkest of moments," he said. "I think that's what this episode is about, but to a larger extent what the show is about."
The co-directors also spoke with Vulture about filming the scary fire scene at the opening of Sunday's episode, the unexpected turn that a hospital scene took for Mandy Moore, and what it's like working with the show's teen actors.
The six-minute opening of "Super Bowl Sunday" was so intense. Tell me how you prepared. What did that entail?
Glenn Ficarra: We had to build a couple of new sets, a new exterior of the house, a new interior of the house.
John Requa: Off in the mountains, away from everybody.
GF: Milo did most of his own work there, with the exception of the mattress shot, which is incredibly dangerous. But we had it all ready for special effects and it was quite an undertaking, actually. It took three days.
JR: Almost four days, just to shoot that one little sequence. Everything was night.
GF: It was a very hard episode because of the subject matter, and then shooting at night doesn't make it better.
JR: Also, secrecy. We had to build a house out in the middle of nowhere up in the mountains. We also shot at the actual house and we had to make it seem like it was seamlessly in one place. It was quite an undertaking. It was feature-film-level undertaking.
There was a real fire involved, too. How do you keep the scene safe and film around such danger?
JR: What you do is you rebuild the house — the entire house, all the interior stuff and all the exterior elements — and you make them all fireproof. Then you then run gas pipes through it, much like a barbecue. The whole thing is filled with gas pipes, so you can basically say, "Turn it off, turn it on, up a little, down a little," and you can sit there and watch your special-effects guys get the level right. [Special effects coordinator] Blair Foord made this unbelievable rig that was like a giant barbecue. That fire is his masterpiece. And so the cast and the crew are all dressed in fire-retardant clothes. All of the actors have fire-retardant clothes under their clothes because their clothes are literally the only thing that's flammable. But even their clothes are treated with fire retardants. And then everybody can watch the fire without being on the set. They can stand back and just watch them turn it on and see what they're gonna be dealing with. For the most part, it's a very controlled environment. But safety is obviously the first priority. You just move methodically through it.
GF: If the level of flame is too dangerous, you can use stunt fire or you can shoot it on half-intensity with the actor, and then shoot it again without the actor and turn the flame all the way up. That's very effective.
You mentioned that the most dangerous part was Jack picking up the mattress. Tell me more about that. Both Milo and Hannah Zeile were so believable in that moment.
JR: We picked up the mattress and our special-effects guy built a fire-resistant one that wouldn't catch fire. When you see it catch fire, that's all just a flammable gel that's put on there, so it looks like a sketching fire. It was all designed and staged so it looked like it was getting more and more burned. When working with fire, you have to be extra careful, so that everything is done very methodically. That's why you need so much time. But, yeah, the actors are saying to us that it's not hard to act because it is a giant flame.
GF: And it's hot.
JR: It throws off a tremendous about of heat. So it wasn't hard for them to act scared, I don't think, because it's pretty intimidating.
Did anything surprise while you were filming that sequence?
GF: You're so concerned with safety in situations like that. You know what you want from the outset, so there's very few surprises. Once we got into our rhythm, everything turned out as planned.
JF: You want the surprises to be in the performances. We were really impressed with Milo's performance, particularly in that scene. You don't want any surprises in the fire department. Milo just came in with such an amazing attitude, trying to channel this guy and his Vietnam experience, which is not a particularly positive Vietnam experience and will be examined as we go forward in the show. But Milo's father was in Vietnam. In fact, many of the photos in this episode and previous episodes, except for the one that shows Milo's face really well, are his dad from Vietnam. He looks so much like his dad, so we can interchange them. Milo grew up with a guy from Vietnam in his house and he's trying to bring that sense of a person, who's been in survival situations, and imbue his performance with it. We weren't really expecting that. We were like, "Wow, what an interesting take on this moment." To be a guy who has instantaneous access to control and execution of the best outcome. So it was pretty cool to see. We were just surprised by it and how great he was.
Did you also use stunt actors?
GF: There were stunt performers hidden in places. Mostly because Niles Fitch [who plays young Randall] is too young to do stunts because he's under 18.
JR: When they're being lowered down off the house, though, that's all our actors.
GF: They all had tie lines on them and safety harnesses that were removed later.
What did you think when you read the script and learned Jack goes back inside the house not just for the dog, but for all these family treasures?
GF: We've known about Jack's death for a long time. It's been talked about for a couple of years now. And it's been evolving.
JR: It was something we've talked about on the set. I think of this episode as almost the final episode of the pilot. Many of things over this first season, and up until now, we really were talking about when we were making the pilot. This is the last thing we talked about, you know?
GF: It was a bookend on the pilot. It's everything we've ever talked about in the original conception of the series. The future is a lot of new territory and really exciting ideas.
Future Randall!
GF: That's right!
Let's talk about the hospital scenes. Mandy Moore did exceptional work there, both when the doctor tells her what happened and when she goes to see Jack. Tell me about that process. Rebecca and the viewers didn't see Jack die and she doesn't get close to him. Did you try that other ways?
GF: Yeah, we did a lot of versions. In the original script, there was no mention that Jack was in the room.
JR: You wouldn't see Jack at all. It's just Rebecca's reaction. We decided to put him in the reflection in the window. And then Mandy, when we were shooting, decided to go over to him. But showing Jack dead and showing him die is not what the show's about, really. It's about the emotional ramifications of the death. By showing the body and wallowing in the physicality of his death, it takes away from the moment because it's more about that impact on Rebecca and the ripples in the pond that it made in these kids' lives that changed the trajectory of their lives. It made Randall the type of person who wanted to honor his father with positivity and become a foster parent, and it's his foster parenting that drove Tess (Eris Baker) to dedicate her life to fostering. That's taking the worst moment of a life and turning it into something positive. That's what the show is.
GF: Mandy didn't know that Milo was gonna be in the room because, again, she saw in the script that he wasn't supposed to be there. We snuck Milo in because we wanted to get a genuine reaction. I believe the reaction that's in the show is her first take. It was really powerful. We knew it when we shot it. And I gotta say that poor Mandy had to stay in this psychological space for the duration of this episode. It was everyday really painful for her. She had to cry every day. She had to pretend to lose her loved one every day. Every time we had to get up and ask her to step on the set was like asking a soldier to go back to the front lines, which was really hard to ask her to do. She was such a trouper, never complained. But we think it's such a beautiful textured and heartbreaking performance. It really takes my breath away every time I see it, and I've seen it a million times. [Laughs.]
Did you film the scene where Rebecca sees Jack in the bed over the course of one day?
GF: It was one day. We tried to get it over with as soon as possible because we wanted her to be able to let that out. She came to the set loaded for bear.
JR: [That's] the reason we put Milo in the room in that scene, even though he was never intended to be in there. And it was a surprise to Mandy that he was in there. It's because they're very close. They're very good friends. It was important for her to see not only the character, but also her close and personal friend.
GF: The fact that we didn't show Jack also represented the fact that Rebecca wasn't there to see it happen. You feel somewhat cheated that you weren't there for someone's last moments. You can't get a full attempt at closure because you weren't there for the last breath, or what the last word might've been.
JR: Who hasn't lost someone and said, "If I only had said this" or "If I only had done that." Everybody has those feelings around the death of loved ones. We're just trying to reproduce that, this randomness, the brutalness that death can have and how it affects your life.
I found it so realistic when the doctor was talking to her and she took a bite of the candy bar. Was that scripted?
GF: Yes. There's a similar thing with Jack in the pilot, when he finds out that they lost one of the babies and that Rebecca's labor was in trouble. We got Milo to play that he couldn't understand the words coming out of Dr. K.'s mouth because it was so unexpected. Your body goes into panic mode and everything starts to slow down. You deny or you get angry. That's one of my favorite moments in the episode.
How did you work with the younger actors, Hannah Zeile and Niles Fitch? They were great in the fire scene and later when they hear the news. What kinds of conversations did you have with them about those scenes?
JR: Every actor is different and they're no different than grown-ups. Some of them need to be encouraged. Niles is a real Method actor, [he] almost had a professional athlete's attitude toward his performance. We'll shoot and we'll be happy and [Dan Fogelman] will be happy and ready to move on, and Niles will come up to me and very quietly pull me aside. [Laughs.] And he'll say, "I didn't get it. You gotta give me another shot. Come on, just give me one more shot, coach." And we say okay. That's what we're there for. And he always is right. Hannah's great out of the gate. She doesn't work up to it. Sometimes you have to ask her to come down a little bit because she has such amazing access to emotions. You have to try to find the modulation that fits the scene.
GF: They're all very professional and very adaptable. It's a pleasure working with all of them.
The scene with Kevin by Jack's tree was also very moving. Justin Hartley really delivered.
GF: He did it in one take and that's the first one. We did other takes, but that's it. We were shooting by the Van Nuys airport. We were right in the flight path. It was incredibly noisy. There was a plane every 20 to 30 seconds landing or taking off. By some miracle, everything just went quiet and he got the whole scene out before a plane zoomed in. It was a pretty amazing moment. He just really let it rip from a performance standpoint.
The other touching part was Kevin's call with Rebecca. Justin was basically talking to himself, right? What kind of direction did you give him?
GF: He was there when we shot Mandy. He was on set for that and then he just remembered what he did. He watched the take that we did with Mandy. They're always there for each other. They are super kind. We tell them to go home and sleep, but nine times out of ten, they're there for each other in that way.
JR: Another cool thing about the episode is that all of the times you see the Super Bowl on television on the modern-day story line, it was the actual Super Bowl that we had just watched. The post team did an incredible job of taking that footage and cutting it into the episode. It was something Dan wanted to do to just be daring and give it some immediacy, as if this were happening in real time.
In the episode, we also come full circle with Kate's guilt and we learn more about how Jack impacted Randall's life. Tell me about filming Chrissy Metz's monologue and Randall's Super Bowl Shuffle.
GF: I think that's the beauty of Chrissy's scene. There's all this self-flagellating, and then she wraps it up in a beautiful loving way. Randall's really trying to make it a happier day. A fun-eral! I like that everybody does it differently, which is very true to life as well.
How many Super Bowl Shuffle takes did you do?
JR: Too many, I hate that song! [Sterling K. Brown] was more than happy to give us as many as we wanted. [Laughs.] He loves that song and the people that are in the song, the whole thing! He goes, "I could do any part of the song, guys, whatever part you want because I've memorized the entire thing."
There's another important actor to discuss: Audio the dog. How much direction did he need?
JR: Audio was probably the best dog we've worked with.
GF: What a great dog. Super smart, super well-trained, has a huge depth of command. And cute to boot!
JR: We cast him out of the back of a truck. At one point, we were shooting something else and they opened up the back of this van and there's a bunch of dogs in cages and they go, "Which one do you like?" [Laughs.] They were just so cute, but also he's a good dog. He was very obedient.
What is his real name?
GF: Bean.
JR: We love Bean! He's a good boy.
This interview has been edited and condensed.