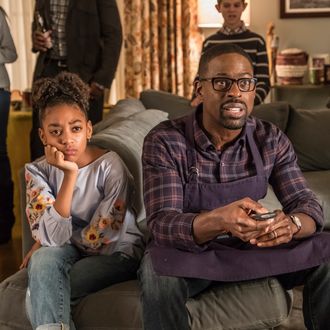 Photo: NBC/Ron Batzdorff/NBC
The post–Super Bowl edition of This Is Us drew a surprisingly big audience on Sunday night, despite relatively tepid numbers for the big game itself. Per Nielsen, just under 27 million teary-eyed viewers caught the super-sad installment of the family tearjerker, easily the biggest same-day audience of the show's first two seasons. This Is Us dramatically outperformed the tepid results Fox got last year with the launch of its short-lived 24: Legacy (17.58 million), and also beat the score for The Blacklist (25.72 million), which aired in 2015, the last time the Peacock had possession of the Super Bowl. In fact, This Is Us will end up with the biggest audience for a scripted series to air after the pigskin classic since 2008, when House drew 29 million viewers for Fox — and back then, Netflix wasn't dropping a surprise feature film on audiences as competition.
While NBC's entertainment division will be very happy with these numbers, NBC Sports execs have to be a tad bummed about the numbers for the game itself. Despite featuring what sports analysts proclaimed to be one of the most exciting championship games in years, right down to a thrilling fourth-quarter comeback win by the Philadelphia Eagles, Nielsen currently estimates the TV audience at 103.4 million viewers, the smallest audience for a Super Bowl of the decade. To find a less-watched NFL finale than Sunday's showdown, you have to go all the way back to 2009, when 98.7 million viewers tuned in to watch the Arizona Cardinals and the Pittsburgh Steelers duke it out. The same is true if you measure by Nielsen's household-rating metric, which accounts for population growth: Sunday's game did a 43.1 rating, the lowest rating since 2009's 42.0 rating. NBC says an additional 2.6 million viewers watched the game on streaming apps and that it expects out-of-home viewing to add more eyeballs once that's counted later this week.
As for This Is Us, as strong as its same-day numbers were, the show will add more audience through DVR and Hulu replays, though probably not as much as it does with a typical episode. Back in 2015, the post-game Blacklist jumped 17 percent within three days of airing, less than half of the show's usual DVR gains at the time. Until Sunday, the most-watched episode of This Is Us had been September's season-two premiere, which brought in just under 20 million viewers, including a week of DVR and streaming plays. What makes the performance of This Is Us particularly impressive is the fact that the show is a serialized drama whose plot last night wasn't particularly accessible to audiences not already regular viewers.