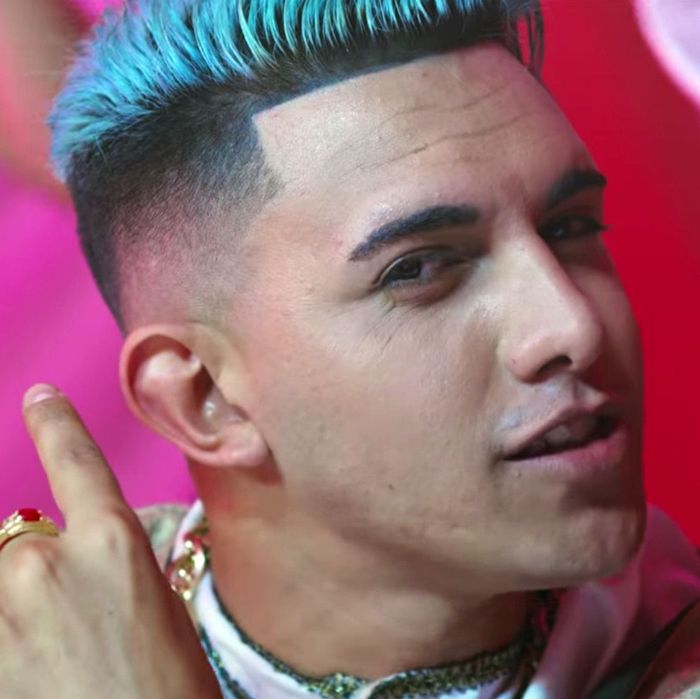 From the MC Fioti Video "Bum Bum Tam Tam."
In 2011, Konrad Dantas was not having much success as an aspiring Brazilian rapper. But when he started making music videos, he realized he had a knack for it; at one point, he put together 14 clips in a 30-day period. "I saw I had more talent making videos than doing rap," he remembers. He decided to devote himself to the form, and a year later, he started a YouTube channel titled Kondzilla that specialized in videos for the Brazilian genre known as baile funk.
Kondzilla now has 26.4 million subscribers on YouTube, making it one of the 15 most popular channels on the platform. If you consider only music-specific channels, just Justin Bieber, Taylor Swift, Ed Sheeran, and Rihanna have more followers, and Kondzilla needs a mere 40,000 new subscribers to scoot past Rihanna into fourth place. "Today it is the most relevant YouTube music channel," Dantas says of his creation, which has also grown to include management services and a label. "But I want it to become the greatest in the world."
His success has given baile funk an unprecedented platform for exposure. Four of the 100 most-popular songs on YouTube the week of January 11 were baile funk songs from Kondzilla, and the success of the genre on the world's biggest streaming service has helped the music to spread around Latin America: "In the Dominican Republic where my family's from, ten years ago you would never hear a baile funk song; now you hear it integrated into nightlife very seamlessly," says the DJ Venus X, founder of the famous GHE20G0TH1K parties in New York. And, in turn, baile funk has started to move to the rest of the world. "It's having a global impact," Venus X adds. "I hear it on almost every dance floor that I am on."
This worldwide interest in baile funk contrasts with the genre's roots as a resolutely local phenomenon based in Rio de Janeiro. The German DJ Daniel Haaksman, who released one of the first compilations of baile funk outside Brazil, in 2004 (Rio Baile Funk: Favela Booty Beats), did so in part because "it was impossible to get ahold of the music in Europe." Not only that, "In Brazil, you couldn't get any funk records if you traveled to the south or Bahia," he remembers.
But much has changed in baile funk over time. The music was once built from samples of up-tempo electro-rap records that flourished in the U.S. in the 1980s; it thrived in Rio's poor neighborhoods and, much like hip-hop, was stigmatized and linked with violence and drug dealing. "It was considered to be the music from the poor and the criminals," Haaksman says. That didn't diminish its allure for outsiders. The producer Switch, who, alongside Diplo, co-produced M.I.A's baile funk–sampling single "Bucky Done Gun," still remembers his first encounter with a baile funk compilation. "It blew my brain apart," he says. "It was like Star Wars combined with Elvis Presley and these crazy, sped-up electro beats that I'd known since I was 11 years old."
Over time, the original American instrumentals were warped. "The real birth of Brazilian funk for me was in 1999 when DJ Luciano and Cabide mixed the Afro-Brazilian beats of candomblé with the heavy kicks and subs of Miami Bass creating the Tamborzão riddim," explains Omulu, a baile funk DJ/producer who is currently working on a new song with AlunaGeorge. João Brasil (João Henrique Martins Rodrigues), who mixes baile funk with electronic music and scored a hit in Brazil last year titled "Michael Douglas," suggests that the first pop-baile funk dilutions started to appear on Brazilian radio during the second half of the 1990s as well.
In the mid-2000s, European and American tastemakers fell briefly in love with baile funk. The same year, Haaksman compiled Favela Booty Beats, Diplo released a mixtape titled Favela on Blast. (The two men were hunting for music in Rio at the same time, but they didn't meet.) "I was really bored by the music coming out of the U.S.; the same for Europe — there was a huge electro-clash thing going on in the clubs, and some of the tracks were nice, but I couldn't relate to it all," Haaksman remembers. He calls his discovery of baile funk "a liberation." M.I.A.'s release of "Bucky Done Gun," co-produced by Switch and Diplo, took place the following year, but the club world's dalliance with baile funk was short-lived. "Then came dubstep, and the hype [in Europe and America] faded," Haaksman says.
Ironically, the music became more pervasive than ever in Brazil, finally infiltrating São Paolo — the biggest city in the country, and the center of its music industry — which developed its own take on the genre. "São Paulo's baile funk beats are more minimalistic and well mixed, focusing on sub-bass frequencies and keeping around the speed of Tamborzão," Omulu says. "They also added harmonies and melodies of pop music."
Access to technology, once available mostly to Brazil's wealthy due to high import taxes, has also become increasingly democratized, allowing for improved sonics. "If you look at baile funk four years ago, the quality [of the sound] was not comparable — it was bad," says DJ Zegon, one half of the production duo Tropkillaz. The fleet funk hits you find on the global YouTube charts are in the São Paolo style, meat-less and aerodynamic, with repetitive, curving vocal lines and springing staccato percussion. "Some of that stuff now sounds like some of the best-produced music in the world," Switch says.
Kondzilla became famous as a champion of funk ostentação, a São Paolo strain that celebrates upward mobility, or, depending whom you talk to, glorifies excessive consumption. Dantas says he aims to capture "the vision of the periphery youth, to register the things he lives as much as the things he dreams." "Kondzilla borrowed bling from hip-hop and featured in their clips a reality where young guys [from society's periphery] had access to luxury and sports cars," Omulu says. "This formula worked just as well here as anywhere else." Naturally the visual format was especially valuable for displaying the perks of a quick trip up the income ladder.
YouTube, and Kondzilla specifically, have been important for the expansion of baile funk in Brazil since it still faces enemies in the mainstream: According to Al Jazeera, a Facebook group recently collected over 20,000 signatures on a proposal that the country's Senate vote to ban baile funk music. (The Senate rejected the bill.) "Kondzilla's channel was very important [as a means of distribution] at a time when the mainstream media and the major record labels despised funk," Omulu says. Kondzilla also gave a genre that was developing a slicker sonic palette the slick visuals to match. "[Baile] funk didn't have video clips well made," adds João Brasil. "The guy who revolutionized that was Kondzilla."
The final piece necessary to facilitate Kondzilla's funkeiros reaching a global scale has clicked into place in the last few years. Streaming-use reached a critical mass in multiple countries, various streaming services became increasingly interconnected — MC Fioti's "Bum Bum Tam Tam" is a hit on YouTube; the remix is also in one of the biggest playlists on Spotify, Baila Reggaeton, which has 6.5 million followers — and their combined power has transformed pop into a global playground. The week of January 12, more than half of the songs on the YouTube Global Top 100 are in languages other than English — numerous singles in Spanish along with handfuls of hits from South Korea, India, and Brazil.
In this environment, MC Fioti, MC Kevinho, MCs Jhowzinho & Kadinho, MC Don Juan, Matheus and Kauan, MC Gustta E MC DG, and Léo Santana have all jumped from Kondzilla to the YouTube Global Top 100 since September. These songs have displayed staying power, too — since November 2nd, at least four Kondzilla baile funk songs have been on the chart every week. (Non-Kondzilla baile funk tracks have entered the chart as well, like Jojo Maronttinni's "Que Tiro Foi Esse.")
Dantas sees baile funk's new prominence as part of a wave he calls "urban music global." Venus X uses a similar term to describe a well-received mix she released last year with the DJ Asmara called Putaria Maxima Volume 1 that whisked back and forth between Brazilian funk and American hip-hop. "We needed to make a mixtape that really fuses together the black experience from Brazil to Atlanta to New York: global urban," she explains. And João Brasil describes baile funk's ascent in the same manner. "[Baile funk] is our main urban style in Brazil," he says. "That connects with all the urban artists around the world; it's the same language."
For Dantas, there are still corners of the globe he hopes to conquer. "I think the year of 2018 will be fundamental to expand [baile] funk worldwide," he says. "There are serious executives and major labels working for it to happen, including me."