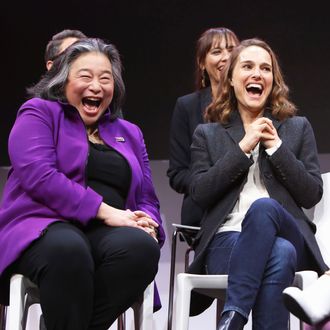 Tchen and Portman.
Photo: Rachel Murray/Getty Images for MAKERS
In just a little over a month, the Time's Up initiative has raised $20 million from 20,000 donors for its legal defense fund to provide aid for victims of workplace misconduct. Tina Tchen, Michelle Obama's former chief of staff who now administers the fund, which was launched in response to #MeToo, made the announcement during a Time's Up panel at the 2018 Makers Conference on Monday. She also revealed that more than 1,000 people have already sought help from the fund, which is open to anyone, not just the Hollywood elite. To handle these requests, she said more than 200 lawyers have volunteered their time and resources.
Ava DuVernay moderated the panel, which included Natalie Portman, Jill Soloway, Rashida Jones, director Melina Matsoukas, CAA agent Maha Dakhil, entertainment lawyer Nina Shaw, and actress Katie McGrath. Dakhil said the initiative originated after Donald Trump's election, though it wasn't put into practice until #MeToo. Their collective goal, Shaw said, is "equity and safety in the workplace" for all. Jones added, "There is no change unless you bring every single person along who has spent time being marginalized, harassed, [or] assaulted." Soloway said that working with a diverse group of women over the last month to get this initiative off the ground has signaled to her that "the revolution is real." Watch the panel below.