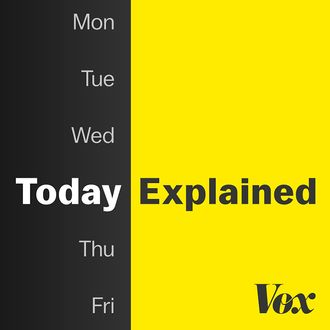 The news is overwhelming. Or that's how it feels, at least, thanks to the encroachment of media into every iota of our waking consciousness and a president who's especially adept at filling every inch of it. This poses a distinct challenge for journalists, who must navigate a cramped and chaotic environment to give the public a diet of what they need to know to make sense of the world.
That challenge lies at the heart of Today, Explained, the upcoming daily news podcast from Vox Media, which dropped its first trailer this morning ahead of the show's February 19 debut. As an extension of Vox, the news-and-opinion site largely defined by its commitment to the explainer format, Today, Explained will be built on a sense of focus and context: Each edition will revolve around one story from the day — not necessarily pegged to the immediate news cycle, and not necessarily about politics — that the team will then break down. "The story of the day is just one puzzle piece," Allison Rockey, Vox's executive editor and director of editorial strategy, told Vulture. "We want to give you all the pieces."
The podcast will publish every weekday, slated to target the evening commute with a release around 4 p.m. EST. If the trailer is any indication, it will be a peppy, ebullient, and somewhat fizzy show, focused on creating an atmosphere that you'd want to hang out in after a long day. (Or, perhaps, after a long day of presidential tweets.)
The host will be Sean Rameswaram, a veteran public-radio operative who has spent much of the last decade at WNYC. Rameswaram was most recently deployed as a reporter on More Perfect, the excellent Radiolab spinoff about the Supreme Court, where he produced episodes on the Second Amendment, gerrymandering, and the biggest heist in Supreme Court history. He previously cut his teeth as a host on Sideshow, the podcast spinoff of Kurt Andersen's arts and culture program Studio 360, and he was once in the running to take over Q, the Canadian Broadcasting Corporation's beloved arts-oriented radio magazine. To build Today, Explained around Rameswaram, Vox Media assembled an extensive team that's mostly composed of fellow public-radio veterans: executive producer Irene Noguchi from the Bay Area station KQED, producer Luke Vander Ploeg from NPR West, reporter-producer Noam Hassenfeld from Latino USA, audio engineer Efim Shapiro from Panoply, and editor Bridget McCarthy from the Backstory podcast.
As a radio personality, Rameswaram is a playful, energetic, and exceptionally charismatic presence. He's got accessible enthusiasm in a public-radio-but-younger sort of way, and it is this constellation of traits that convinced Vox Media to match him with the project. "He is the friend we want to listen to everyday," Rockey said. "He has a sense of humor, he's curious, and he's interested in things that matter."
Which is all to say that Today, Explained will be a journalistic product that's also personality-driven. As such, the podcast is poised to express itself in ways that are unique to the sensibilities of its dynamic host. A hint of those stylistic choices can be readily detected in the trailer, which sports, among other things, a borderline surreal but pretty entertaining musical interlude.
Doubling down on Rameswaram will likely serve Today, Explained well as it tries to establish its identity within the daily news podcast genre, which has steadily come into its own in recent months. The current wave originated with the launches of NPR's Up First and the New York Times' The Daily early last year, though it should be noted that they weren't the first podcasts created to deliver daily news dispatches. Prior to the current podcasting boom, media organizations traditionally repackaged their radio news broadcasts as digital files to be distributed over podcast apps. (See: The BBC's Global News Podcast, among others.) Of course, other podcasts like Slate's The Gist and The Outline World Dispatch take the form of daily magazine programs with strong elements of newsiness also present in their story choices. But Up First and The Daily were the first daily podcast productions designed to be news-oriented and explicitly developed to tap into the economics, culture, and community that has formed around the medium over the past few years.
The Daily, which celebrated its first birthday earlier this month, has been downloaded more than 200 million times since its launch. Its success can at least in part be attributed to the gentle and thoughtful personality of host Michael Barbaro, whose dulcet tones usher listeners into the world each morning. A slight celebrity has even crystallized around Barbaro: Appreciations were written of him in BuzzFeed and The New Yorker, he was a guest on Late Night With Seth Meyers, and his presence at last year's Third Coast International Audio Festival turned more than a few excited heads. (Radio producers, they're a nerdy bunch.) The podcast has also emerged as a successful business within the Times, having grown into an effective platform for the legacy publisher to reach younger audiences and deepen its relationship with existing subscribers. The Times recently disclosed that more than a third of Daily listeners are younger than 30, two-thirds are under 40, and nearly 30 percent of listeners say they read the publication more often now. Based on that success, The Daily could very well become the foundation for future audio projects: "It really does feel like a franchise," Times assistant managing editor Sam Dolnick, one of the newsroom's strongest advocates for the podcast, told the Street last October.
But beyond its unlikely celebrity, The Daily's success comes in large part because it is, put simply, a great podcast. It leans into the famed intimacy that defines the relationship between host and listener, and it constantly strengthens that bond by delivering well-composed experiences day after day after day. The show has managed to build an experientially vivid space where audiences feel their way through the news, and as a result, make sense of it.
Roughly speaking, those are the terms of the game that Today, Explained has set itself up to play. Based on the assembled crew and the sound of the trailer, it seems like Vox Media has laid down all the foundational elements required to create a contender, and perhaps even take the daily news podcast genre to interesting new places. Plus, Rameswaram makes for a formidable anti-Barbaro, or at the very least a fascinating complement. It will be exciting to compare and contrast Rameswaram's exuberance against Barbaro's trademark stillness.
Not that the Today, Explained team spends much time ruminating on the comparison between the two podcasts. "We all love that show, but we're here to make our explainer show," Rameswaram told me when we spoke over the phone last week. "We're hoping to make it with radio drama, with clips, with non-narrated pieces. We're really hoping to make a news explainer that demands your attention."
"And we want to do it all every day for the rest of our lives," he added, with a laugh.