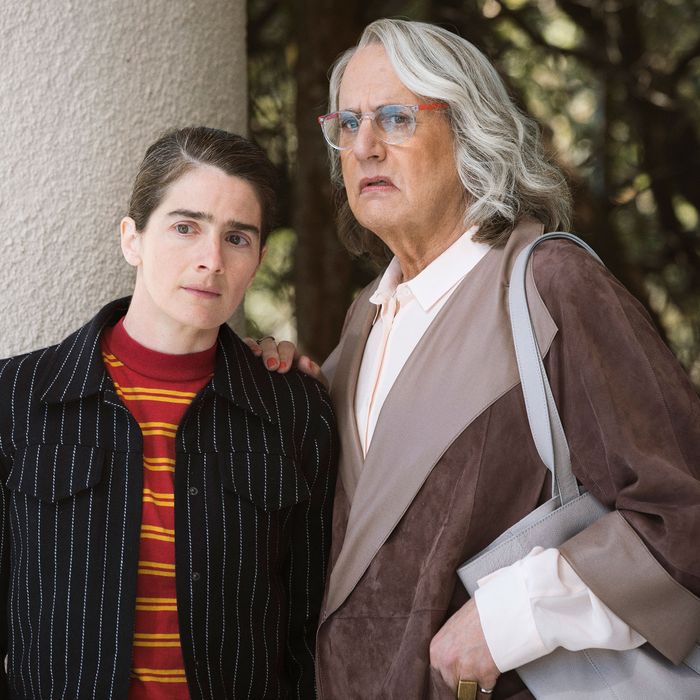 Gaby Hoffmann and Jeffrey Tambor in
Transparent.
Photo: Jennifer Clasen/Amazon Studios
At first glance, Jeffrey Tambor's departure from Transparent might seem like a death knell for the show. Tambor played Maura, the show's titular trans parent, and her transition and the waves it sends through her family have been the central storytelling spine of the series. Especially in its first two seasons, Maura's life and her story are far and away the most compelling aspects of the show.
While Transparent made many forays into the lives of the Pfefferman children and Maura's ex-wife Shelley, Maura often seems to be the only character propelled forward through her life. Everyone else constantly loops back through the same traumas and same blind spots from their childhoods, pulling themselves through interdependent, repeating family patterns. Maura was the character whose insistence on change pushed everyone into new territory. What could Transparent possibly look like without her?
Here's the thing: This could well be a gift for the series, although it's horrible that it's happening because Tambor was terrible to his colleagues. Making the show better should never have to happen because someone got kicked off for being creepy and abusive. But in a vacuum, if the circumstances were simply that Transparent has now been on for four seasons and Tambor is now leaving, with none of the surrounding context and damage, I'd have said this was a great move for the show. As it is, I'm left with a mix of deep frustration with Tambor's behavior and a weird guilty hopefulness about what it could push the show to do now.
Because although Maura's story was the center of Transparent from the beginning, it doesn't have to stay that way going forward. And in fact, there was ample evidence that the show had begun to run out of interesting new material for her. Season four had many powerful moments as the Pfeffermans all went on a pilgrimage to Israel, especially the story about Ali pushing through and trying to feel comfortable inside liminal gender spaces.
The whole season is a meditation on strict divisions between one side and another side, and Ali's increasingly drawn to something in-between. In season three, the most interesting storytelling belonged to Shelley, whose astonishing season-ending performance — a demand that she finally be seen inside her own family — coincided with flashbacks that revealed her own childhood traumas.
Maura, meanwhile, has begun to cycle through the same beats the series has already explored: her childhood, the history of gender in her family, trauma of the parents revisited on the children, public-facing and private-facing personas. It's not that there're no new stories to tell about Maura; it's that lately, Transparent hasn't seemed especially interested in telling them.
The show has chugged along, building its most interesting scenes out of the whole Pfefferman clan together rather than the moments with Maura alone. And meanwhile, the world outside the show has been changing. Tambor's casting as Maura has always been a point of controversy for the series, but when Transparent first debuted, it was not what it is now. Then, the appropriateness of casting a cis man as a trans character still felt like an open question for many viewers. Now, it's a casting widely agreed to be something that should not happen again, including by the series' creator.
Tambor's exit from the series is an opportunity to force the show into new territory, to push Transparent to extrapolate beyond the narrative intimacy of Maura's transition and further into the inner lives of its other characters. I hope it will also be an opportunity for the series to dive into stories it's struggled to find a place for in the past — because of Maura's centrality in the story, her trans friends have often felt like marginal characters. With a chance to shift focus onto other trans characters without Maura as an unshakable storytelling anchor, Transparent may find trans characters and a range of trans experiences even more prominently placed in the series than they were when Maura was the focus.
Again — I wish members of the Transparent team had not had to experience Tambor's behavior in order for any of this to happen.
It's not worth it. But now that it's happened, there's one other element of Tambor's departure that I have to confess gives me a small measure of happiness. One of my very favorite things about Transparent, and about all serial storytelling, is the way it inscribes change inside the story it's trying to tell. On Transparent, I have a feeling that was intended to be a highly controlled, carefully constructed story of the change one person undergoes as she decides to come out as a trans woman. That change will always be a part of the series. But the bigger story will now also be the cultural change that's being written into the deepest DNA of the show — #MeToo and trans visibility will now be vital features of the legacy of the series. The change from one era to another will always be evident in Tambor's presence, and then in his absence.