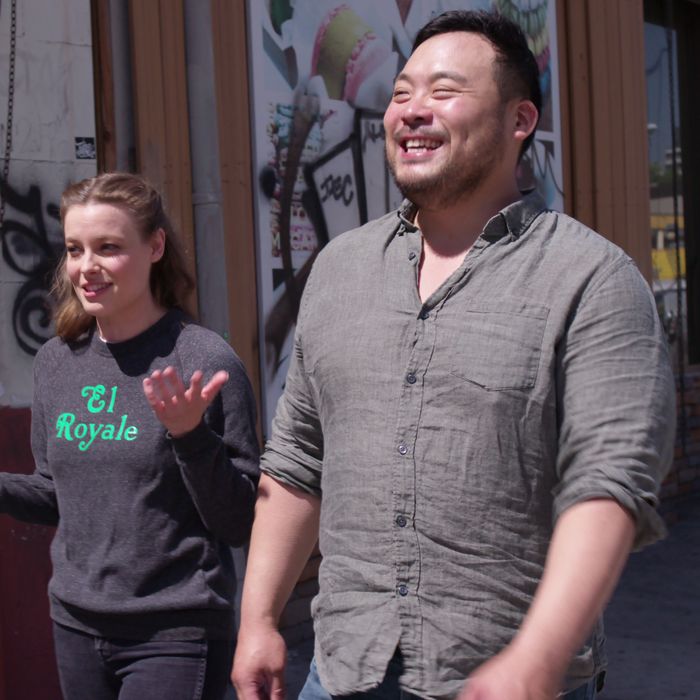 David Chang and actress Gillian Jacobs take a walk through L.A.'s Koreatown in
Ugly Delicious
.
Photo: Netflix
David Chang, the Korean-American rebel chef and ruler of the Momofuku empire, is a foodie with little patience for the pretentiousness that often come with that title.
"I'm one of the biggest snobs you've ever met," he explains to the camera in the new Netflix series Ugly Delicious, streaming starting today. "But I hate elitism and snobs in general."
"I guess what I hate," he adds, "is being told I can't like something."
Ugly Delicious is defined by that attitude — "Don't tell me what I can't eat!" — as well as a sense of curiosity about how food not only gets made, but why we respond to it the way that we do. As executive produced by, among others, Chang, filmmaker Morgan Neville (20 Feet From Stardom), and food writer Peter Meehan, the eight episodes of this series each zero in on a different type of cuisine — pizza, tacos, barbecue, things that are stuffed — and attempt to open our minds with regard to the way we categorize them.
When we talk about barbecue, for example, why don't we talk about vegetables, or consider the possibility that korean barbecue could be cooked in a backyard on a traditional American grill? ("Barbecue, to me, just represents cooking something in embers, flaming, with smoke," says chef René Redzepi of Copenhagen's renowned Noma restaurant, who makes barbecue out of delicate veggies.) Even though chicken gets fried all over the globe, why is fried chicken still so intertwined with demeaning racial stereotypes about African-Americans, and how do African-American chefs reckon with that? That same fried-chicken episode also dares to ask less loaded questions, too, such as: "Do you know the origin of the nugget?" ("I feel like nuggets are, like, a factory of regret," Meehan concludes at one point.)
In addition to thoughtfully raising cultural issues both light and serious, Ugly Delicious also takes a highly egalitarian approach to cuisine. That sensibility will remind some viewers of Lucky Peach, the now-defunct magazine that Chang co-founded with Meehan and writer Chris Ying before creative differences ended its run last year. Even the fonts and the animated graphics peppered throughout the episodes look as if they've leapt off the pages of that revered quarterly.
This is a show that captures the singular beauty of watching Mexican women pound out tortillas by hand, but also does not hesitate to roll through the Taco Bell drive-through and order a Crunchwrap Supreme. Chang acknowledges that a pie made lovingly at a nice Brooklyn pizzeria like Lucali is better than one you'll order from Domino's. But he also acknowledges that Domino's tastes pretty good, too. (The Momofuku mogul even spends some time at a Domino's franchise and shadows a delivery guy to better understand how they crank out so much pizza to so many customers so quickly.)
In short, this is a show that's as much for foodies as it for people who gag on their Big Macs every time they hear the word foodie. Which is refreshing. And also: oh my God, so appetizing.
I cannot stress this enough: If you are going to sit down and watch one or more episodes of Ugly Delicious, for the love of God, bring snacks. This thing needs to be binged on two levels, people. If you're really on the ball, you'll set yourself up with munchies that correspond to the episodes you intend to watch: a nice Neapolitan pizza for the pizza episode or some soup dumplings for the stuffed episode. The episodes are laid out in a specific order, but you can hopscotch through them based on your interests or what's in your fridge, which — again, can't stress this enough — is a perfectly valid road map to apply to this experience.
A lot of TV shows with a celebrity chef behind them are implicitly ego-driven enterprises designed to build those chef's brands. Chang is definitely front and center in Ugly Delicious, chowing down, steering the conversation, and breaking bread with some pretty famous friends. (Aziz Ansari, Jimmy Kimmel, Steven Yeun, Ali Wong, David Simon, Gillian Jacobs, and Nick Kroll all make cameo appearances, along with an array of well-known chefs and food writers.) But the show never feels like it's all about Chang. In fact, Momofuku barely comes up in conversation.
Ugly Delicious is instead driven by Chang's interest, as well as the interests of other experts, like Meehan, in not just digging into the portions that are placed in front of them, but really digging into why certain types of food feel so personal and culturally specific even while they're being appropriated and modified to serve consumers always chasing the next trend. Ugly Delicious is informative, entertaining, and enriching, and I can't recommend it more highly. After watching it, I also couldn't get my hands on a taco fast enough.