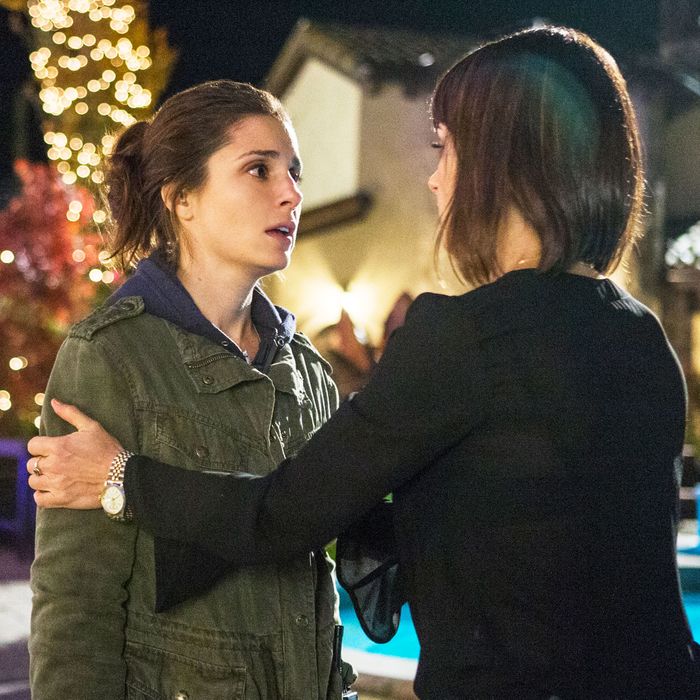 Photo: James Dittiger/Lifetime
Eighteen months have passed since UnREAL's second-season finale aired, and the series that helped Lifetime shift from over-the-top movies to the original programming business has a lot riding on it. When the high-powered shenanigans of Rachel Goldberg and Quinn King return to TV on Monday night, with a third showrunner at the helm in just as many seasons, Lifetime will learn if the gamble it took by placing the series on hiatus for so long will pay off. So much time has passed, in fact, that season four has already wrapped.
Lifetime's first original drama defied expectations in the summer of 2015, gripping viewers with its satirical story about two women in charge of a reality-TV dating show. Never a ratings hit — according to Nielsen, the first season garnered an average 1.25 million viewers and the second 1.17 million — the critical darling did crack the pop-culture code and nabbed a Peabody Award and two Emmy nominations. But it stumbled in season two. The ways UnREAL had surprised viewers and subverted storytelling were replaced by fast-paced plot developments that, at times, felt derivative or forced. A racial story line that aired at the height of the Black Lives Matter movement, for example, received cursory treatment and had no resolution. As heightened as the story lines got, the show also became ho-hum.
Now, after a sophomore slump, so much time off the radar, and two behind-the-scenes shake-ups, the question is, can UnREAL break through the Peak TV clutter again?
Stacy Rukeyser, a writer and producer who has worked on the show since the beginning and was promoted to showrunner in its third season, is confident it can. A TV writer since 2002, and the No. 2 on several shows since 2008, Rukeyser feels she has "paid her dues" to land her dream job. But it didn't come easily. Originally hired by co-creator Marti Noxon, who was often absent during the first season because of her duties running Bravo's Girlfriends' Guide to Divorce, Rukeyser expected to become showrunner in the second season. But when Noxon opted to leave the show altogether over creative differences with co-creator Sarah Gertrude Shapiro, A&E Studios hired veteran showrunner Carol Barbee (Falling Skies, Hawaii Five-O) instead. It wasn't until Barbee left the series after the second season that Rukeyser got her shot. Shapiro is still serving as a writer, executive producer, and director on the show.
"To finally have that ability to tell stories the way I want to tell them and to have that power, for lack of a better word, that feels really nice to be rewarded for that kind of hard work," Rukeyser said. "But you know, it takes complicated women to make a show about complicated women. And so, certainly, there have been ups and downs in the show, but I also think it's a testament to the strength of the concept of the show and the pilot that Marti and Sarah wrote and the characters they created."
At the end of the second season, Everlasting cameraman Jeremy (Josh Kelly) had killed two enemies to protect his ex-girlfriend, the producer Rachel (Shiri Appleby), as well as the showrunner, Quinn (Constance Zimmer). The three of them, along with their other boss Chet (Craig Bierko), seemed fine with the bloodshed as they relaxed on lounge chairs in the last scene of the season. The third season picks up six months later: Rachel has spent this time cleansing her soul on a farm and practicing "essential honesty," Quinn is trying to pick up the pieces of her career, Jeremy has been through rehab and anger management, and Chet has a new 20-something model girlfriend.
Chet and Quinn convince the network to let them make another season of Everlasting, but this time with a tech-mogul suitress named Serena (Caitlin FitzGerald) who genuinely wants to find the love of her life. Accomplished and beautiful, Serena represents many women of her generation who have sacrificed their personal lives for their careers and are trying to find balance. The character presents a compelling mirror for Rachel and Quinn: high-powered career women who claim they don't need men to complete their lives, but whose behavior often contradicts that.
"Rachel decided to put a feminist on the show, and it's interesting to see these different women who all think they know each other and what they want and they clearly don't," said Erica Bello, vice president of Creative Affairs at A+E Studios, which produces the show. "The fact that someone like Serena wants to come on the show and find love and is not afraid to say it is interesting. They all want to help her with it, but they have different ways of going about it. It's not straightforward, and it feels like something I haven't seen on TV, so we're excited to see what the viewers think about it."
Focusing on Rachel, Quinn, and their relationship was Rukeyser's top priority when the writers began breaking the third season in the summer of 2016. As controversial as some of the second season's story lines were, Rukeyser didn't feel letting them go completely was the answer. Rachel had confided in her boyfriend that she'd been raped as a girl in one episode; in another, she and her boyfriend conspire to call the cops on Everlasting's black suitor, Darius (B.J. Britt), to stage a confrontation with police as he's driving a production vehicle with his friends. This led to one of the passengers getting shot and surviving, but the show notably only addressed how the incident impacted its white female protagonist.
The story idea evolved from Shapiro's desire to address both Black Lives Matter and The Bachelor's dismal track record when it comes to diversity. "A big part of this is this is not Rachel's story to tell," Rukeyser said. "But we always tell the story through the prism of this privileged white woman. I see the value in it. We just didn't spend enough time on it."
Looking back at the second season overall, Rukeyser thinks the show rushed too many of it stories. "There were a lot of big plot points and we had not really had the time to sit with them in a truthful, emotional or psychological way and really sit with the effects and consequences of those big plot points," she said. "And so, the first thing Sarah and I talked about is where Rachel and Quinn would be now, truthfully and emotionally. I wanted to explore Rachel's responsibility in all of what happened and also unpack her childhood trauma. And with Quinn, she's broken up with her boyfriend after finding out she can't have kids and her career has really taken a hit. And that really happens — it's much harder for a woman to come back from a scandal or a flop than it is for men."
As a result, the third season, which was written before President Trump's election, and a year before the New York Times broke the rape and sexual-misconduct allegations against Harvey Weinstein, has its own #MeToo-esque story line. "We just can't believe it, sadly, the timing of this," Bello said. "It's just so crazy, but we are excited for viewers and critics to see how we've handled these situations because it's not all cut and dry and black and white like we've been experiencing in the press. Season one was unlike anything anybody had seen before because of the tone and because it was on Lifetime. Now, there's less of an element of surprise, but I think season three is even more thought-provoking because of everything going on in the world and the issues we address. We ask a lot of tough questions."
Although Lifetime never announced a specific air date for the third season, cast members have told Vulture they expected it to air last fall at the latest. Production wrapped in spring 2017, but producers say they do not know why the network put off airing it for so long. In a statement to Vulture, Lifetime said the network "took the extra time in the creative process" — meaning in postproduction — "to deliver the best season yet. We are really proud that this season has not just two strong female leads, but three with the addition of our suitress. The show is more relevant than ever and UnREAL fans will love what is in store for them." Lifetime would not disclose more about why so much extra time was needed.
But Everlasting's fun and games doesn't mean UnREAL's themes will get softer. Rachel's childhood sexual assault, as well as the gender-politics issues of the third season, will continue to be explored in the fourth season, which does not yet have an air date.
Rukeyser acknowledged the wait was disappointing at times. "Certainly, it's frustrating for us because we've been excited about this season and wanted people to see it," she said. "But it was incredible that they gave us such a vote of confidence and gave us a fourth season before they even know what the critics would say or what the ratings would be."
The fourth season, which will feature an "all stars" version of Everlasting in which contestants from all three seasons compete for money and romance, was written last summer and fall and completed production in January. Australian actor Adam Demos will appear in both the third and fourth seasons, so Rukeyser hopes viewers will take to him as the series makes its return.
"When Trump won, I think it was shocking to many people that he felt about women the way he felt," Rukeyser said. "And the vitriol that Hillary received on the campaign trail, that was really the most shocking thing to me. It became clear that to a great portion of this country, there is nothing scarier than a smart, strong woman. The only thing I know to do about it is tell more stories about smart, strong women."