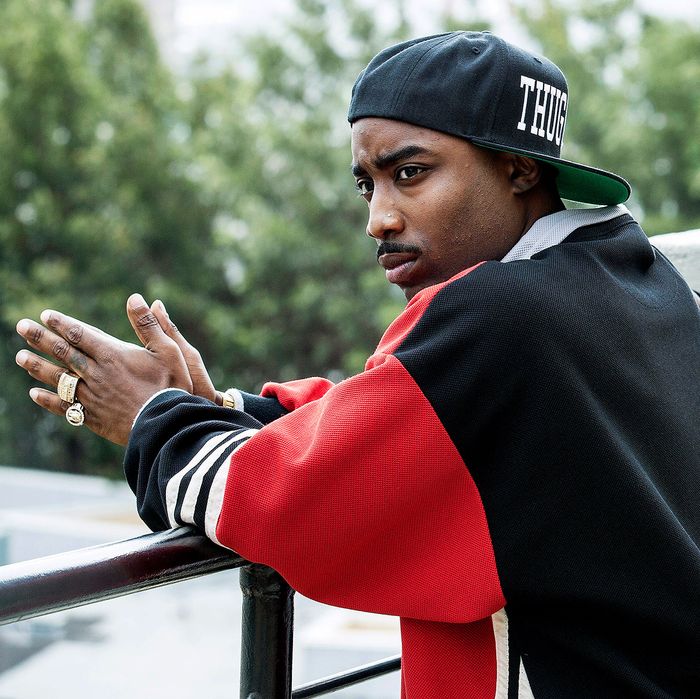 Marcc Rose as Tupac Shakur and Wavyy Jonez as Biggie Smalls in
Unsolved:
The Murders of Tupac and the Notorious B.I.G.
Photo: Isabella Vosmikova/USA Network
Unsolved: The Murders of Tupac and the Notorious B.I.G. doesn't seem like it should be necessary. In the more than 20 years since two of the most influential hip-hop artists in history were gunned down, there have been documentaries, books, biopics, and extensive articles about Tupac Shakur, Biggie Smalls, and the East Coast–West Coast rivalry that escalated around their deaths. A limited series airing on USA couldn't possibly add much to a discussion that's been rehashed repeatedly for two decades.
Then again, that's exactly what a lot of people said before they watched American Crime Story: The People v. O.J. Simpson. While Unsolved isn't quite as slick and incisive as that FX series, it is an absorbing, provocative, and extraordinarily well-acted work of television that takes a narrative approach just novel enough to make you feel like you're seeing these long-cold cases through fresh eyes.
The names Tupac and Notorious B.I.G. may appear in the title of this series, created and co–executive produced by showrunner Kyle Long, who wrote three of its ten episodes. But Unsolved only focuses on the rappers' lives for a fraction of its running time. More than anything else, this is a cop show, one that drills down into a pair of investigations into the death of Biggie Smalls and, inevitably, Tupac as well. Unsolved runs on three parallel story tracks: one about the evolving, and devolving, relationship between Biggie (newcomer Wavyy Jonez) and Tupac (Marcc Rose, who previously played Shakur in Straight Outta Compton), the story that will be most familiar to the widest swath of viewers; one about L.A. detective Russell Poole (Jimmi Simpson of Westworld and House of Cards) and his fixation on solving the case in its immediate aftermath in 1997; and a third about the obstacles that get in the way of a multi-agency task force, overseen by Detective Greg Kading (Josh Duhamel) and formed in 2006 to look into the Smalls case again. (Kading, who wrote the book Murder Rap, is also a co–executive producer of Unsolved.)
From the very beginning, Unsolved announces that its scope will be large and its lens will be wide. In the first episode, which airs tonight, we enter the 1997 timeline by following two drivers who get into an argument at an L.A. intersection. One of them is black and the other is a white dude who could pass for Joe Dirt. Their argument turns into a car chase, then a gun fight, with Joe Dirt revealing himself to be an undercover L.A. cop named Frank Lyga who shoots and kills the black driver when he also pulls out a gun. For a couple of minutes, as all of this transpires, it feels like the channel's been changed. What has any of this got to do with Biggie Smalls or Tupac Shakur?
Then Poole shows up, ignores a racist cop on the scene who says the deceased black man's name is "Shit, Piece Of," and spots a wallet tucked into a compartment in the front of the car. Turns out that this supposed "Shit, Piece Of" was an L.A. police officer, too; actual name: Kevin Gaines. Those who know their Biggie Smalls theories backward and forward will recognize Gaines and Lyga as the entry point into the Rampart scandal, the massive L.A. police corruption case that eventually prompted Smalls's family to file a wrongful-death lawsuit against the police department, alleging that some of its offending members, who worked security on the side for Suge Knight and Death Row Records, conspired to kill Smalls. Poole's discovery plants the seed from which that investigation grows, along with an obsession on Poole's part to connect the Biggie dots to something bigger and potentially damaging to his career.
The whole Lyga-Gaines sequence — directed, along with four other episodes, by executive producer and People v. O.J. Simpson alum Anthony Hemingway — is tense to watch and vital to our understanding of the Smalls investigation, but it also highlights the central theme of Unsolved, which is the extent to which false assumptions and a stubborn resistance to acting on curiosity can lead to fatal consequences. The sequence is compelling, but it's also purposeful, adjectives that apply to much of Unsolved.
Another adjective that applies, at times, to Unsolved: overwhelming. There are a lot of names, relationships, and potential motivations to keep track of as the episodes bounce through time and establish the cops, gang members, friends, and associates who are involved, directly and tangentially, with the Smalls and Shakur cases. I watched the first seven episodes back-to-back and sometimes had to do some internet research to keep my bearings. I suspect this will be even more of an issue for those watching each episode every Tuesday, with a week off between viewings. It's not a deal-breaker by any means. In fact, Unsolved's sense of detail is one of the things that elevates it. But bear in mind that you really need to pay full mental attention to this show.
The weakest link in Unsolved, perhaps surprisingly, is the story of Tupac and Biggie themselves, again, perhaps because it feels more familiar than the behind-the-scenes police work does. The two actors who play them are great, and not just because they look so remarkably similar to these famous and distinctive men. Rose captures the combination of thoughtfulness and charisma that Shakur exuded, while Jonez carries himself with low-key swagger that's all Biggie. But the paths their stories take through awards-show after-parties, bouts of paranoia, and criminal issues of their own — Tupac's imprisonment after pleading guilty to sexual-assault charges is covered, as is his insistence that he was wrongfully accused — rings cliché more often than it rings true. Blame it on the fact that there are too many bios on these guys already.
Yet somehow, as often as we've seen dogged detectives trying to crack a case on television, the cop part of this equation is exciting to watch. That's partly because Long, Hemingway, and the other writers and directors embrace the complexity of the cases and take them seriously, as well as the heavy toll they take on all the officers attempting to finally resolve them. It helps, too, that the cast of this thing is so superb. Because the marketing of the series, understandably, focuses on Shakur and Smalls, you may not realize that the cast also includes Bokeem Woodbine of Fargo, who is excellent as Kading's rock-steady task-force partner Daryn Dupree; the great Aisha Hinds as Smalls's mother, Voletta Wallace; Jamie McShane (Bosch, Bloodline) as Poole's often exasperated partner; Michael Harney of Orange Is the New Black as a gruff lieutenant; Brent Sexton (Deadwood, The Killing) as Brian Tyndall, the only LAPD man who works on the Smalls case in the '90s and a decade later; and, praise the Lord, Wendell Pierce as an ornery know-it-all cop who's part of Kading's task force. Could I watch Wendell Pierce try to solve crimes while getting pissy at his colleagues all the livelong day? Yes, I could. Will I ever see Pierce in a TV show and not immediately and joyfully shout "Bunk!" despite the fact that this wonderful actor has appeared in hundreds of other shows and movies other than The Wire? No. No, I will not.
In an ensemble this solid, it can be challenging for one performance to emerge as a standout. But Simpson's does because he so carefully calibrates Poole's intensity, dialing it up by slight degrees in each episode until he's radiating with panicky determination by the midpoint, even after his superiors have commanded him to back off the Smalls case. You can tell the guy hasn't slept properly in months simply by the way he fidgets in a seat, or gets triggered to start word-vomiting about the latest clues he's uncovered that may explain Smalls's death. It's like Poole has his own version of an East Coast versus West Coast rivalry unfolding at all times in his own body and mind, in part because of his work but also because of personal issues that make him empathetic to those who have lost loved ones without ever getting answers. Simpson physically and emotionally illustrates that internal struggle beautifully; he should be remembered when Emmy-nomination time comes around.
At the end of each episode of Unsolved, a title card states that, "While this program is based on real events, there are scenes and characters that have been dramatized or fictionalized." I am no expert on the Smalls or Shakur cases — not even close. I'm sure that people who are will find errors of omission or exaggerations that bother them, as is often the case in based-on-a-true-story scripted fiction. But you can't argue with the fact that Unsolved, just like The People v. O.J. Simpson did, takes a series of events that you might think you already know and adds shades and angles that draw a more vivid picture. That picture tells us there aren't merely two sides to this American crime story. There are a whole lot more than that.