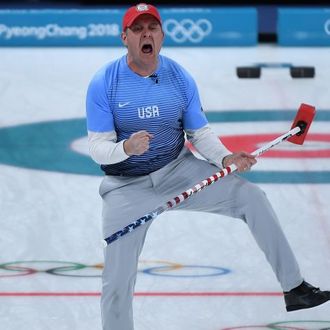 Photo: AFP Contributor/AFP/Getty Images
If somebody randomly asks you what curling and The Sopranos have in common, we're pleased to say you no longer have to gulp and respond with "snazzy tracksuits for men!" That's because the men's curling team from America, considered underdogs in this Winter Olympics, ended up winning gold in their final against Sweden this weekend — in a truly exhilarating final that included wild moments like this.
But perhaps even better, the gents — Joe Polo, John Landsteiner, Matt Hamilton, Tyler George, and John Shuster — chose to celebrate their win on national television, belting out Journey's "Don't Stop Believin'" in an impromptu karaoke setting. And it is wonderful.
And you don't even have to worry about any of them getting potentially murdered in a diner!