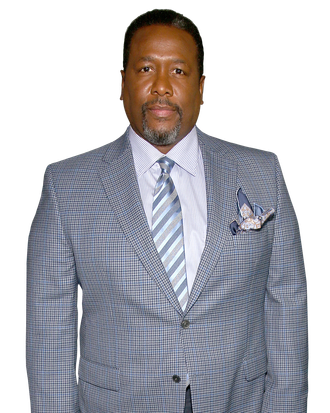 Photo: Paul Zimmerman/Getty Images
Wendell Pierce has a master plan: Each year he tries to shoot a film and a TV show, and also appear in a play. Even with training from Julliard, he's still interested in honing his skill as an actor and in learning as much as he can from his collaborators. Pierce's current project is Some Old Black Man, a play starring himself and Tony winner Roger Robinson, about a New York college professor caring for his ailing father. In signing onto the show, which opened February 22 at 59E59 Theaters, Pierce says that it gave him a chance to work with Robinson and to promote the work of a young playwright, James Anthony Tyler. Vulture caught up with Pierce backstage at Some Old Black Man to talk about the theater institutions he wants to build, the legacy of The Wire, and the send-off he gave his TV daughter Meghan Markle.
You grew up in New Orleans, and you go back there a lot. Are there aspects of your Some Old Black Man character Calvin's journey from the South to living in New York that you connect to?
Absolutely. I always think about my first night in New York. I remember distinctly, August 19, 1981, and opening the window and hearing that cacophony of noise and sound that Donald talks about in the play. I remember my reaction, like, man, I am in a different world.
Also, just knowing the relationship that I have with my parents in the South — I have an auntie here, but [going back and forth] I would miss New Orleans and at the same time go, "Ugh, I need to get back to New York," to really pursue some of the things that I wanted. Now my father's 93, and I'm gonna go home next week just to check on him.
My father was so against me becoming an actor. I was going to a school that was one of the best schools in Louisiana academically, but he was so adamantly against it. I said, "You said do whatever I want to do, but try to be the best at it." And then I realized years later something that I had never known about my father. He wanted to be a photographer.
I realized he had done a show, as if he was Bresson or Roy DeCarava or James Vanderzee, he wanted to be an artistic photographer, and it's an unfulfilled dream of his. So, his reticence against me being an actor really came from that. He had the complete perspective and he was trying to, out of love, protect me against the disappointment.
You move between TV, movies, and theater a lot. How do you decide which projects to do?
I always said I studied to try to develop an acting muscle. The key I always thought to my career would be diversity. A diversity of not only the type of work that you do, but the mediums.
When I got out of Juilliard … every kid first getting out was a little bit of a theater snob — then you realize that it's not about the theater, it's about good material. I've been fortunate to have that become a reality in my career. The Wire, being able to do Broadway, and Piano Lesson, and Serious Money with Caryl Churchill, plays like this one.
Speaking of TV, we're coming up on the tenth anniversary of The Wire. That show has such a legacy. Was that something you expected at the time?
It's one of those things you wish every actor would have the opportunity to be in, something that will be such a milestone in your career. Also, it connects people and people appreciate it across time and place and generation. There's gonna be people after we're gone that'll check it out and still be able to relate to it and understand that the more specific you are about the human condition, the more universal the material is.
I remember going into a hotel room in Harare, Zimbabwe — this was about 12 years ago — turning on the TV, and seeing The Wire on. It freaked me out. I met so many people who were like, "Oh my goodness, you're from The Wire." They had the same reaction that people from here have.
I was sad to hear about Reg E. Cathey's death. Do you have any favorite memories of him?
A lot of people knew him a lot longer than me, and knew him a lot better, but he always made you feel as if you were the closest person to him. In that moment, you were the person he was closest to. I'm so happy that he was lauded with an Emmy for his work in House of Cards, because he was brilliant and that he got that recognition before he passed, because he deserved it.
There's a joke in Some Old Black Man about how Angela Bassett is always cast as the black woman in every movie because she's the only one Hollywood knows. Now she's in Black Panther in the midst of a nearly all-black cast. Do you think there's been change?
The progress we make across the board culturally in this country will only be defeated by our own ignorance and lack of vision. A lot of times, assumptions are made about communities, about actors. It takes them so long to get to Black Panther because they always say that black movies don't do well overseas. And yet it's gonna be a huge global phenomenon in a couple of days.
What happens is sometimes we let down our guards thinking that we've changed. In times like this, people go, "Oh, it's a resurgence." I'm like, "No, we just lifted the veil." We have to understand that it's the ugly part of human nature that we have to, like a chronic disease, constantly treat, so that it has less of an impact on our culture and the way we live.
You played Meghan Markle's father on Suits. Do you have any hope of getting to go to the royal wedding?
I don't have any expectations. I'm very happy for her. I was very happy that I was able to quietly, the last time we worked, say to her, "Your life is gonna be so different." I did not know they were engaged, but I knew. I said, "I just want you to know that no matter how crazy it gets you have a friend in me." I care about her like a good TV father should.
You're working on a lot of different projects at once. Do you think often about the legacy you want to accomplish?
Roger and I were talking about that, as African-American artists I think we want to build more institutions. I think there's been a disconnect; African-American artists who have done well commercially are not coming back to small theaters, and small African-American theaters are nurturing the new writers, plays, and a new generation of actors. Steppenwolf folks — John Malkovich and Glenne Headly and Joan Allen, Gary Sinise, Gary Kinney — those folks go back and they have really built an institution. The Billie Holiday [Theater] is one that I'll focus on because I spent years in Brooklyn. I love that theater. Classical Theatre of Harlem is another I've worked with several times.
Roger and I have been talking about that, and that was one of the reasons he reached out to me. He knew I had that sensibility. He said, "We have an opportunity to work with a young playwright like James Anthony Tyler." So, that's the legacy that I want to build and that's what I'm trying to do.
Do you think it's helpful, especially for young actors, to have a classical, theatrical training?
My thing is have some training. Have some interest in the field about where you will go and learn how to do it. It shouldn't be happenstance. You don't have to get the full classical training, but you should at least take some class. You should come to an understanding of how you deal with material, how it broadens itself, all of that. Juilliard gave me the ability to go and do classical, contemporary, comedy, drama, everything.
You wouldn't trust a writer who doesn't read. I tell people all the time, get some training and become a student of your craft. My education about how to do this is ongoing. I'm getting one right now from Roger Robinson. Roger can make the simple act of lifting a spoon of yogurt into a work of art. I just gotta make sure I stay in the moment, because I'll end up being a spectator.
This interview has been edited and condensed.