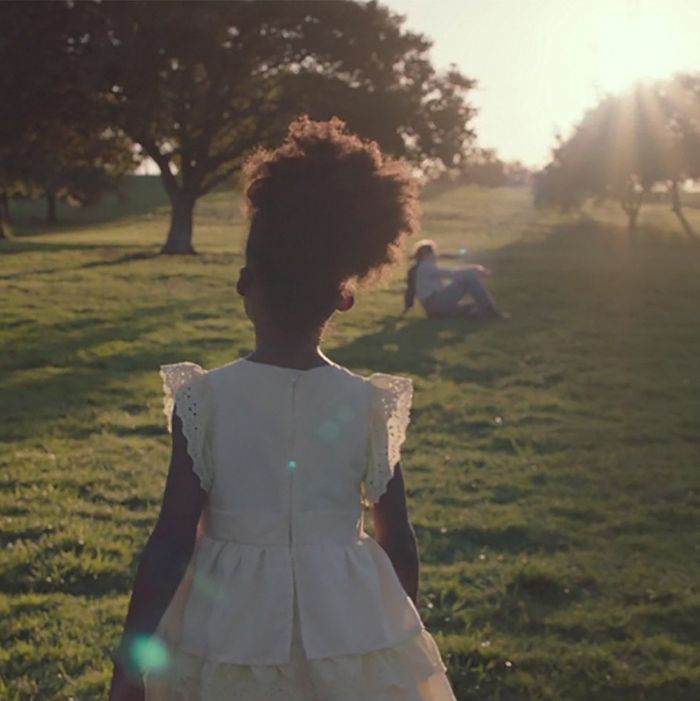 They Charge for the Sun
.
Photo: Film Independent
With its fully realized, finely detailed vision of the technologically advanced, never-colonized African republic Wakanda, Ryan Coogler's Black Panther is notable for being one of the purest expressions of Afrofuturism rendered on film to date. The term, coined by the academic Mark Dery in his 1994 essay-cum–interview collection "Black to the Future" — which features insightful perspectives from authors Samuel R. Delany, Greg Tate, and Tricia Rose — has come to connote a flexible artistic aesthetic, and a framework for critical thought that's applicable to multimedia work focused on imagined and alternative global black experiences, often laced with strong political undercurrents. As the author Ytasha Womack writes: "Afrofuturism combines elements of science fiction, historical fiction, speculative fiction, fantasy, Afrocentricity, and magic realism with non-western beliefs."
A runaway box-office success and genuine cultural phenomenon, Black Panther may be the highest-profile Afrofuturist artwork to penetrate the public consciousness, but it doesn't exist in a vacuum. Afrofuturist ideas and aesthetics, across a variety of art forms, long predated the term's coinage (see, or rather, read W.E.B. Du Bois's remarkable 1920 short story The Comet), and continue to develop apace today. Multi-hyphenate superstar Janelle Monáe is arguably the most notable contemporary proponent of Afrofuturism, having built her entire career around a high-concept and impressively sustained edifice of android androgyny. In the cinematic realm, Black Panther is related to — and in some cases directly inspired by — several spiritual forebears. Here are six of the best.
Space Is the Place (Director: John Coney, 1974)
With a meticulously constructed persona steeped in African mythology, the free-jazz legend Sun Ra (born Herman Blount in Alabama in 1914) is one of the central pillars of Afrofuturistic thought. He also once taught a course at Berkeley in 1971, entitled Afro-American Studies 198: The Black Man in the Cosmos. Here's a reported quote from one of his lectures:
"I'm thinking about the future of black Egypt, which is outside of the realm of history. History has been very unkind to black people, so actually what I'm always talking about is the myth, and nothing that has ever been is part of what I'm talking about, because I'm saying that black folks need a myth-ocracy instead of a de-mocracy. Because they're not gonna make it in anything else. They're not gonna make it in history."
One of Black Panther's most poignant aspects is its beautifully conceptualized vision of a free, tech-rich African superstate or, in Sun Ra's terminology, a "myth-ocracy." Ra envisioned his own "myth-ocracy" in his sole feature film, 1974's Space Is the Place. The plot, such as it is, sees Ra engage in a cosmic card game with a blindingly white-suited megapimp (an amazingly OTT Ray Johnson) to determine the fate of the black race. This unpredictable mixture of interplanetary travel, social commentary, goofy blaxploitation stylistics, and thrilling concert footage is a wild, funny — and oddly moving — ride. It makes for a hell of a double bill with Black Panther.
Yeelen (Director: Souleymane Cissé, 1987)
Whether or not to share the vast knowledge and unlimited resources of Wakanda is the central dilemma that powers the plot of Black Panther. A similar conflict lies at the heart of Yeelen (1987), the spellbinding, Cannes Jury Prize–winning masterpiece by the Malian auteur Souleymane Cissé. Possibly set during the Mali Empire of the 13th century (although the era is never explicitly stated), Yeelen charts the coming-of-age odyssey of a young man possessed of supernatural powers as he prepares for a showdown with his evil and selfish sorcerer father, who will stop at nothing to ensure his son does not share his magical energy. Unlike the megabucks CGI-fest of Black Panther, however, Yeelen derives much of its force from the simple power of Cissé's organic artistry, including the utterly staggering use of natural light and widescreen West African landscapes, impressionistic framing, and the occasional, breathtaking cross-fade or cut.
Sankofa (Director: Haile Gerima, 1993)
Black Panther is the rare film that has explicitly striven to open up a serious dialogue around the contrasts and commonalities of experience and history shared between black Africans and African-Americans. Twenty-five years ago, the great Ethiopian-born, U.S.-based director Haile Gerima did a similar thing in his blistering magical-realist drama, Sankofa. Unfolding like a fever dream, it tells the story of an American fashion model in Ghana who, while unwittingly working on a shoot at the Cape Coast Castle — a location which was historically used in the Atlantic slave trade — is magically transported back to the antebellum South. Here, she experiences the horrors of slavery, and ultimately, the redemptive power of community and rebellion. Sankofa is a beautiful and disturbing Afrocentric interrogation of the past through a contemporary lens.
Welcome II The Terrordome (Director: Ngozi Onwurah, 1995)
"Bury me in the ocean with my ancestors who jumped from ships," gasps Black Panther's Erik Killmonger (Michael B. Jordan) with his dying breaths, "'cause they knew death was better than bondage." This very situation serves as the opening sequence of this harrowing, little-known sci-fi, which was first film directed by a black British woman to receive a U.K. theatrical release. A haunting prologue set in North Carolina in 1652 sees an Ibo family calmly drown themselves rather than succumb to the chains of slavery, before the film leaps into the near future to immerse the viewer in an apocalyptically bleak slum — the eponymous Terrordome — where crime, drugs, and racism are as rife as the brutality visited upon the majority black inhabitants by the cops. With a title riffing on a fierce Public Enemy cut, Terrordome is a lost (and exceptionally rough-cut) gem of 1990s British cinema which has much to say about contemporary race relations, police brutality, and the limits of "progress."
The Last Angel of History (Director: John Akomfrah, 1996)
Much like the characters of Black Panther who flit seamlessly between Oakland and Wakanda, the curious and compelling British docudrama The Last Angel of History presents the "Data Thief," a mythical figure who must travel through time, space, and African diasporic history in search of the code that holds the key to his own future. Crafted by the radical, avant-garde British outfit Black Audio Film Collective (now Smoking Dogs Films, and still making great work), The Last Angel of History is a tantalizing blend of sci-fi parable and essay film that also happens to be a fine primer on the aesthetics and dynamics of contemporary Afrofuturism — it was the first film to include the then-recently minted term. Compelling interviews with musicians (Lee "Scratch" Perry, George Clinton), writers (Samuel R. Delany, Octavia Butler) and cultural critics (Greg Tate, Kodwo Eshun) — plus a vast range of archival video and photography, combine to create a heady brew.
They Charge for the Sun (Director: Terence Nance, 2017)
Nance's beguiling short film plunges us into a future where people live nocturnally to avoid the harmful rays of the sun, and must pay exorbitant rates to bask in its rays under controlled conditions. It would be criminal to spoil it here, but this chilly dystopian vignette ends with a surprise twist that's simultaneously out of this world and totally down-to-earth: a hymn to the natural magic of melanin. Nance is but one of an inspiring and singularly talented crop of young, contemporary black filmmakers — including Ja'Tovia Gary, Kahlil Joseph, Frances Bodomo and Jenn Nkiru — who are making Afrofuturist-flavored work in a variety of spaces, from short films to music videos and gallery installations.