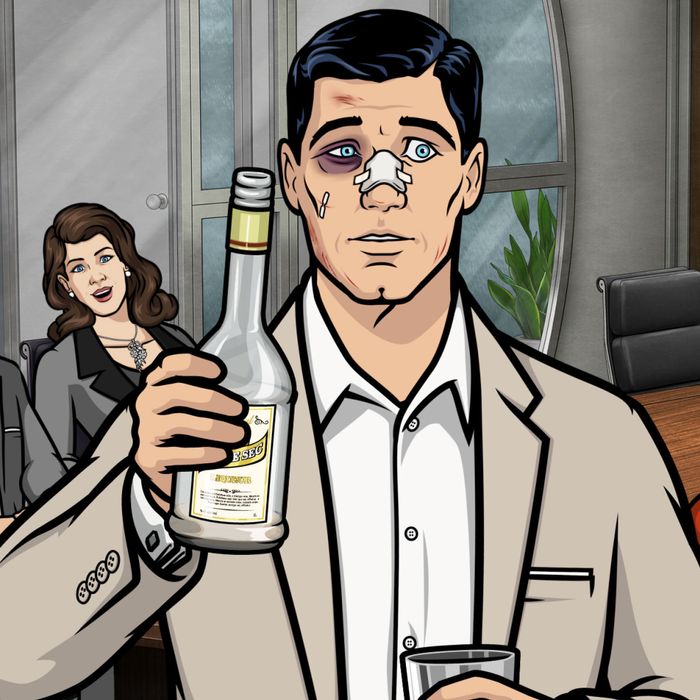 Each month, several films and TV shows leave Netflix's library. We provide a list of departing titles and recommend a few standouts so you can watch them before they're gone forever (or are just available on a different site). For more coverage of the best titles available on Netflix and elsewhere, check out Vulture's What to Stream Now hub, which is updated throughout the month.
Leaving March 14
For guilt-free dirty comedy: Archer Seasons 1–7
On FXX, the long-running spy spoof is prepping its ninth season and, like Pam's substance abuse, shows no signs of slowing down. But fans of Sterling Archer and company's earlier drug- and sex-fueled mission failures (and phrasings) will have to migrate over to Hulu after this month. If your streaming budget is low and your thirst for Bloody Marys is high, you know what to do. Leaving March 14.
Leaving March 24
For pure movie candy: Who Framed Roger Rabbit
It's never too late to appreciate how Roger Rabbit could make a movie with dozens of the most heavily licensed, heavily scrutinized cartoon characters (from rival studios!) and still have the whole thing come out fun and frisky and un-focus-grouped. The closest thing to its descendant today might be The Lego Movie, but even that doesn't do justice to how perfectly Robert Zemeckis executed his technical marvel of a neo-noir. Could Toontown exist today, or would the modern studios Dip its screwball sensibilities out of commission? Leaving March 24.
Leaving March 8
For a cinematic tightrope walk: Victoria
Few things stroke a director's fragile ego more than a good long take, and Victoria might have the single best. The entire two-hour, 20-minute film about a Berlin bank heist gone wrong unfolds without a single cut, as our Spanish heroine dances in a nightclub, meets four strange and shady men, and impulsively decides to help them do something very illegal and very doomed. Director Sebastian Schipper choreographs the whole thing with heavily improvised dialogue and more than a little look-at-me masculinity. Leaving March 8.
Noteworthy selections in bold.
TV Shows
Leaving March 13
• Breakout Kings: Season 1
• The Killing: Seasons 1–2
Leaving March 14
• Archer: Seasons 1–7
Leaving March 24
• Voltron 84: Season 1
Leaving March 29
• The Gates: Season 1
Leaving March 30
• Life in Pieces: Season 1
Leaving March 31
• Awake: Season 1
• Bordertown: Season 1
• Breakout Kings: Season 2
• Brickleberry: Seasons 1–3
• The Carmichael Show: Seasons 1–2
• The Chicago Code: Season 1
• Cooper Barrett's Guide to Surviving Life: Season 1
• The Crazy Ones: Season 1
• The Finder: Season 1
• Friends With Benefits: Season 1
• Lights Out: Season 1
• Rosewood: Season 1
• Salem: Seasons 2-3
• Small Shots: Season 1
• Traffic Light: Season 1
Movies
Leaving March 1
• A Gang Story
• Anastasia
• Baby's Day Out
• The Chase
• The Craft
• Eyewitness
• FernGully: The Last Rainforest
• First Response
• Forget and Forgive
• Hitch
• Jaws
• Jaws 2
• Jaws 3
• Jaws: The Revenge
• Less Than Zero
• Memento
• The Panic in Needle Park
• Slums of Beverly Hills
• Trigger Point
• Two Wrongs
• xXx
Leaving March 4
• Chloe
• Safe Haven
Leaving March 6
• The Finest Hours
Leaving March 8
• Victoria
Leaving March 11
• Believe
• Glitch
Leaving March 12
• The Santa Clause
• The Santa Clause 2
• The Santa Clause 3: The Escape Clause
• Standby
Leaving March 13
• City of God: 10 Years Later
• London Has Fallen
Leaving March 19
• V/H/S: Viral
Leaving March 20
• Zootopia
Leaving March 22
• Steve Jobs: One Last Thing
Leaving March 24
• Who Framed Roger Rabbit
Leaving March 26
• The Life Aquatic With Steve Zissou
Leaving March 31
• The Awakening
• The Good Son
• In Like Flint