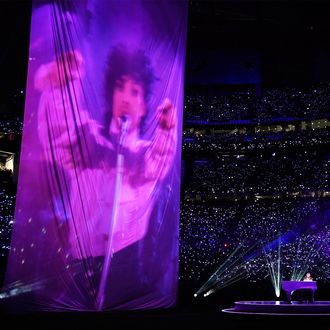 Hmmm.
Photo: Kevin Mazur/WireImage
Add Justin Timberlake's latest Super Bowl performance to the list of life's great unsolved mysteries. In the lead-up to his halftime show, TMZ reported that Timberlake would perform with a Prince hologram, since the Super Bowl was being held in the late singer's hometown of Minneapolis. The rumor was quickly shot down, most vocally by Prince's former drummer and ex-fiancée Sheila E., who tweeted that she spoke to Timberlake and that there would be no hologram. (Sheila later elaborated on the conversation, saying she personally told him not to do it because Prince would never have approved, having once referred to the technology as "demonic.") Thickening the plot, TMZ also quietly buried an admission that they might have mistaken a projection for a hologram while spying on rehearsals, walking back their report in an update on the bottom of their original story. Timberlake ultimately performed at the Super Bowl with a massive sheet projecting a clip of Prince singing "I Would Die 4 You" from Purple Rain.
So, was there ever actually plans for a hologram? Or did we all just lose our shit over nothing?
If you believe "Page Six," the hologram was very real, and scrapped at the eleventh hour. "He was 100 percent ready to use the hologram but nixed it due to backlash from social media and Prince fans. That's why he had that sheet up like in your mama's backyard," an insider told the gossip site. If you instead believe "a source close to Timberlake," also quoted by "Page Six," the hologram never existed: "There's no way Justin would ever disrespect Prince's legacy. He didn't change his performance." Since TMZ abandoned their original report, that leaves only "Page Six" still standing by the rumor.
Prince's sister Tyka Nelson tells TMZ that she and the rest of her siblings, who are heirs to Prince's fortune, knew Justin planned to sing "I Would Die 4 U," but that the projection was a surprise — one that she approves of. She makes no mention of the hologram. In a statement to "Page Six," Prince's estate, which is overseen by a bank, said it gave Timberlake permission to license the clips used in his performance, calling it a "beautiful hometown tribute." The estate's statement does not acknowledge the rumored hologram either. A Twitter account said to represent one of Prince's half-brothers, Omarr Baker, tweeted that the family did not authorize use of a hologram and that there were never any plans to include one in the performance. Meanwhile, Alki David, the founder of Hologram USA (famous for its Tupac hologram), says his company had nothing to do with a Prince hologram for the Super Bowl.
Timberlake has kept tight-lipped about rumors of a hologram, but following the Super Bowl, he talked to Jimmy Fallon about how his Prince duet came together. The way he tells it, he and his team obtained the "actual, real" vocal stems from Prince's recording of "I Would Die 4 U" and then were able to miraculously align it with the uncut footage of his performance of it from Purple Rain. "Somehow, some way, by the grace of probably Prince looking down on us, it synced up!" he says. Again, no hologram talk. Which is curious since a denial from Timberlake — or the NFL or Pepsi, which sponsored the show — would go a long way toward ending the rumors. If the story had no legitimacy, why wouldn't they say it?
Update: Long-time Super Bowl Halftime producer Ricky Kirshner told Variety in a new interview, "To refute any stories that were out there, there was never an idea to have a hologram." And as for how TMZ might have gotten the tip for its initial reporting about a Prince hologram, Kirshner added, "I can't speculate as to what someone saw, but I do know that all of our people are not authorized to talk to the press so whoever was there and saw something they shouldn't have seen shouldn't have been there to begin with."