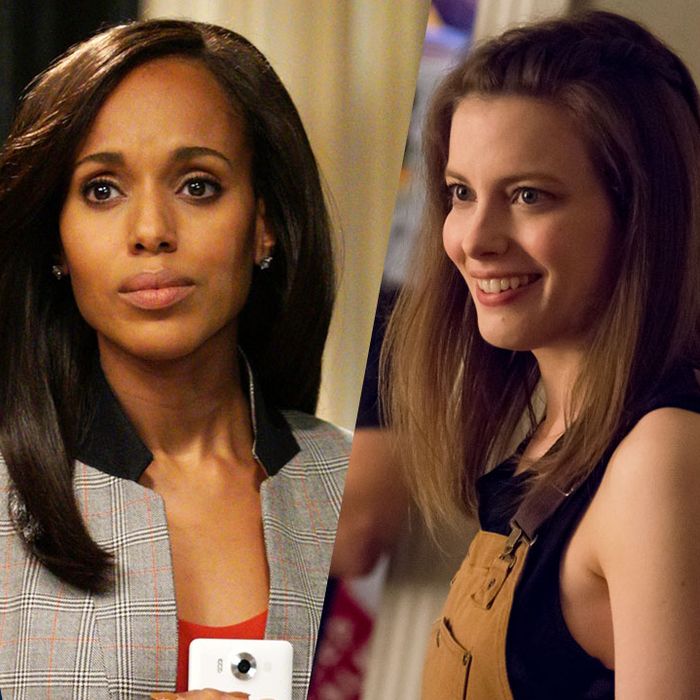 Will Peak TV ever end? That's a debatable question, but the facts don't lie: A whole bunch of popular shows will take their final bow this year, and no amount of fan petitioning to your favorite networks will bring them back. (Well, unless reboot fever changes their minds in a few years.) If you've been meaning to add a few undiscovered shows to your queue this winter, here are 14 that won't be around for much longer. Binge quickly and responsibly!
Love
Finale date: March 9, Netflix
Total episode count: 32 over three seasons
What to expect: Maybe a normal, healthy relationship for Mickey and Gus? Ha, who are we kidding? Their relationship may keep stumbling forward as the months dwindle by, but not without its obstacles — such as the unexpected arrival of Gus's ex-girlfriend, played by SNL alum Vanessa Bayer.
Portlandia
Finale date: March 22, IFC
Total episode count: 77 over eight seasons
What to expect: Fred Armisen and Carrie Brownstein subscribe to the "if it ain't broke, don't fix it" mentality for the final season of their sketch-comedy show: The off-kilter and bitingly funny sketches about the Pacific Northwest capital are as sharp as ever. (As is Kyle MacLachlan's zany mayor!) However, Portland citizens sure seem to be happy about its demise.
New Girl
Finale date: April 16, Fox
Total episode count: 146 over seven seasons
What to expect: Who's that girl? It's Jess's last hoorah! Utilizing a three-year time-jump, Jess and Nick will still be quirkily together, Schmidt is now a stay-at-home daddy, and Winston and Aly are expecting a first child of their own.
Scandal
Finale date: April 19, ABC
Total episode count: 124 over seven seasons
What to expect: Shonda Rhimes said Scandal's final hoorah will be all about Olivia's "swan song," and we can see why — our girl's pulling badass double duty as the White House chief of staff and the head of B613. "We are going all out. Leaving nothing on the table," Rhimes teased about the last episodes. "Creating this world in celebration. We are going to handle the end the way we like to handle the important things in our Scandal family: all together, white hats on, gladiators running full speed over a cliff."
The Originals
Finale date: April 20, the CW
Total episode count: 92 over five seasons
What to expect: Yet another time-jump! The Originals will be going eight years into the future — yup, eight — a decision that'll put the fun in dysfunction for the Mikaelsons in this CW supernatural drama. (Did we mention that the family consists of werewolf-vampire hybrids?) "The family is still apart, because they can't be together," executive producer Julie Plec told TV Insider. "Hope is 15 years old in the boarding school. Hayley is now the mother of the alien-like child who is misbehaving. [Hope] misses her dad, and her dad is off trotting the globe, murdering people and being at his nastiest and most wicked. Elijah is playing the piano in France, having absolutely no idea his entire family of a thousand years is out there looking for him and wondering about him." Well, damn.
The Americans
Finale date: May 30, FX
Total episode count: 75 over six seasons
What to expect: A three-year time-jump, which will — gasp! — find Elizabeth and Phillip's daughter, Paige, getting in on all of that covert Soviet-spy action. "This is what Elizabeth has wanted for a long time, and it's finally happening," showrunner Joe Weisberg recently told EW. "She's getting to bring her kid along and go out and work with her sometimes and do things with her. She sometimes makes mistakes and that's a little worrisome, but other times Paige really does well and is successful and that feels great."
The Middle
Finale date: Spring TBD, ABC
Total episode count: 215 over nine seasons
What to expect: Ultimate closure for the Heck family, which has been relatively stable, both financially and as a collective unit this season, thanks to Axl getting a solid post-grad job and Sue thriving in college. "It'll be a special episode for sure," showrunner DeAnn Heline recently teased about the finale. "We know what the last episode is and I think it'll be something fans of the show will love."
Nashville
Finale date: Spring TBD, CMT
Total episode count: 124 over six seasons
What to expect: The delightfully soapy drama promises to ebb and flow when it comes to Juliette's music career — as always — which might be hindered by the fact that now she's hanging out with a cult in Bolivia, with zero intentions of coming back home anytime soon.
The Fosters
Finale date: Spring TBD, Freeform
Total episode count: 104 over five seasons
What to expect: Everyone's favorite foster family will gracefully bow out with a special three-part finale, which will effectively open the door for a spinoff series revolving around Maia Mitchell's Callie and Cierra Ramirez's Mariana. "Now that the kids are growing up, it's time to take them out into the world," executive producers Joanna Johnson, Bradley Bredeweg, and Peter Paige told Variety, "to see them make their way into adulthood, continuing their search for identity and love, and the pursuit of their dreams and purpose in this ever changing world."
Casual
Finale date: July 31, Hulu
Total episode count: 44 over four seasons
What to expect: Alex has to deal with the bombshell news that his one-night stand is pregnant, while Val must come to terms with her daughter moving away to live with her grandmother. What else could go wrong in this modern dating romp before it's all over?
Girlfriends' Guide to Divorce
Finale date: Summer TBD, Bravo
Total episode count: 45 over five seasons
What to expect: Abby and Barbara are creating a business called Lady Parts! There will surely be lots of sexy shenanigans, of course, but Bravo isn't spilling too much.
You're the Worst
Finale date: Fall TBD, FXX
Total episode count: 59 over five seasons
What to expect: The show's creator, Steven Falk, has played coy about what endgame to expect for Jimmy and Gretchen — are they actually driving away into the sunset to get married with that gorgeous ring? — and joking about how his finale will match up against another recent TV finale: "I am thankful to have the opportunity to be thoroughly judged whether or not we 'stick the landing' — which is a thing people say now that stupid Breaking Bad had to end so damn perfectly."
Being Mary Jane
Finale date: Fall TBD, BET
Total episode count: 51 over four seasons
What to expect: A two-hour film to wrap up Mary Jane's Atlanta adventures, the plot of which BET has strategically kept under wraps.
House of Cards
Finale date: TBD, Netflix
Total episode count: 73 over six seasons
What to expect: Robin Wright as the HBIC. Upon the news that Netflix cut ties with Kevin Spacey due to rampant allegations of sexual harassment and assault, the final House of Cards season will be all about Claire Underwood's icy D.C. exploits. It's unclear exactly how the show will write off Frank, but Wright will be joined by newcomers Diane Lane and Greg Kinnear in key supporting roles.