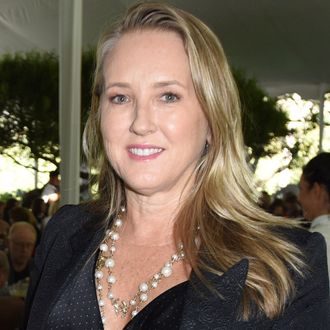 Jen Salke.
Photo: Vivien Killilea/Getty Images
Four months after its top creative exec was forced out in the wake of sexual-harassment allegations, Amazon Studios has found its new leader. Jen Salke, a broadcast TV veteran who's served as NBC Entertainment president since July 2011, has been named head of Amazon Studios, the tech giant announced Friday. She replaces Roy Price, who resigned in October after revelations surfaced he'd harassed a producer on The Man in the High Castle in 2015. Salke, like Price, is expected to oversee both TV and film output at Amazon.
Price's ouster was followed by the departures of several other key execs at the company and coincided with Amazon CEO Jeff Bezos signaling a strategy shift for the streamer: Rather than critically acclaimed "small" shows such as Transparent or One Mississippi, the company's goal will be mass-appeal programming in the vein of Game of Thrones. If that is, in fact, the new programming mandate, then Salke is a perfect choice. During her run at NBC, and before that 20th Century Fox TV and Spelling Entertainment, she's had a hand in developing crowd-pleasers such as Modern Family, Glee, Dick Wolf's Chicago series, Bones, Prison Break and, most recently, This Is Us. In other words, Salke makes shows people (and not just TV critics) watch.
It would be simplistic to assume Salke is about to usher in an era of populist-only fare at Amazon, however. For one thing, many of the aforementioned shows also got good reviews, particularly in their early seasons. What's more, Salke has also been a champion of plenty of critic-friendly shows at the Peacock, particularly when it comes to comedy: The Good Place, Superstore, Great News, and Unbreakable Kimmy Schmidt all were developed under her watch (with Kimmy sold to Netflix after Salke's bosses and the show's producers realized it might work better at a streamer). Salke is unlikely to turn Amazon Prime into a service solely about big franchises (such as a new take on The Lord of the Rings that's now in the works) or broadcast-like crime procedurals. Instead, expect her to thread the needle and search for well-made shows which can stand out amid the Peak TV glut.
What's less clear is how Salke will change things on the film side of Amazon Studios. The company's movie division has had a number of successes, including The Big Sick and last year's Oscar-winning drama Manchester by the Sea. But under Price, Amazon also made a high-profile deal with director Woody Allen. The Hollywood trades have speculated Amazon will try to extricate itself from that partnership with Allen. There's been talk Amazon also wants to shift toward more populist fare on the movie side as well, particularly after it didn't make much of a splash at Sundance this year.
Salke's hiring follows a very public four-month search for Price's replacement. During their hunt, Amazon brass made it clear via conversations with agents and leaks to media outlets that their goal was to fill Price's job with a female executive. Almost all the names floated in news reports — including Fox co-chief Dana Walden and A&E head Nancy Dubuc — were women. Last week, Amazon Studios also hired one of the TV world's top PR execs — former Warner Bros. TV exec VP Tammy Golihew — to head up series publicity for the company's original series.
As for NBC, it's too soon to say how Peacock chief Bob Greenblatt will replace Salke. The two are close friends and have worked together since the 1990s, and their professional collaboration at NBC has led to the network to a remarkable resurgence compared to where it stood when Jeff Zucker departed at the start of the decade. NBC is now the clear-cut ratings leader in the advertiser-coveted demo of adults under 50, and with the Olympics and Super Bowl — along with hits such as This Is Us and Ellen's Game of Games — it will supplant CBS as the No. 1 network in overall audience this season. Possible internal candidates to replace Salke include Pearlena Igbokwe (who runs NBC's Universal TV studio arm) and Paul Telegdy (president of the alternative and reality group).