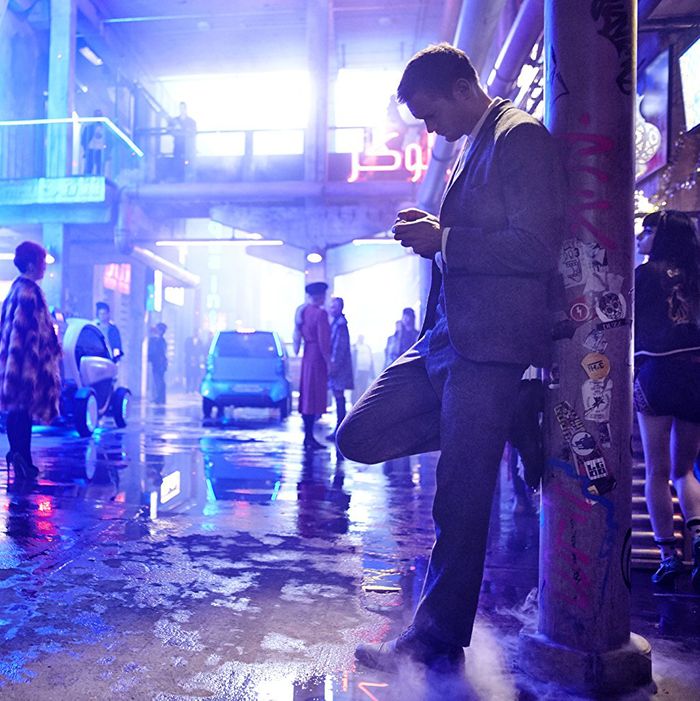 Mute
.
Photo: Keith Bernstein/Netflix
Last October, Netflix announced that it planned to release some 80 movies in 2018. The announcement was met with reactions ranging from skepticism to shock to, most commonly, confusion: the big six studios put out 94 films in 2017 collectively, and Netflix was going to do 80 by itself?
But the picture began to clear up when these movies started to appear on the platform. As Indiewire's David Ehrlich put it in a D+ review of one of them, the Adam Devine vehicle When We First Met, "The crux of their strategy — the streaming giant's ace in the hole — couldn't be clearer: They're just going to release the movies that nobody else would." Ehrlich used that brush to tar a number of titles, including The Cloverfield Paradox — as well as, presumably, Irreplaceable You, which Emily Yoshida called "a half-baked tragic love story so desperately engineered to tear-jerk that it ceases to resemble anything human," and the widely maligned Bright. But he also held it up as a potential virtue when it comes to one of the company's releases this year: Mute, from Duncan Jones, which landed on Netflix today.
Jones is best known for two things: one, writing and directing the beguiling sci-fi thriller Moon, in which Sam Rockwell essentially serves as the only actor; and two, being the son of David Bowie. But as so often happens in the movie industry, Moon was as much a false start as it was a promising debut. The overachieving Jake Gyllenhaal time-twister Source Code was well regarded, but it didn't leave the same kind of impression that Moon did. And with his third movie, Warcraft, Jones made the jump into blockbuster filmmaking at the exact time that so many ill-advised IP adaptations like Warcraft were cratering at the box office. Poorly reviewed and underperforming, Warcraft left Jones somewhere between an indie cult-favorite and a big-budget washout, meaning his next film would do a great deal to clarify the perception of him as a director.
Enter Netflix. Many of the filmmakers I've talked to over the last few years who have worked with the streaming company echo what Ehrlich wrote: either Netflix made or bought their movie when no one else would, or Netflix gave them the kind of money and freedom that no one else would. Of course, this is a coin with two faces: for every Being John Malkovich, there are many, many scripts that don't get made simply because they aren't very good. To release 80 movies in a single year, Netflix must roll the dice on quite a few of these screenplays that haven't been produced and films that haven't sold, if only because that's how you find 80 movies to release in 12 months. It isn't enough to assume that there are idiosyncratic gems lying around, misunderstood and waiting for the warm embrace — read: lower financial obligations — of a nontheatrical release; there may be a few of these, but there aren't 80.
Of course, much of Netflix's ability to work like this has to do with its unique mandate. Other studios release their movies as individual titles that viewers then decide to either see or not see; Netflix releases its films as an aggregate body of content that users choose to pay for in bulk. If you want to watch Stranger Things, you also get Irreplaceable You, whether you realize it or not, and that means each title carries less of a burden than a studio release might. It's good enough if the film is filling in a subject gap, or fleshing out a thin genre, or would work well when recommended after streaming a season of The OA. And with the imminent departure of more and more content to producers' own blossoming services, like Disney's, this imperative is becoming more and more important. Soon, Netflix movies might be the only movies on Netflix.
However, that future has its own impending effect. Netflix has become a player in the TV world by making series that are thought of as essential viewing. So far, it hasn't done this for movie fans — not even close. No matter how much you liked Okja or Mudbound, neither is in the same league as Stranger Things in terms of its popular appeal. And while the release of The Cloverfield Paradox turned out to be a marketing coup, there's only one Super Bowl a year: you can't exactly use it as the cornerstone of your release strategy. Instead, its film offerings tend toward one of two options: digestible genre fare like sci-fi or romance, which is easy to recommend based on prior viewing habits and lends itself to comprehensible log lines; or solid, actor-centric indies that lend Netflix some cachet and gravitas, but don't cost much and come with little risk.
While it's difficult to speak in terms of what Netflix needs — Netflix's needs, whatever they are, have little in common with those of Warner Bros., or even Disney — the service could certainly use a home-run film. Not a good film, or even a great film: a billion-dollar film, a nuts-and-bolts blockbuster, a Black Panther or Get Out, the type of movie that the colloquial everyone sees. As much as they might argue that Bright is this kind of film, Bright doesn't feel like this kind of film: it's too divisive, too niche.
Does Mute? It's an interesting question. Jones has talked about how it took him 16 years to get the movie made, a situation he attributes to studios' unwillingness to make original films with a budget anymore. In many ways, he's the perfect kind of director for Netflix, a promising young talent who struggled within the studio system and is now looking for a chance to prove himself again. Patty Jenkins, Rian Johnson, and Ryan Coogler don't need Netflix; they're making the studios work for them, and Netflix can't offer that level of filmmaker the same deal it might a star showrunner like Ryan Murphy or Shonda Rhimes, for many reasons. But it can certainly provide Jones with enough compensation to make up for the fact that his movie won't be in theaters.
But Netflix is still rolling the dice on a script that sat on the shelf for a decade and a half, and early indications are that, once again, this strategy ignores a crucial feature of the film industry: by and large, however perfectly or imperfectly, the good scripts tend to get made. The first round of critical notices have been even worse than Bright's, and barring a second wave of radically different opinions, that means yet another ambitious Netflix Original has failed to receive the tenor of acclaim that vaults a movie into the stratosphere of cool or essential viewing. Especially on the same weekend that Paramount, a studio dinosaur, is releasing Alex Garland's Annihilation, which is drawing comparisons to Kubrick and Tarkovsky, this feels like an even greater miss. Annihilation is the kind of film Netflix wants to be releasing in the U.S., the kind of film that could boost its brand and make it a destination for movie buffs. But Netflix hasn't figured out how to land this sort of film exclusively yet — in this case, it had to settle for international distribution rights. At the moment, the company seems to have one technique for stealing a project the studios might want (short of finally conceding theatrical releases a la Amazon): throwing an insane amount of money at it. And even with tech funny money, that strategy doesn't exactly scale.
An earlier version of this story didn't clarify that Netflix would be releasing Annihilation in international markets. We regret the error.