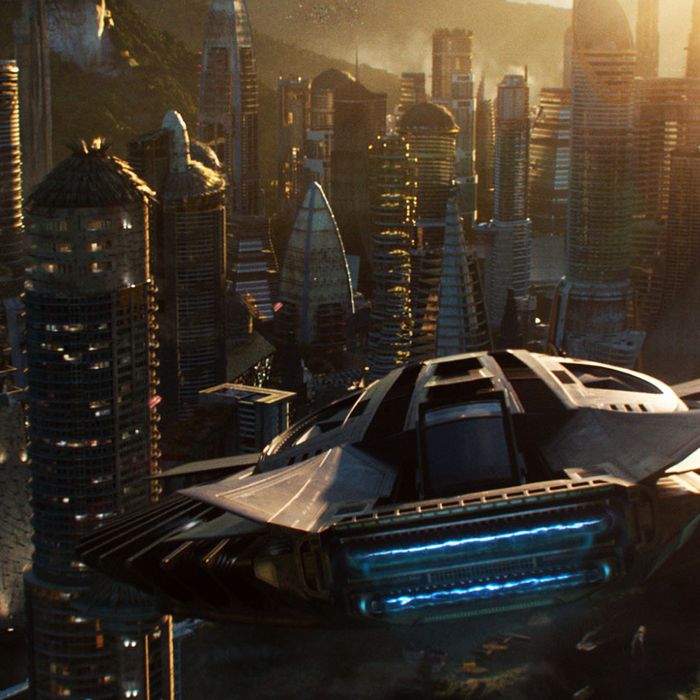 The kingdom of Wakanda, where the superhero lead of Black Panther makes his home, is a futuristic paradise. Steeped in rich colors and African tradition, the fictional country is wealthy beyond measure thanks to a supply of the major Marvel mineral Vibranium, and has used its resources and technological advancements to craft spaceships, superconductors, and skyscrapers as tall as your dreams. It's perhaps the most striking setting in a Marvel movie thus far, and Marvel Studios head Kevin Feige spent accordingly to help director Ryan Coogler bring it to life.
"I hope you can tell from watching the movie, but the resources devoted to this movie are equal to and in fact surpass our last couple of movies," Feige recently told Vulture.
To him, that bigger budget was a no-brainer: "It's a big story that deserves to be told in a big way, for all of the cultural and political reasons that people talk about, but also because it's such a key corner of our Marvel universe, and has been for decades and decades," said Feige. "We wanted to do it justice, and we have a studio with Disney, and leaders with Alan Horn and Bob Iger, who supported us a hundred percent."
That investment looks like it will pay off at the box office: Black Panther is currently projected to earn one of the highest opening-weekend totals of any Marvel movie ever made. "I'm not one to verbalize lessons that Hollywood should learn, but I know we had story lines and characters — and then a filmmaker and a cast — that we believed in tremendously," said Feige, whose powerful Marvel brand helped convince Oscar winners like Lupita Nyong'o and Forest Whitaker to join the cast alongside Black Panther himself, Chadwick Boseman. "We're thankful that they agreed to be in our movies," said Feige. "Lupita was just talking about being at Comic-Con for the first time two years ago, when we brought the cast out onstage, and none of them had read a script yet. We didn't have a script yet! But all of them had agreed to do the movie, and we don't take that for granted, that kind of trust that people put in us when they sign onto a movie that doesn't exist yet."
Of course, part of that excitement was due to the fact that a movie like Black Panther would be groundbreaking if done right, presenting a nearly all-black cast in a major superhero franchise. While Marvel has taken some hits along the way when it comes to screen diversity — the studio's cinematic universe is still filled with white hunks named Chris, and the casting of Tilda Swinton in Doctor Strange touched off a whitewashing controversy — Feige's last few movies at the studio have been markedly more diverse, and Black Panther caps off a string of four consecutive Marvel films where the female lead is a black woman, which helps mint actresses like Guardians of the Galaxy's Zoe Saldana, Spider-Man: Homecoming's Zendaya, Tessa Thompson of Thor: Ragnarok, and Black Panther's Nyong'o as global box-office draws.
"Myths of what plays overseas or what doesn't, or what type of person someone wants to see in a lead role … that's all noise until somebody comes and disproves it," said Feige, who cast Thompson as a Thor character who had been drawn as white in the comic books and recently added She's Gotta Have It star DeWanda Wise in a significant role opposite Brie Larson in the studio's upcoming Captain Marvel. "Taking a character like Valkyrie and giving it to Tessa is a no-brainer. Yes, it becomes a think piece, it inspires hot takes, but she's awesome! We knew she was awesome, and now the world knows she's awesome. And the same thing [will happen] with DeWanda. For us, it's about getting these unbelievable actors to agree to do these characters, the combination of which we hope will become iconic around the world."
And for Feige, who fondly recalls seeing little boys and girls dress up as Falcon, the Anthony Mackie character from the Captain America series, the representation that Black Panther can provide for underserved audiences is not lost on him.
"It's something that's easy to take for granted, growing up in the United States as a white male, that my cinematic heroes look like me," said Feige. "I never thought they looked exactly like me, because I'm not a big athletic hero, but they do. It's something that over the course of these ten years, having a certain amount of power over what type of movies are made and what type of actors we hire, I want everybody to have that feeling. We don't take it for granted that people want to see themselves reflected in our heroes and our characters. That's been the case in the comics for years, and, finally, that's the case in the movies, and will only continue from here."