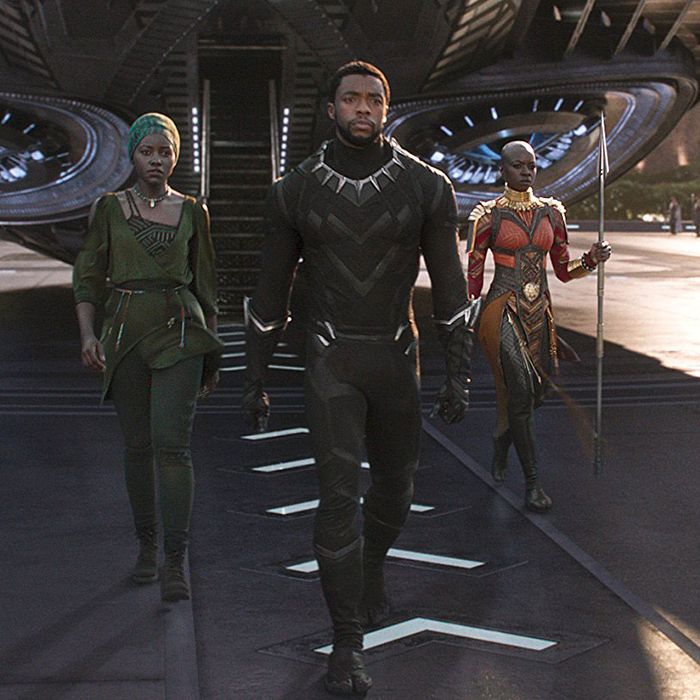 Over the long holiday weekend, Black Panther smashed box-office records, amassing a historic $235 million four-day opening gross, according to estimates by its distributor Disney. Exceeding even the most optimistic prerelease "tracking" estimates by more than $50 million, the rapturously reviewed, Marvel-produced Wakandan action epic also obliterated the previous record for a February film: Deadpool's $152 million Presidents' Day weekend haul. And despite arriving in theaters at a time of year known as Hollywood's dumping ground for crappy movies, Panther is now on track to become one of 2018's biggest hits, performing along the lines of last summer's Wonder Woman, which took in $821.8 million worldwide.
But more crucially, Black Panther became a cultural phenomenon in the process — the first global superhero blockbuster written and directed by an African-American filmmaker, Ryan Coogler, starring a predominantly black cast (including Lupita Nyong'o, Letitia Wright, and Michael B. Jordan) and plotted around a lesser-known but much beloved African comic book character, T'Challa (Chadwick Boseman). Playing as a "four-quadrant" film that appealed to men and women, young and old alike, Panther surpassed 2015's Jurassic World to log the the third-highest four-day gross in history, and took in $169 million outside the U.S.— transcending its genre to become something both more significant and more elusive than just a tentpole film: an inescapable part of the national conversation.
According to Shawn Robbins, chief analyst at BoxOffice.com, that smash success could signal a shift in the way big-budget studio movies get made. "Marvel has become a driver of the entire industry. This is the beginning of a new era not just for them, but for the entire genre and tentpole filmmaking at large," Robbins says. "This is the tipping point — a major indicator of where we'll see studio decision-making go when it comes to casting big-budget films in a more diverse way, not just with black actors, but all races and genders. For that to finally be happening, after Wonder Woman last year, now Black Panther, those films have started to change the landscape of the genre in a very positive way culturally and commercially. It's what we as moviegoers want to see. If people from all walks of life are represented, and quality storytelling remains the foundation, audiences will support it. It's a win-win for everyone."
In addition to laying waste to Hollywood's time-cherished belief that movies with black actors don't sell well overseas, the movie (which cost around $350 million to produce and market) arrived as an outlier for its unique component parts: an ensemble African-American cast paired with a modern-day setting and all the high-tech, high-gloss, high-octane bells and whistles that audiences have come to expect from event popcorn movies. "It is outside the normal 'let's make a slave movie' mentality," says Jeff Bock, senior box office analyst for Exhibitor Relations. "We've had Detroit, 12 Years a Slave. We've had really good films. But it's time to move beyond those films. How about bringing it up to the present day?"
"The knock on African-American films has been they don't do well internationally, so we can't spend on them," he adds. "With Black Panther, that is not the case. It's playing everywhere across all continents. You'll see grosses out of Africa that we don't typically hear about. This will open the floodgates and remove that roadblock for studios to make really good movies with diverse casts."
So what does that success bode for Coogler? The 31-year-old Richmond, California, native's previous movies Creed (2015) and the Sundance-anointed Fruitvale Station respectively scored 95 and 94 on the Rotten Tomatoes freshness scale. And in years past, the automatic assumption would have been that Coogler parlays his current renown as Hollywood's director du jour into a plum directing job on a Star Wars franchise installment à la Colin Trevorrow or Phil Lord and Chris Miller. But according to Bock, Coogler may have his eyes on a bigger, more personal prize (beyond the inevitable offer to make Black Panther 2).
"He gets the golden ticket after this," says Bock. "Coogler is obviously one of the very young, very hip directors. The way he creates films is exciting. I can guarantee you, every studio in town has projects that they're pitching. But the hard part in going from a Fruitvale Station to a Black Panther is you usually don't have as much control. Everyone has a hand in the pot; there's too many chefs in the kitchen. He's the co-writer and director so it feels like [Marvel] let him make his movie. I can't say that any Star Wars director has ever been able to do that yet. I don't think he would direct a Star Wars film unless they gave him final cut. And that would be a whole new galaxy for Star Wars. This is his chance to do the film he's always wanted to do."