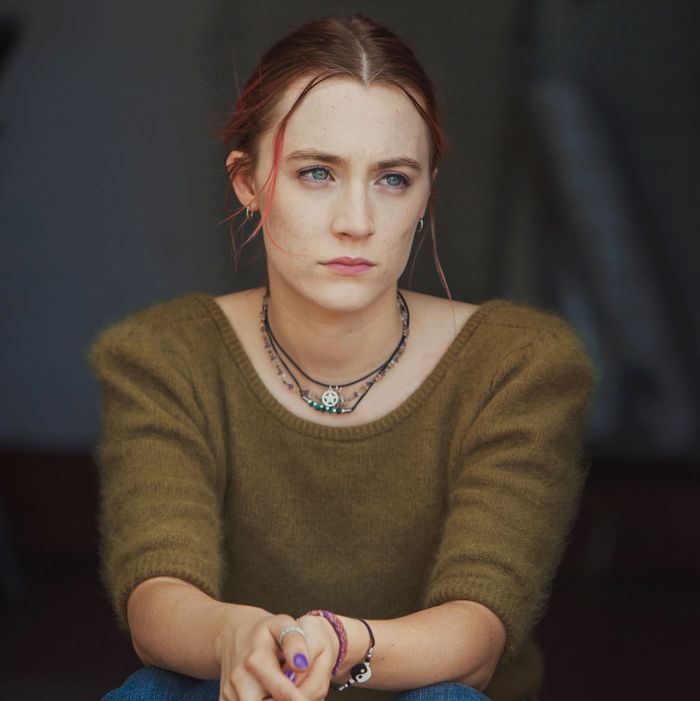 Saoirse Ronan in
Lady Bird
.
Photo: A24
Of this year's nine Best Picture nominees, nearly all of them are well-situated to take home at least one Oscar, if not more. Three Billboards Outside Ebbing, Missouri is the front-runner to win both Best Actress for Frances McDormand and Best Supporting Actor for Sam Rockwell, while Darkest Hour looks like it's cruising to a Best Actor victory for Gary Oldman. The Shape of Water's Guillermo del Toro is the pacesetter for Best Director, and that film will likely split some of the tech categories with Dunkirk. Get Out has heat in the Best Original Screenplay category after its Writers Guild Awards win this past weekend, while Call Me by Your Name is likely to take home the Best Adapted Screenplay Oscar, and Phantom Thread is assured of at least one victory in Best Costume Design.
There are two Best Picture contenders, though, that presently look like they'll go home empty-handed on Oscar night. One isn't surprising: The Post is the least-nominated film in that category, an awards-season underperformer that only managed one additional Best Actress nomination for Meryl Streep. It won't win either. A little more bracing is the current status of Lady Bird, one of the year's most significant indie hits and a winner of multiple Golden Globes, including Best Comedy or Musical. Unless Greta Gerwig's acclaimed mother-daughter act pulls some sort of significant upset, the film is not likely to win in any of the five Oscar categories it's nominated for.
Still, keep hope alive, Sacramento: While Lady Bird is not the front-runner in any category, it's a strong No. 2 in some of those races, and there are narratives in play that mean the film could engineer a last-minute surprise. Here are the five Oscar categories that Lady Bird is contending in, as well as what the film has going both for it and against it.
Best Original Screenplay

Lady Bird won't win here, because … it's competing in this category against the two strongest Best Picture contenders, The Shape of Water and Three Billboards, and every Best Picture winner since 2005 besides The Artist has also won a screenplay Oscar. If any dark-horse screenplay nominee is likely to prevail against those two titans, it's probably Get Out, which notched Jordan Peele a win at the WGAs over the weekend in a race where Three Billboards was ineligible to compete.
Unless! The most analogous Oscar vehicle to Lady Bird is probably 2007's Juno, another contemporary, female-driven teenage comedy that was nominated in all the same categories as Lady Bird except for Best Supporting Actress. Juno's sole Oscar win came for Diablo Cody in Best Original Screenplay, though I should note that she was absolutely the prohibitive favorite going into that night. Still, she and Gerwig share some similarities, including a star power that is unusual for contenders in this category. No woman has won the Best Original Screenplay Oscar since Cody, but the precedent is set.

Best Supporting Actress

Lady Bird won't win here, because … I, Tonya star Allison Janney appears to have this Oscar on lockdown. She's won every pivotal award up until now, including the SAG statuette and the Golden Globe, has a flashier complicated-mom role than her Lady Bird competition Laurie Metcalf, and has cruised through this awards season looking like a million bucks. She just feels like a winner.
Unless! I, Tonya scored a few Oscar nominations but missed out on Best Picture, so we know that Lady Bird is better-liked, even if Metcalf has been this season's bridesmaid. It's worth noting that the last three Best Supporting Actress winners repped their film's sole Oscar win — that would be Boyhood's Patricia Arquette, The Danish Girl's Alicia Vikander, and Fences star Viola Davis — so this category has something of a history as a consolation prize for films that are well-liked but not strong enough to be recognized elsewhere. (Then again, you could say that about I, Tonya, too.)
Best Actress

Lady Bird won't win here, because … Frances McDormand is almost certain to prevail for her ferocious work in Three Billboards. She's won every televised award so far and she hails from a film that is a coin flip away from winning Best Picture.
Unless! It's worth noting that Lady Bird star Saoirse Ronan did win the Golden Globe for Best Actress in a Comedy, while McDormand triumphed across the aisle from her in Best Actress in a Drama. McDormand has also won one Oscar already and delivered a SAG speech where she coaxed voters to reward younger performers, ostensibly offering a license to vote for Ronan, who is on her third Academy Award nomination at age 23. Say it with me: Oscar loves an ingenue!
Best Director

Lady Bird won't win here, because … Guillermo del Toro is the man to beat. The good-humored Shape of Water helmer has taken home all the good hardware and won at the Director's Guild of America, which means he's almost certain to repeat with Oscar.
Unless! Do you remember when Natalie Portman introduced the five "all-male nominees" for Best Director at the Golden Globes? Of course you do. Oscar voters do, too.
Best Picture

Lady Bird won't win here, because … this increasingly seems to be a Shape/Billboards battle royale, with every other contender clawing for purchase. The Shape of Water won two crucial guild awards from DGA and the PGA, while Three Billboards won the top prize from the actors of SAG, which suggests strength with Oscar's biggest voting body. It's also worth noting that Lady Bird couldn't muster up a Best Editing nomination, and no film has won Best Picture without a nod for its editing since 1980's Ordinary People (aside from Birdman, which used a one-take style that de-emphasized its editing.)
Unless! Best Picture uses a preferential ballot that is meant to reward a consensus choice: It's important to place No. 1 on many ballots, but it can be just as pivotal for your weighted score if you show up as every other person's No. 2. Lady Bird is a well-liked movie across the board that has not suffered any major backlash, which puts it in a good position here. I'm not sure that a Get Out voter would put Three Billboards at No. 2 on his ballot, just as a Three Billboards voter might not put Get Out at No. 2 on her ballot, but both kinds of voters might put Lady Bird there. If enough of them do, maybe Greta Gerwig's film can stem its night of losses with the biggest win of all.