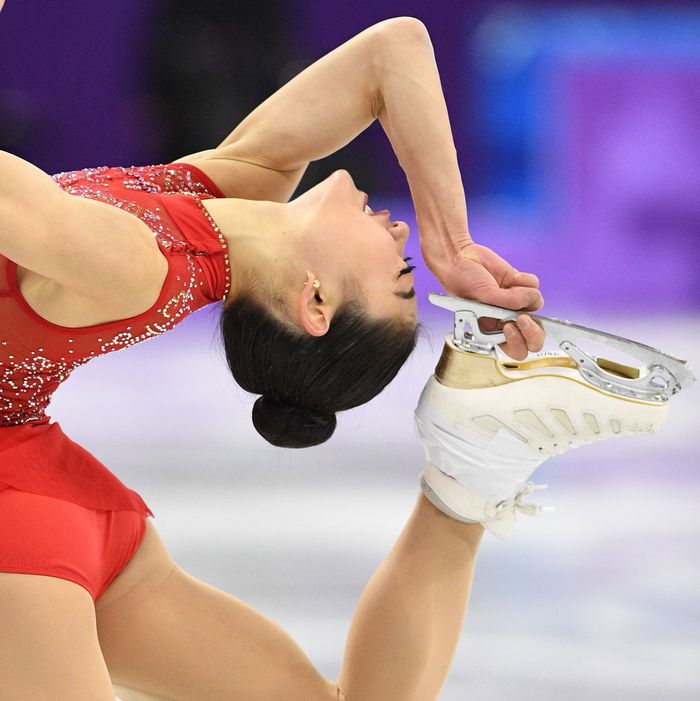 Mirai Nagasu.
Photo: Roberto Schmidt/AFP/Getty Images
The outfits, songs, and commentary at this year's figure-skating competitions have arguably been the highlight of the 2018 Winter Olympics so far. Though some of the key events have come and gone in a flurry of sparkles, history-making tricks, and opportunities to make Reese Witherspoon proud, there is still time to get your figure-skating fix. Take a look at our schedule of the remaining events below:
Note: All events listed are in Eastern Standard Time.
Tuesday, February 13
Pairs short program, 8 p.m.–11:30 p.m.
The pairs short program begins tonight, with Leslie Jones's favorite skaters Alexa and Chris Knierim representing for the USA. Hopefully we'll also get to see some of the South Korean figure skater Alex Kang-chan Kam's trademark ice-cold attitude in the arena, too.
Wednesday, February 14
Pairs free skate gold-medal final, 8 p.m.–11:30 p.m.
Pairs will skate again on Wednesday to compete for the gold medal at the free-skating final. German pair Aliona Savchenko and Bruno Massot are favorites for this event, with Chinese duo Sui Wenjing and Han Cong close behind them.
Thursday, February 15
Men's short program, 8 p.m.–12:30 a.m.
Finally, the moment we've all been waiting for, "glamazon bitch" Adam Rippon's return to the ice takes place on Thursday night, as he competes in the men's short program.
Friday, February 16
Men's free skate gold-medal final, 8 p.m.–12 a.m.
Okay, okay, so Adam Rippon gets the popular vote, but Nathan Chen is the first skater in the world to have attempted, an pulled off, five quadruple jumps in one program. Just saying.
Sunday, February 18
Ice dancing short dance, 7 p.m.–12 a.m
The first ice-dancing event takes place today, with duos like Gabriella Papadakis and Guillaume Cizeron from France and Canadians Tessa Virtue and Scott Moir beginning to rack up the points. We can only pray we'll see a routine as en fuego as Virtue and Moir's original Moulin Rouge dance.
Monday, February 19
Ice dancing gold-medal final, 8 p.m.–11:30 p.m.
Following the short program on Sunday, Team USA's "Shib Sibs" Alex and Maia Shibutani, will again take to the ice to make some people feel awkward about their sibling closeness. The duo is a favorite to medal though, proving that brothers and sisters can get along.
Tuesday, February 20
Women's short program, 8 p.m.–12:30 a.m.
Two words: triple axel. Mirai Nagasu made history during the team events when she became the first American woman to pull off a triple axel at the Olympics. Also, her teammates' reactions were the cutest. Though she will likely face fierce competition from Olympic athletes from Russia and her own teammates, she has become a viral firm favorite over the last couple of days. Go for gold, queen.
Thursday, February 22
Women's free skating gold-medal final, 8 p.m.–12 a.m.
If the teen Olympic athletes from Russia, Evgenia Medvedeva and teammate Alina Zagitova, do well in both the short program and the free skating, they might just end up having enough points for the top spots. Expect a showdown on the ice, because 18-year-old Medvedeva, a two-time world champion, was bested by the 15-year-old Zagitova at the European Championships earlier this year. And of course you have Queen Triple Axel in the mix.