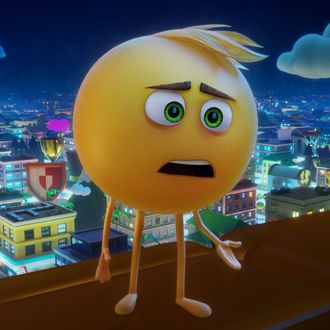 Photo: Sony Pictures Animation/CTMG, Inc.
Okay, let's just cut to the chase here. You know it, we know it, even educated fleas know it — The Emoji Movie was crowned Worst Picture at the 2018 Razzie Awards. It was a hard fight, with brief attempts made by Baywatch and The Mummy to steal its thunder, but those animated faces truly earned it the old-fashioned way: By being terrible. (Hell, the movie made Jordan Peele quit acting for good.) As for the Razzies' acting awards, a formidable gang is holding court this year: Tyler Perry earned Worst Actress for BOO! 2: A Medea Halloween; Tom Cruise netted Worst Actor for The Mummy; Kim Basinger picked up Worst Supporting Actress for Fifty Shades Darker; and Mel Gibson was awarded with Worst Supporting Actor for Daddy's Home 2.
But that's not all, folks. The Emoji Movie picked up an astounding three more Razzies for its unparalleled technical achievements: Worst Screen Combo, Worst Director, and Worst Screenplay. Additionally, Fifty Shades Darker received the coveted Worst Remake, Rip-off, or Sequel prize, with Baywatch picking up the special award of Razzie Nominee So Bad You Loved It. Those washboard abs can change you.